One Comment
Saint Arnold Brewing | Pumpkinator
Saint Arnold – Pumpkinator 2013
ABV: 10%
IBU: ??
The machines rose from the ashes of the nuclear fire. Their war to exterminate mankind has raged for decades, but the final battle would not be fought in the future. It would be fought here, in our present. Tonight. In this tulip glass! Saint Arnold's distribution footprint just hit the Colorado Market and one of the heavy hitter's first out to attack the taste buds is their imperial pumpkin ale, Pumpkinator.
I know, I know. Saint Arnold's Pumpkinator is a play on words that may not be related to Terminator. I feel as though it should be. This thing is packed with enough All Hallows Eve flavor ammunition to take down a whole army of pumpkin carvers.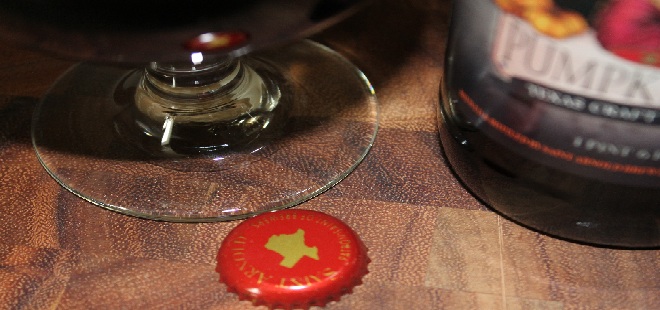 It pours a rich deep and black color. DARKNESS! Blackest of black. Heady aromas of vanilla, cinnamon, ginger, allspice and clove linger astutely over the thick white head of this remarkable brew. It's engaging at its first sip as the full body is dominated by molasses, brown sugar and pumpkin, and slowly washes over your tongue. The lacing and legs are minimal and the head dissipates without going away.  This imperial stout has a great mouthfeel with little to no booze coming through and is very warming. Pumpkinator is another big beer, so you should share or let this one warm up a bit as you pace yourself. The Pumpkinator pairs well with all things autumn, but especially pumpkin desserts such as pumpkin pie and cheesecake.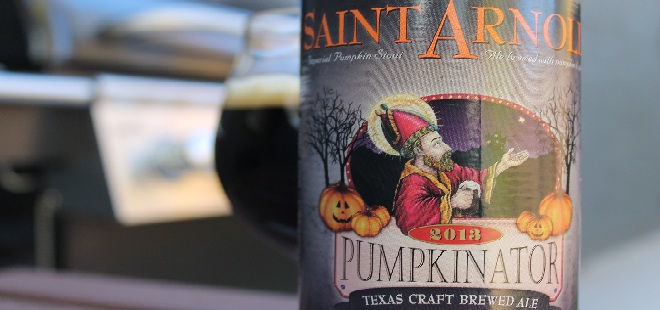 This imperial pumpkin is not over-spiced as other imperial pumpkin ales are that can sometimes mimic sweet, imitation pumpkin flavoring. This ale boasts enough pumpkin to make a few hundred pumpkin pies. It's also not so fleshy with real pumpkin that you think you are drinking of the pumpkin patch. Pumpkinator is a great balance of the fall flavors we look for in pumpkin beers without going over the top. Pumpkinator is one of my favorites and may soon be yours. Pick up a bottle, or two. I recently read that it holds up pretty well and could lay down for a few years as well. So, whether it's to the cellar or to the dome, stop by your local bottle shop and support the folks over at Saint Arnold. Pumpkin Bless. In Gourd We Trust. Whatever hallelujahs I have to say to you, Saint Arnold; keep it up! Now, I am going to go watch some Terminator!