No Comments
Ultimate 6er | 6 Delicious Dark Beers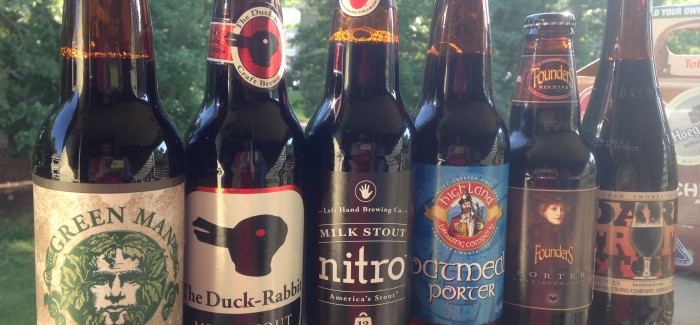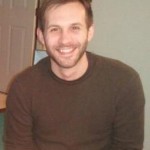 As a fan of dark beers, I've taken it upon myself to share an Ultimate 6er featuring only such beers. To keep it local, I've selected three beers native to North Carolina. Those from NC are Green Man Porter, Highland Oatmeal Porter and Duck-Rabbit Milk Stout. The others are Founders Porter, Boulevard Dark Truth Stout and Left Hand Milk Stout Nitro.
Founders Porter
ABV: 6.5% | IBU: 45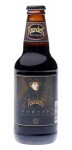 Dark, rich and sexy. That's how Founders Brewing Co. has described their porter. I can't say I disagree. The color is a deep, deep brown. If not for the chocolate foam, I might think it were black. The texture is smooth like frosted glass. The malt and chocolate coat the mouth, providing an even taste, while the hoppy bitterness pokes through richness. As for sexy, the classy broad on the label leaves much to the imagination in her black get-up, but her red lipstick betrays a seductive quality. At 6.5% ABV, Founders Porter might have you on your knees begging for more (or for mercy) before you know it.
---
Green Man Porter
ABV: 6.0% | IBU: 40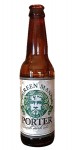 The first of three locals, Green Man Porter from Asheville, NC offers a rich flavor with noticeably less bite than Founders Porter. The color inclines more toward brown than to black, and the texture is less thick than our first beer. The aroma is faintly sweet, and the flavor hints at chocolate. Green Man Porter is easily drinkable and lingers on the back of the tongue and in the nose.
---
The Duck-Rabbit Milk Stout
ABV: 5.7% | IBU: 55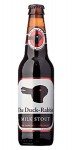 Farmville, NC is home to The Duck-Rabbit Craft Brewery, self-proclaimed Dark Beer Specialists. The milk stout is one of their core brews as well as their number one seller. As a milk stout, it's brewed with lactose which imparts a distinct sweetness to the tongue, along with a creamy texture. Those features balanced against the sharp flavor of the highly roasted malts creates a very agreeable experience, one that is neither too strong nor too heavy.
---
Boulevard Dark Truth Stout
ABV: 9.7% | IBU: 60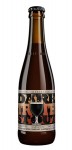 The evocative name and bold label of this black beauty caught my attention as soon as I saw it. I'd never heard of it before, let alone tasted it, but I sensed there was something special to the Dark Truth Stout. Seeing it poured and watching the rich foam flow over the top of the glass only reinforced that notion. To put it mildly, the taste is deep and multi-faceted. The strength of espresso and sweetness of cream are accented by the spiciness of the hops, and the fruitiness of fig and plum. Dark Truth Stout preaches a bold sermon. It was certainly eye-opening for me.
---
Highland Oatmeal Porter
ABV: 5.9% | IBU: 35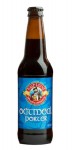 The third and final North Carolina beer in my 6er is Highland's Oatmeal Porter. As dark as any on the list, the Oatmeal Porter differentiates itself by the presence of flaked oatmeal which lends to the smooth texture. While not as complex in flavor as some of the other beers on this list, it is equally well-balanced. Hints of chocolate and hops complement each other to produce a beverage any fan of dark beers ought to enjoy.
---
Left Hand Milk Stout Nitro
ABV: 6.0% | IBU: 25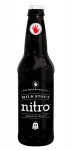 A few months ago, the PorchDrinking team engaged in a discussion about the best dark beers to drink any time of year. Over and over, people mentioned Left Hand's Milk Stout Nitro. Without doubt, it's a delicious beer. Like Duck-Rabbit's Milk Stout, it's brewed with lactose and therefore asserts a sweet flavor. Unlike Duck-Rabbit's version, Left Hand brings less bitterness to the Nitro, making it supremely easy to consume. Like the others, it's black in color and exudes notes of coffee and chocolate, though perhaps not as strongly as the Dark Truth Stout. All told, Left Hand Milk Stout Nitro goes down smooth and lingers in the nostrils for a thoroughly enjoyable experience.
---