No Comments
GABF Event Preview | Vine Street Pub Brewer's Dinner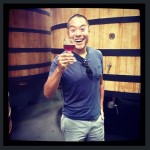 Can you believe it's finally here? GABF week has arrived, and the diehards have already started this week off with a bang at Upslope's Falling Rock Collaboration event, as well as at specialty beer releases at Hops & Pie among others leading up to Thursday's main showcase.
Every year, this list of periphery tap take overs, rare beer releases, mini festivals and beer dinners continue to grow and grow to the point where it can be a little hard to keep track of everything going on. But Vine Street Pub's GABF Week Brewer's Dinner is one that will try never to miss.
Vine Street Pub, part of the Mountain Sun family of brew pubs is likely one of the most underrated breweries in Denver. Why? Because their kitchen is just as formidably talented as the quality beers they produce.
This year is special because of a particular synergy between the kitchen and brewery.  Not only have all the dishes been tested with beers to create exceptional pairings, but Chef David Lawrence has gone into the brewery and grabbed some brewing ingredients to cook with!
Instead of just throwing some beer in a cheese and beer soup, look for hop infused lemon granita, or a show stopper dessert that features Heritage malted Barley as the topping for a locally sourced pear crisp.  Head Brewer John Fiorilli is also pulling out some amazing beers for the event.  For the third course two different blended sour barrel aged beers will accompany duck prepared two ways.  For a seasonal offering John has pulled out a superb classic example of Oktoberfest which will pair wonderfully with the brown butter vinaigrette drizzled over the roots & radish first course.   In addition to cooking with beer brewing ingredients David has partnered with the local indoor hydroponic farm Grow Haus to provide most of the greens.
I love this event for so many reasons, firstly for Tuesday night of GABF Week, it's the perfect opportunity to escape the crowds and circus-like atmosphere that you'll find at most of the other venues, while still getting a chance to sample some spectacular beers. Secondly, the intimate family style dining seats you next to complete strangers who all share a common love for the craft so you have the opportunity to make new beer friends. And most importantly the craftsmanship of Chef David Lawrence and Head Brewer John Fiorilli are truly well thought out, but better yet, while dining they take you through the entire process of ingredients they chose to include and how the foods meld so wonderfully.
I highly encourage you take advantage of the opportunity to join us down at Vine Street Pub tonight for a killer off the beaten path beer dinner that will become a GABF week favorite.
The event will be hosted in the special events room at the Vine Street Pub & Brewery located at 1700 Vine street in Uptown Denver and will be limited to 40 seats.  The cost of the event is $60 per person and requires advanced purchase for a reservation of a seat, feel free to reach the brew pub at (303) 388-2337