No Comments
Flying Dog Brewery | Snake Dog IPA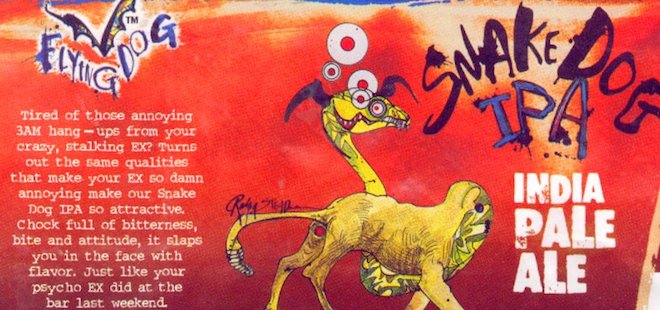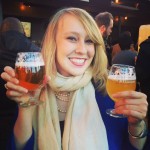 ABV: 7.1%
IBU: 60
It snakes down the throat like a faithful friend. – Anna Steadman (Snake Dog IPA label)
I consider myself immensely lucky to be in close proximity to the Flying Dog Brewery and have consistent access to their beers. I enjoy everything they do (even that one time they put Old Bay into a beer: it was a hard sell for some but it totally worked – you can actually give it a try at GABF). If you've read any of my posts before, you'll know that I am a lover of all things hops and IPA. And when you like something, it is always nice to have a few go-to's. As we all know, game-time beer store decisions can be immensely nerve wracking. So thankfully for me, I know what I lean towards and one my personal go-to beers is Flying Dog's Snake Dog IPA.
This beer is the IPA you drink when you want the flavor characteristics and punch of an IPA without completely wrecking your palate. It starts out lightly hoppy with a solid citrusy, grapefruit rind then finishes with a smooth malt that is full of caramel and a slight bit of bread. Snake Dog imparts all of the tang that I seek when craving an IPA but well tempers it with that malt finish. It is the perfect IPA to be enjoyed alone or alongside any meal, especially ones with bold flavors. It is light enough to not interfere too much with what you are eating (rather it has the opportunity to complement), but still strong enough in bitterness to deliver the bitter promise of an IPA.
Snake Dog is a great hoppy brew to add to your usual rotation. It is a general crowd pleaser, for the hops-evangelists and casual bitterness subscribers alike. It is also a perfect beer to transition from summer into fall, as there is representation from both crisp hops and bready malt.
I am really not sure if Mrs. Steadman (see above) was referring to this beer in particular, or if the quotation on the bottle derives from another context. Regardless, her sentiments are apt: it sure goes down easy. I suppose it's why they put it on the bottle.