One Comment
Beermiscuous | Chicago's New Go-To Beer Cafe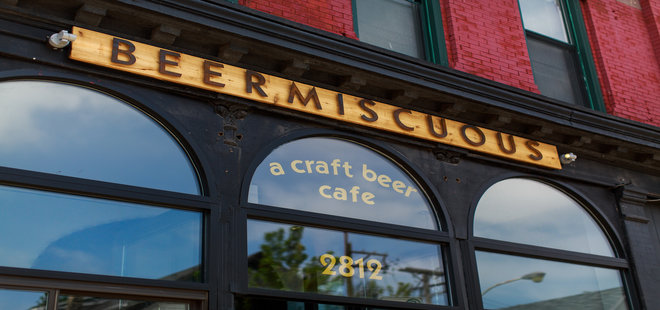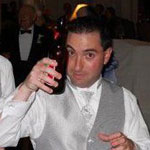 Beermiscuous Café
2812 N Lincoln Ave, Chicago, IL 60657
Hours:
Monday: Closed
Tues-Thurs: 12pm-10pm
Fri-Sat: 12pm-11pm
Sun: 12pm-7pm
Entrepreneur Paul Leamon liked to hold business meetings during the week at a bar where he and his business associates could have a beer while they worked. The only problem was that early on a weekday the bar atmosphere wasn't the best. This, coupled with his passion for craft beer, led him to open Beermiscuous Café.
"I'd have a business meeting at 2pm in the afternoon and instead of going to a coffee shop I'd always say 'lets go to a bar'," Leamon said. "A lot of bars didn't open that early and if they did, it was a bit awkward of an atmosphere for hosting a meeting. Why can't there be a coffee shop but instead of coffee it offers good craft beer?"
Not a bar, Beermiscuous is a beer cafe in Chicago that specializes in craft beers. Open everyday at noon, Beermiscuous encourages those with work to do to come to the café and enjoy a craft beer. With free Wi-Fi, comfortable seating and a relaxed atmosphere, Beermiscuous is the Starbucks for those who don't want coffee.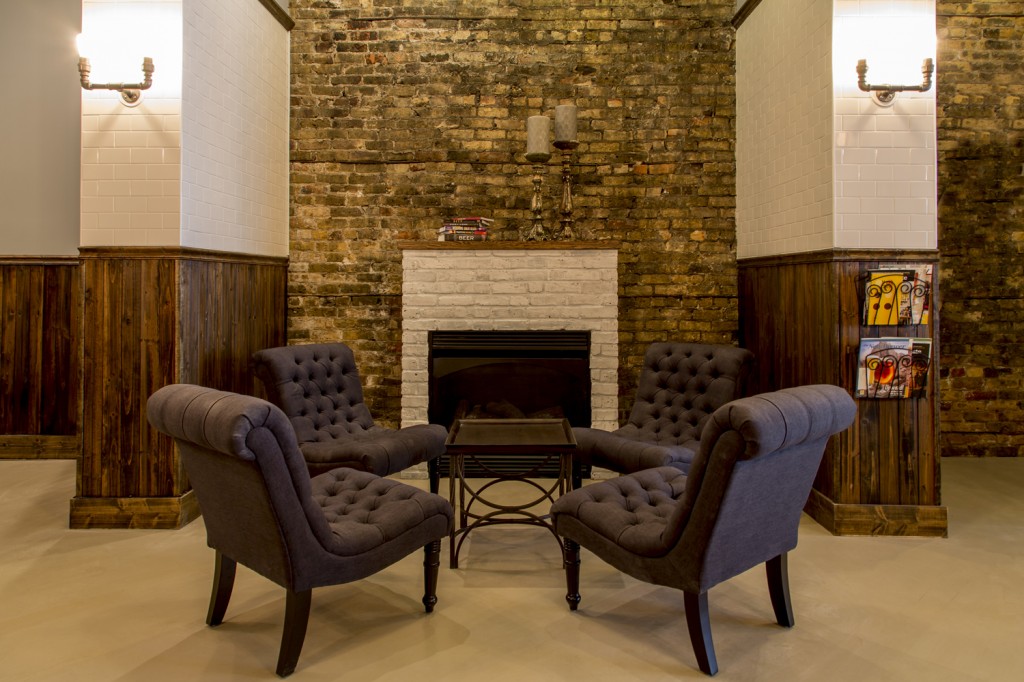 "We hyper-focus on craft beer," Leamon said. "We don't have liquor and we don't mix drinks. The experience for a lot of folks is to enjoy your beer in a social atmosphere and not have the people next to you throwing back shots because someone just turned 21 and they want to get hammered. You don't have that typical bar atmosphere."
But Beermiscuous isn't a place just to drink beer. It is a place where you can learn about beer and explore more craft beer options. All the staff at the café are at least a level one according to the Cicerone Certification Program. They are able to pair a beer to whatever your preference might be.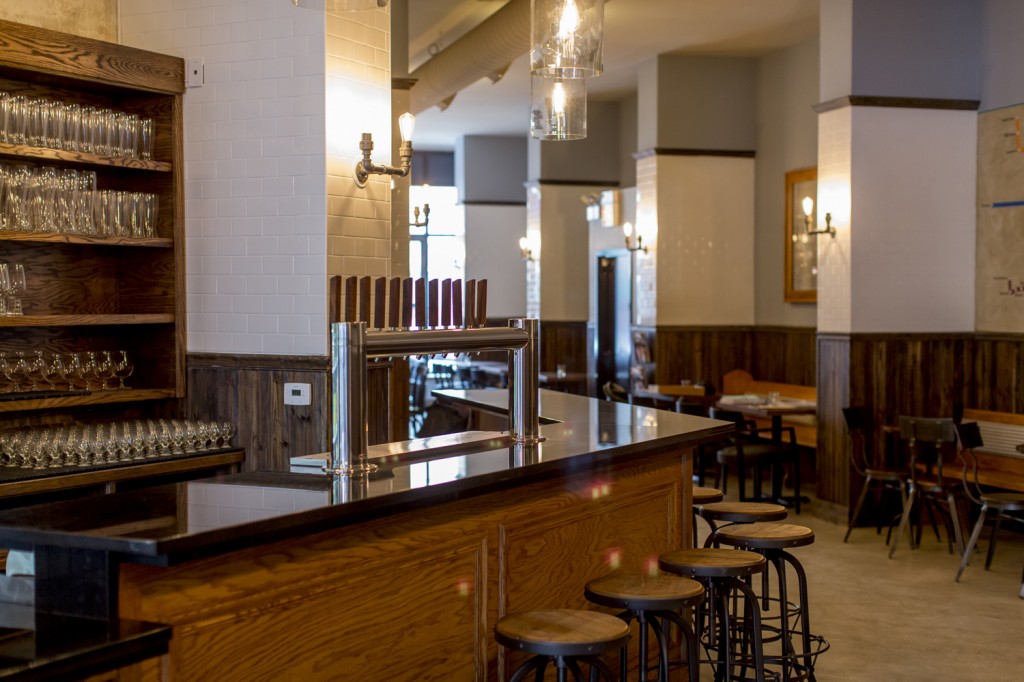 The café also has events throughout the week including free tastings from local breweries, beer swaps, Beer and Canvas, as well as other beer-focused events for those into craft beer to explore.
Perhaps what makes Beermiscuous one of the most unique beer businesses in the city is that it offers a take-out or drink-in option. The duel option required two different licenses from the city of Chicago and it took nearly 18 months for Leamon to receive the proper licenses to operate the café.
"100% of what we carry at the café you can drink here," Leamon said. "100% of what we carry, with the exception of our drafts, you can take out as well."
The coolers are stocked with about 380 different varieties of beer. Unlike standard liquor stores that require customers to purchase a 6-pack of beer, at Beermiscuous you can purchase single bottles of every variety of beer and mix and match. Whether you want just a single bottle or to create your own 6-pack the options are just about unlimited.
Enjoy this post? Like Craft Beer? Wanna stay up on the Chicago craft beer scene? Follow us on Twitter at @PorchDrinkingCO or on Facebook.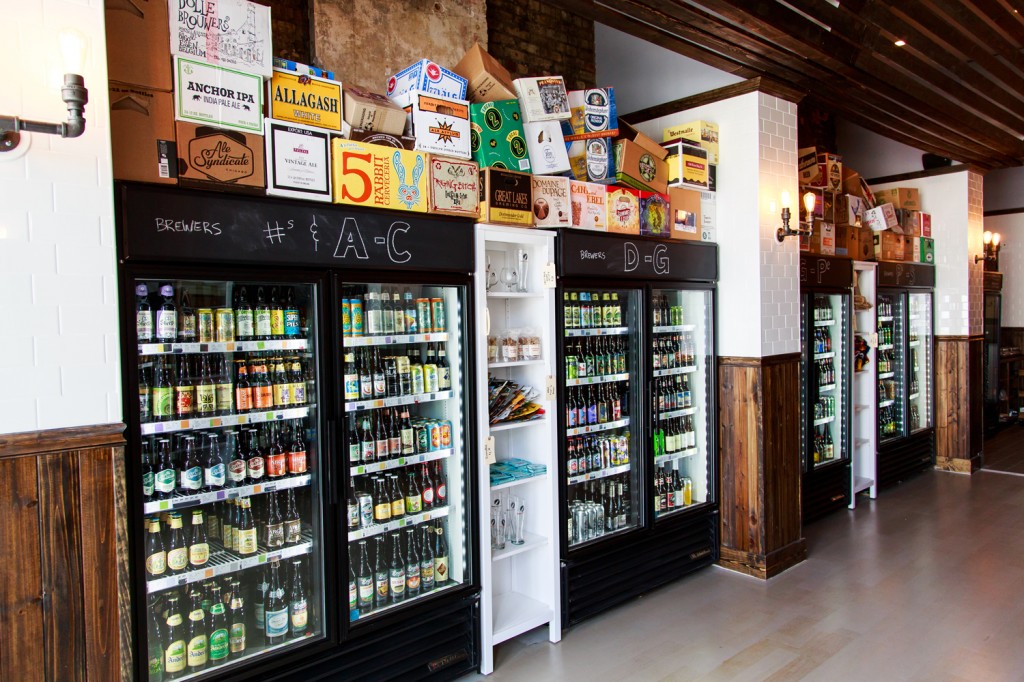 You then have the option to take your bottle (or bottles) of beer home, or have it poured into the correct style of glass and enjoy it right there at the café. If you don't want a bottle, there are 12 draft tracks that are rotated almost daily.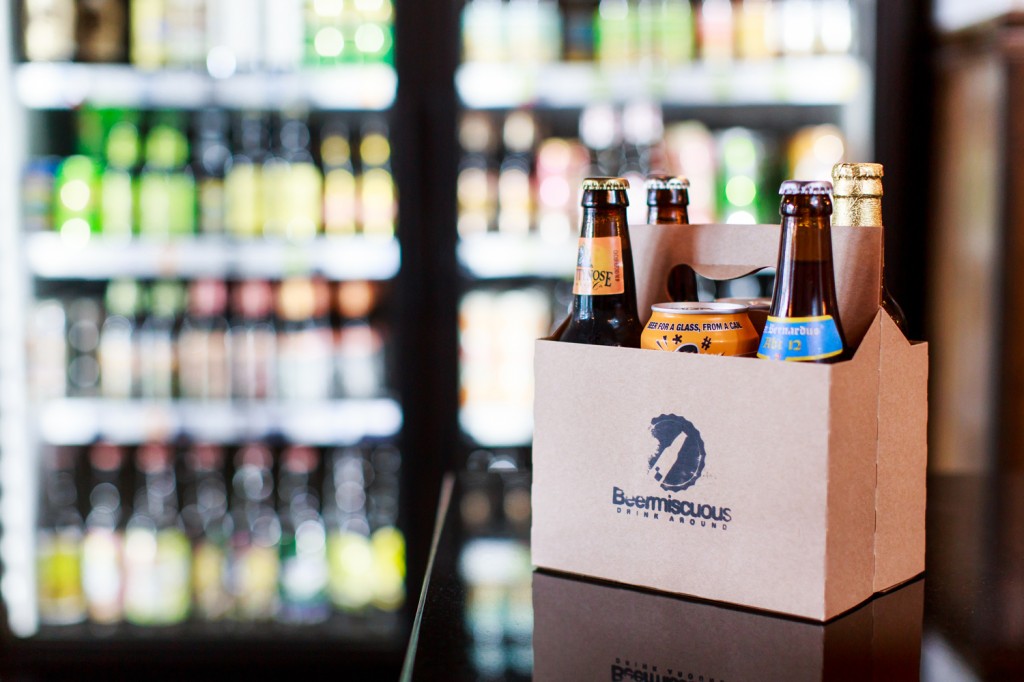 While they don't have the largest selection of bottled beer in Chicago,Beermiscuous does boast the largest selection of local beers. Of the 380 varieties, roughly 1/3 are local to the Chicago area, nearly three times more than the next closest beer store.
"We try to stay local as much as we can," Leamon said. "There are great beers coast to coast and around the world but some of the best beers are right here in our own backyard. There are a lot of beers that fly under the radar and they might not have a huge following yet like other craft beers, but they are just as good."
Like many stores, Beermiscuous has a rewards program for its loyal customers. Points accumulated through purchases can be used to gain entry into private beer tastings or to bid on rare bottles (using your points) that the café only receives in a limited number.
Since opening in late June, Leamon said the café has been extremely successful. With a beer for every type of drinker out there, there's plenty of reason to keep coming back.
"It's been great, very well received," he said. "Everyone that walks in loves it. No one walks out underwhelmed. There's enough variety from the beginning pallet to the advanced pallet."
Follow Mike Zoller on Twitter @mikezoller
Enjoy this post? Like Craft Beer? Wanna stay up on the Chicago craft beer scene? Follow us on Twitter at @PorchDrinkingCO or on Facebook.