No Comments
Festival Recap | Denver Bacon and Beer Festival 2014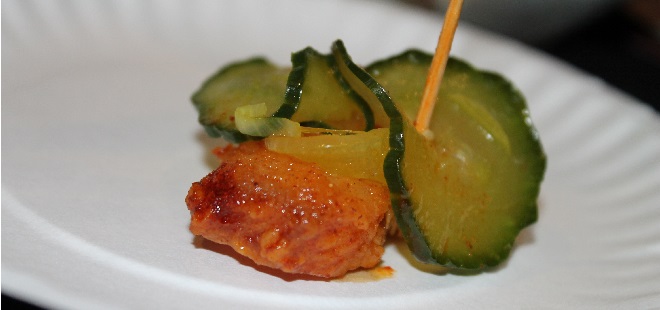 Building upon the vibrant culinary and brew-scene in Denver, Eat Boston and Denver Off the Wagon have brought back THE festival to elevate craft beer to the next level by pairing it with the culinary excellence and prowess of every carnivore's favorite ingredient, BACON. The Denver Bacon and Beer Festival 2014 was hosted by the Curtis Hotel downtown and was scheduled on a Sunday from 2:30pm to 5:00pm. Our Denver PorchDrinking staffers strolled up in the Curtis with smiles from ear-to-ear to imbibe and nosh at the festival's third iteration; it's first time at this location. What was our favorite dish? Favorite brew? Follow along to see . . .
The swine and non-wine festival once again brought together area restaurants and breweries to offer creative bacon-based dishes and fine brews. Proceeds from #DenverBaconAndBeer will benefit Metro CareRing and Project Angel Heart. The ticket cost got you in to Bacon and Beer Fest where fans of bacon and beer were free to sample as many dishes and beer as their little hearts desired. So, which vendors were at the Denver Bacon and Beer Festival?
The Beer
AC Golden, Breckenridge Brewery, Colorado Cider Company, Copper Kettle, Crazy Mountain, Crooked Stave, Denver Beer Co, Elevation Beer Company, Epic Brewing, Former Future Brewing Company, Great Divide, Grimm Brothers, Odyssey, Our Mutual Friend, Renegade Brewing, River North Brewery, Strange, TRVE Brewing, Wit's End Brewing Company, Wynkoop.
The Bacon
Bistro c.v., Blackbelly Catering, Butcher's Bistro, Cap City Tavern, Crowne Plaza Denver, EDGE at the Four Seasons Denver, Glaze by Sasa, Hops and Pie, Ignite!, Jax Fish House – Glendale, Jonesy's Eat Bar, Kachina Grill, Kevin Taylor Restaurant Group, Linger & Root Down, Little Man Ice Cream, Lucky Pie, Oskar Blues, Panzano, range, Russell's Smokehouse, Second Home Kitchen + Bar, Ste Ellie, Sunnyside Burger Bar, The Corner Office Denver, The Lobby, and The Rocky Mountain Institute of Meat.
Our Favorite Bites and Brews
Black Belly Catering sliced up some Pork Belly Lardon, smooth cheddar grits and warm collard greens. The anticipation for this dish from the season five winner of Bravo TV's Top Chef, Hosea Rosenberg, was unprecedented. And this dish delivered on all levels. Can't wait to see what else this bloke can do. This was conveniently placed by Great Divide Brewing Co so you know we paired that shit with some Hoss Rye Lager and Hibernation.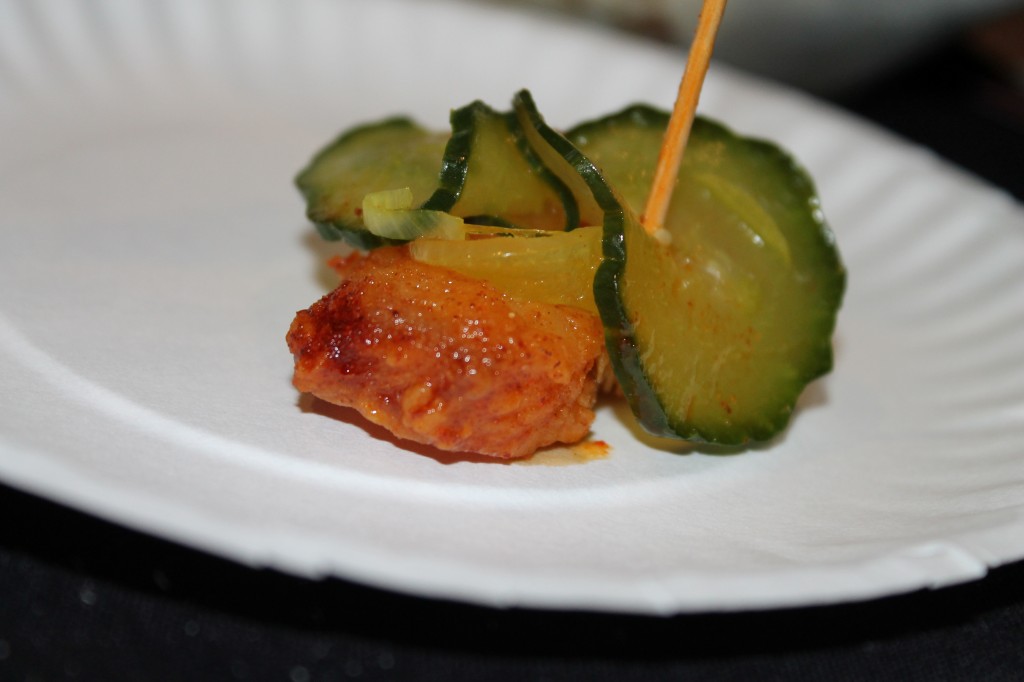 St Ellie's fried up some Nashville Hot Bacon (this was Tristan's favorite bite!) – Beer Battered Pork Belly dunked in a hot (read: really hot) vinegar'd hot sauce topped with some pickled onion and a bread & butter pickle. After snagging this, I had to drink some water and double up my beer game so that the heat would subside.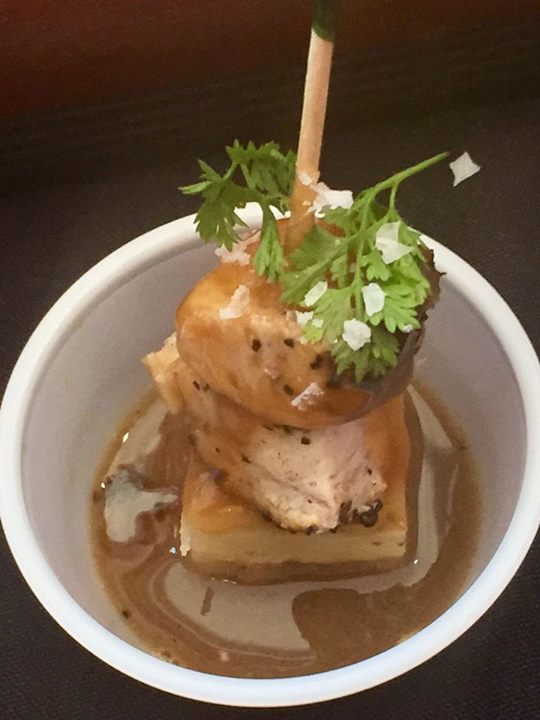 Cap city Tavern dropped their gloves and threw a haymaker of a bite with Bacon Potato Torte Over Braised Pork Belly In a White Wine Broth Topped with Salted Bacon Caramel! Need I say more?!
Epic Brewing brought their barleywine ale and so I naturally paired it with the above Cap City goodness. The big booziness of this ale cuts through the fat while it's caramel aftertaste rounds out one of the dishes similar components.
Little man Ice Cream's Whiskey Candied Bacon Ice Cream provided a sweet treat. The consistency was perfect. Thick and chewy. We are taking the crème de la crème of creamed ice here folks. I will wait in line all day for this bite of heaven.
Elevation Beer Co and Epic Brewing brought a new collaborative offering, a blackberry Saison called Epication. But being parked right next to Little Man Ice Cream, you may be a fool not to pair Elevation's Apis IV, their giant Quad, with some creamy, whiskey bacon-laced ice cream.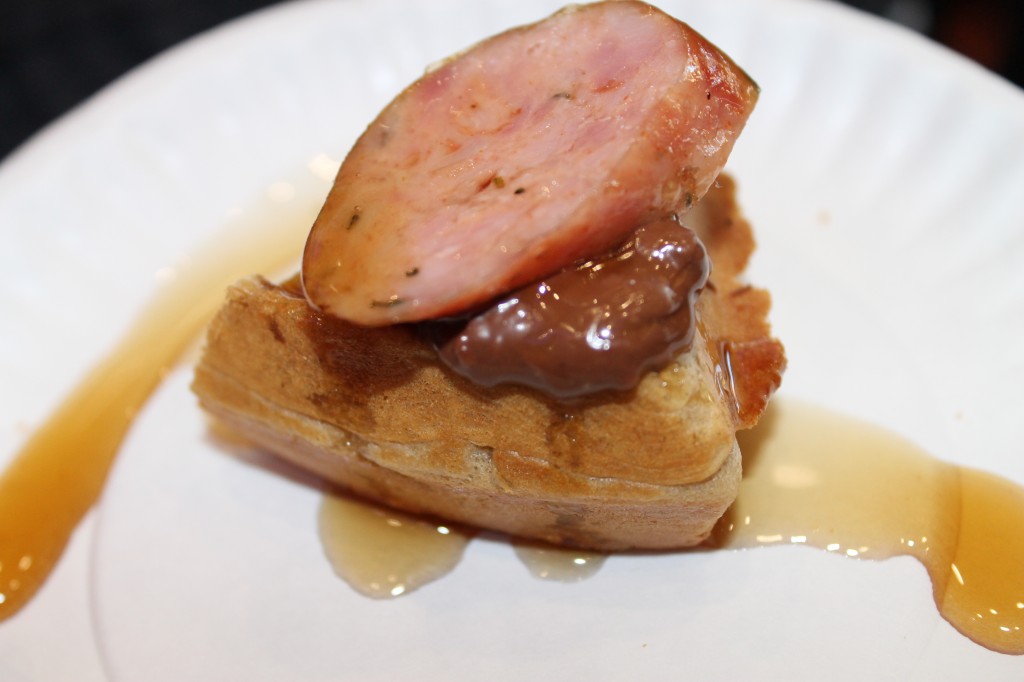 EDGE Restaurant & Bar offered up Candied, bacon nutella on a soft Belgian waffle topped with a rustic kielbasa sausage. Yeah, if you weren't drooling before . . .
Jax Fish House shucked oysters with crumbled bacon and kimchi. This gained many great reviews and the line was bodacious.
Renegade Brewing's new coffee beer, Hiatus, was flowing and provided a great reminder of breakfast when paired with a bacon dish. COFFEE. BEER. BACON.
Lucky Pie tossed their competition aside with their Porchetta and boudin blanc. Get it, LP! Get it!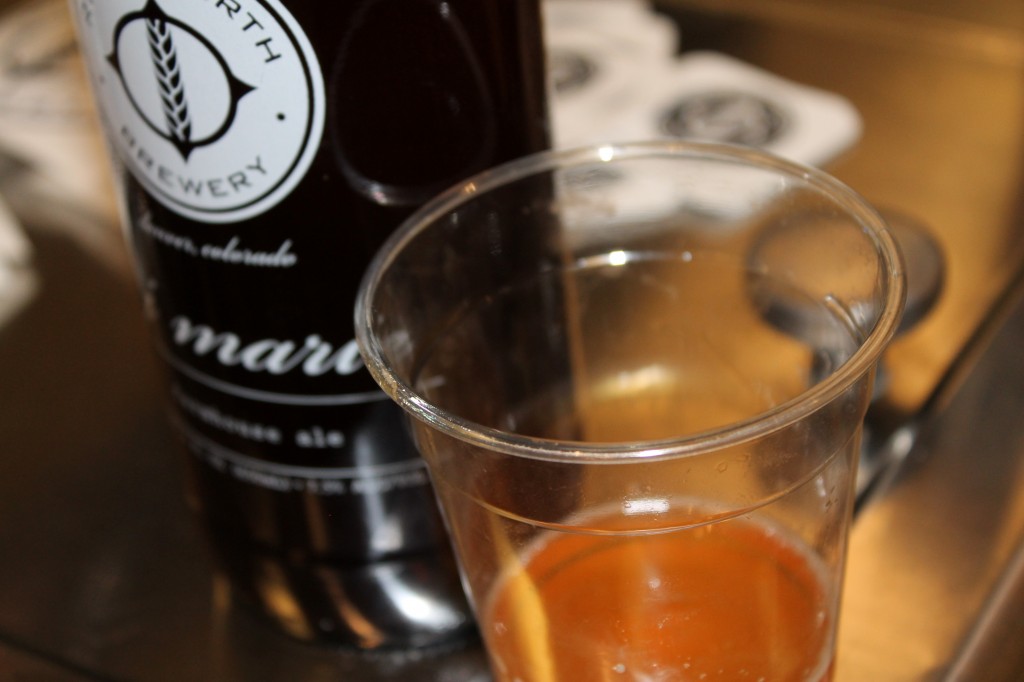 River North Brewery was pouring J Marie. That spicy little thing pairs will with just about every bacon dish but it was amazing with Kevin Taylor's soup. (see below)
Kevin Taylor was slangin' soup out of a pancake-esque dispenser (my words are like butter) and also offered one of everyone's favorite bites with a Pale Ale & Goat Cheddar Soup made alongside BLT Pesto, Pork Belly Spread Pudding, Bacon Espuma.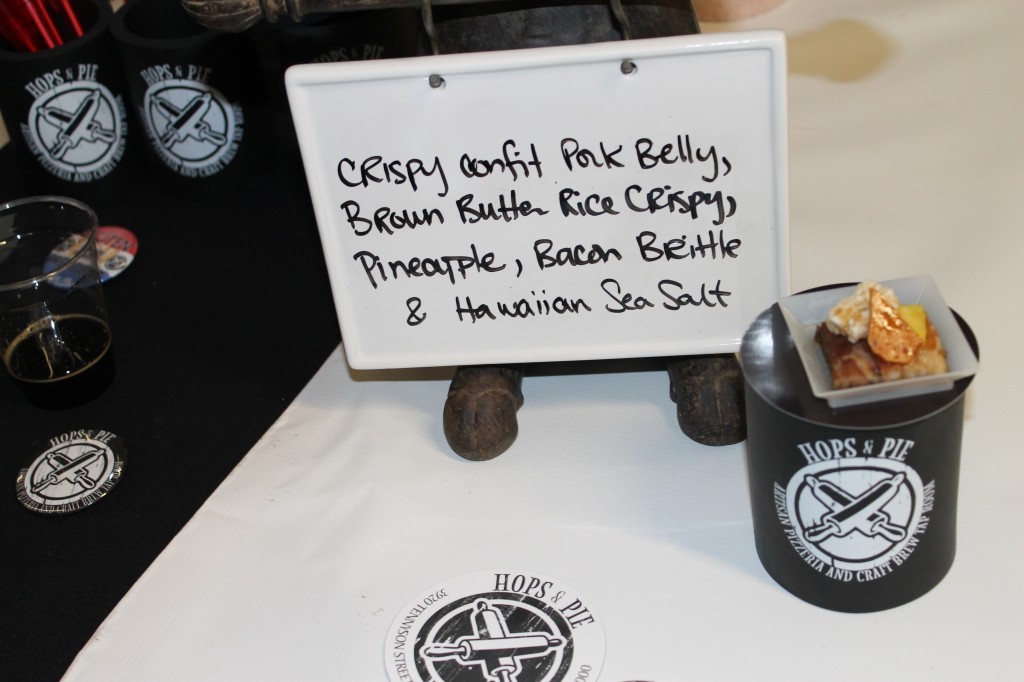 Hops and Pie is great all the time. There; I said it. Crispy confit pork belly, stacked on a brown butter rice crispy treat, with a touch of fresh pineapple, bacon brittle, & topped with a pinch of hawaiian sea salt. The pineapple cuts through the fattiness of the pork belly while the pinch of salt plays off of the sweetness. " Best. Composed. Bite. Of. The. Day! " Says Cory, Chopped/Top Chef wanna-be judge.
Kachina Grille is always winning over our hearts but really did it with a chicharon and spicy bacon jam and bacon wrapped shrimp and slaw as their second offering.
Jonsey's lamb and bacon slider showed up on our list because, well, lamb and bacon are amazing.
There were also some solo bacon grillers and the folks from the Corner Office did it best. Cheers folks!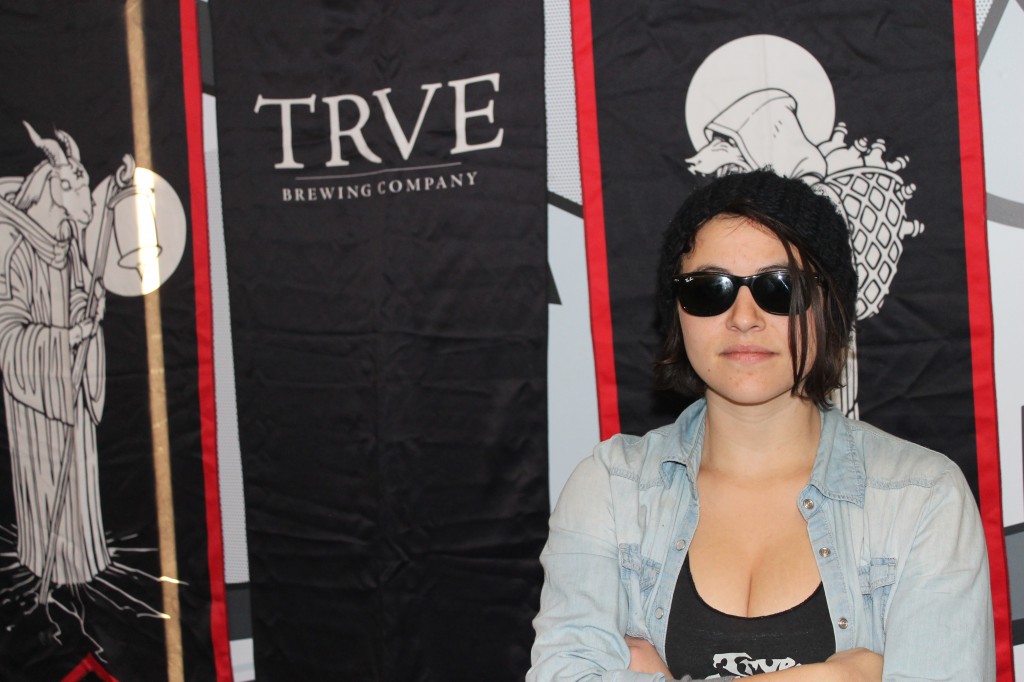 TRVE Brewing brought the almighty Stout O))) (it's pronounced "stout", the three closed parentheses are phonetically representing sun rays; and now you know!) and my personal favorite, Scorn. We love these folks. They are the coolest.
Takeaways
We would be socially remiss to not mention the over-crowding in certain areas of the festival. Moving forward, beer festival promoters, locally and nationally, will need to figure out how to make this venue less congested.
I loved going to a festival on a Sunday afternoon early and still having so much of the day left afterward.
The merch was on point. Check out these jammer-jams, yo.
BACON. BEER. Those are the only takeaways we need at the end of the day right?!
Anyone else attend the festival? Have any thoughts that we may have missed above? Shoot us a line.