No Comments
Hailstorm Brewing & Arrowhead Ales | Hopsecco Brut IPA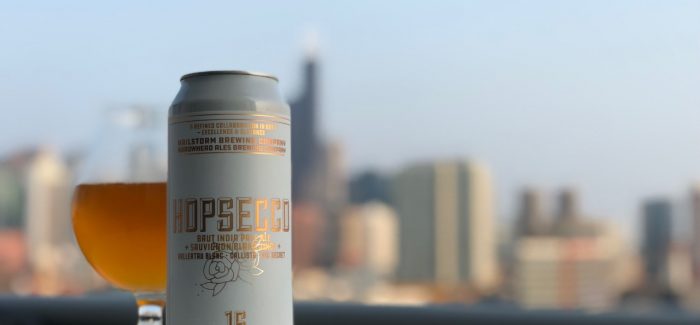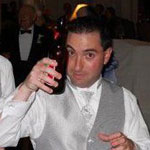 As fast as the IPA flooded the craft beer world, the variations have followed at a torrid pace. From the New England IPA to the Milkshake IPA, the Brut IPA is now gaining traction as the style continues to evolve.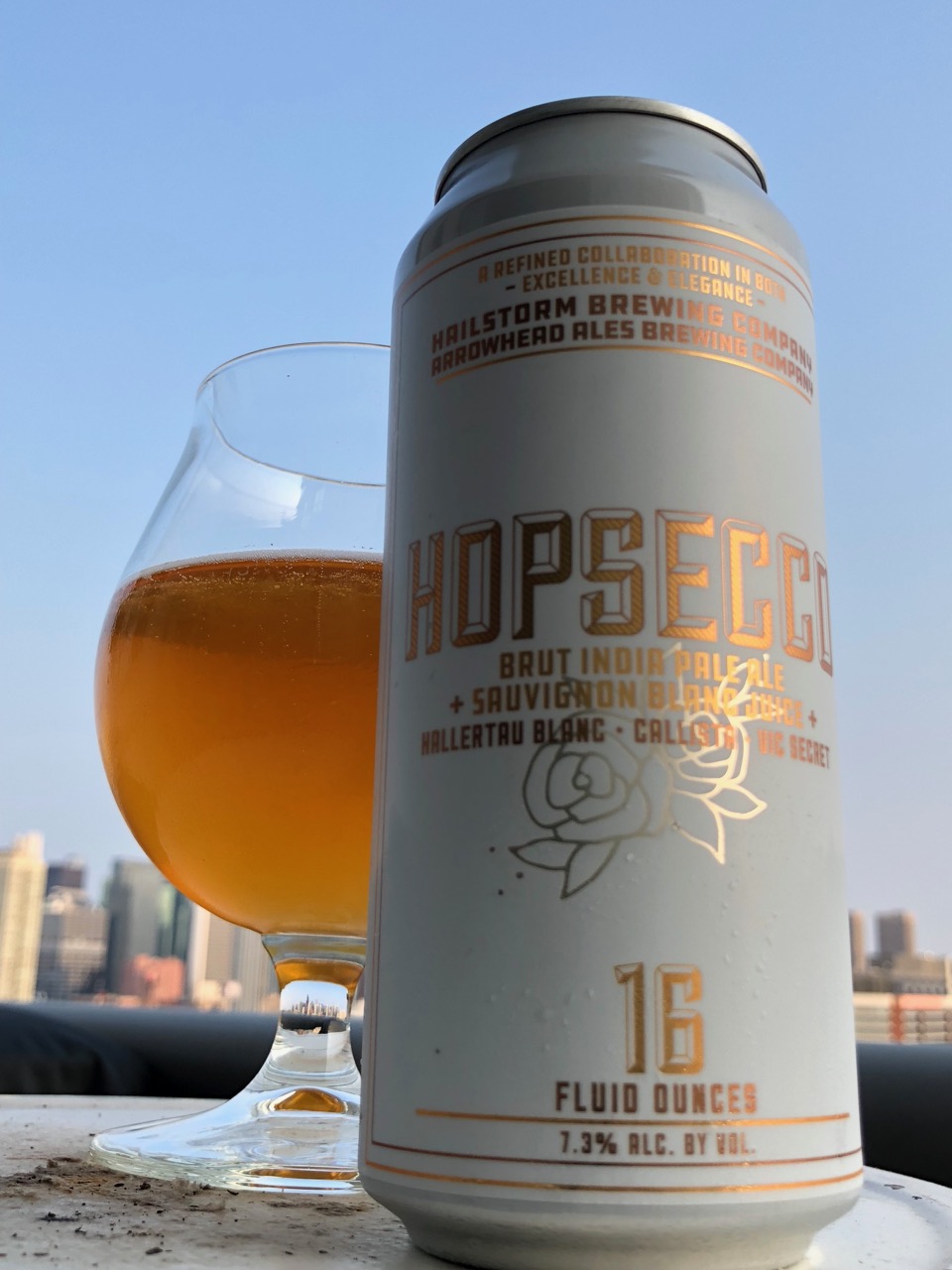 The Brut IPA is an incredibly dry IPA that is rumored to have first been brewed in San Francisco and called a Champagne IPA. It's gaining popularity with both established and new beer drinkers because of its unique flavor profile: not as bitter or hoppy as some IPAs, with a dryness and champagne-like characteristics.
Chicago is starting to see its fair share of this style start to pop up around the city. Around the Bend Beer Co will release their first example of the style soon; Marz Community Brewing has created a couple of examples and for this beer showcase I cracked opened Hopsecco, a collaboration from Hailstorm Brewing Company and Arrowhead Ales Brewing Company.
As you might imagine, this beer looks very similar to champagne or a very light pilsner when poured. There's almost no head on the beer and the aroma more like a sparkling wine than a beer.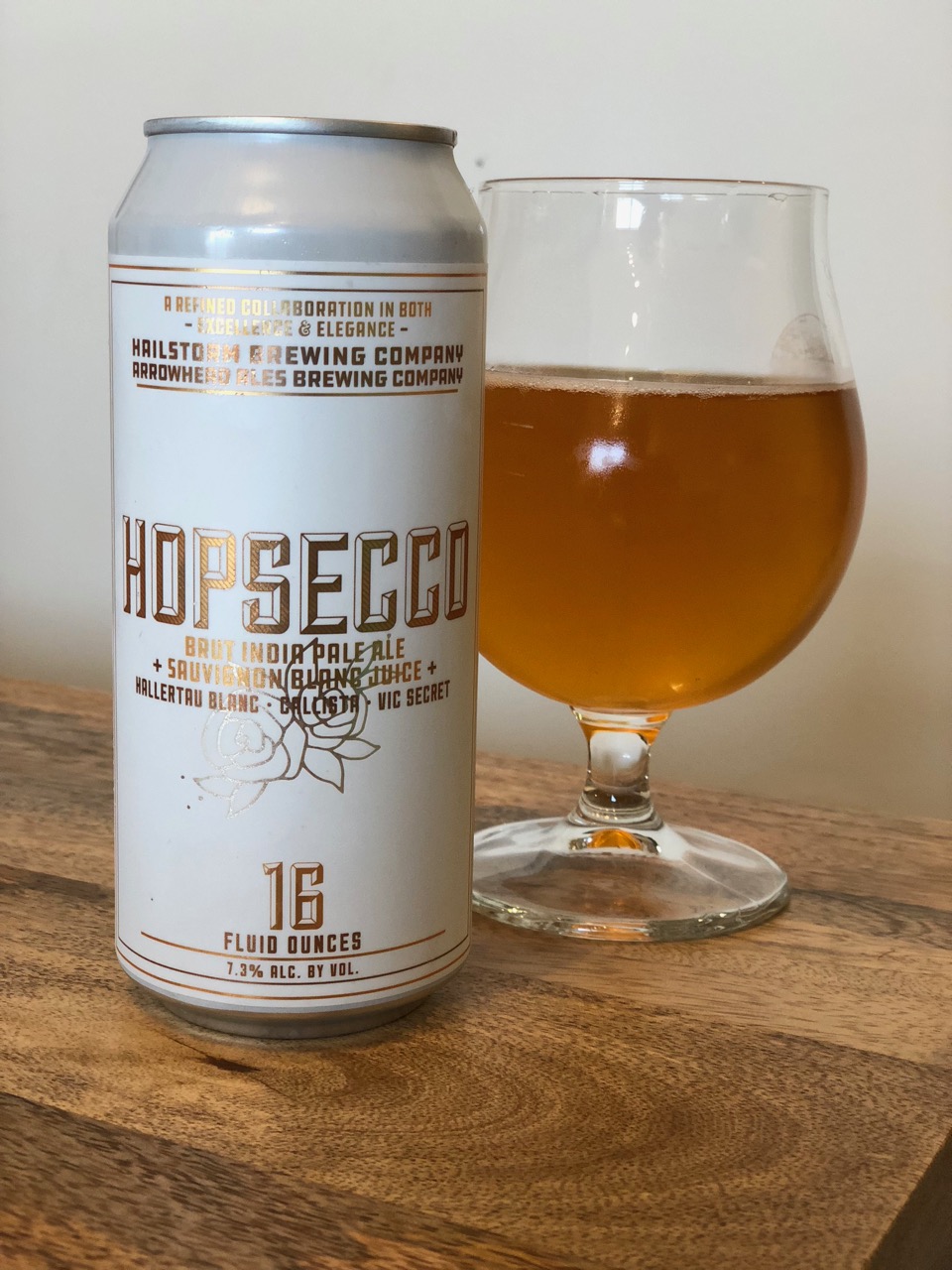 Hopsecco is brewed with Sauvignon Blanc juice which gives it both a tartness and sweetness that is well balanced throughout the taste. The taste of this beer is a combination of champagne, sauvignon blanc and an IPA all rolled into one. For those that prefer classic IPAs, you'll probably find this beer too dry. However, if you've embraced the idea that the IPA is developing into more than the classic bitter style we've come to know, you'll be pleasantly surprised by the flavors that come out of this beer.
There's definitely a noticeable white grape flavor, but when paired with the Hallertau Blanc hops it's a unique flavor that is both refreshing and dry at the same time. Is this a beer you'd open multiple times on a hot summer day? No. But for a change of pace and a chance to experience what breweries are doing to innovate these days, Hopsecco is a great example.
At 7.3% ABV, one 16 ounce can was the perfect amount for me. At a beer tasting, this beer would be great to recalibrate your palate, especially if you're drinking several big stouts or New England IPAs. Also, if the lactose in a milkshake IPA is as off-putting to you as it is for me, the brut IPA is the perfect opposite style.
Whether you like the way the IPA has changed over the past year or so or not, it's fun to see what breweries can do with beer recipes and styles. Drinkers that are devoted to the classic styles might never like these versions of IPAs and that's okay. There are plenty of beer drinkers out there to sample new styles and make them take off in popularity.
After all, after witnessing the advent of glitter beer is there any line breweries won't cross to try something new?
---