No Comments
Chuck's Hop Shop's General Manager Dishes on Seattle's Craft Beer Scene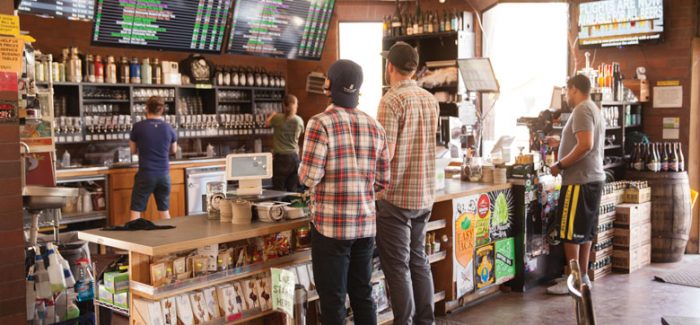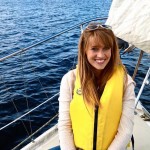 If you love Seattle's craft beer scene, you love Chuck's Hop Shop—it's as simple as that. Chuck's Hop Shop, which has two locations in the Emerald City, has gained a reputation for being the fan-favorite, no-frills watering hole and bottle shop for craft beer fanatics. It's where you go for an incredible and ever-rotating selection with dozens of beers on tap and hundreds of bottles available to go as well as knowledgeable and approachable bartenders that are eager to give recommendations on what brews simply cannot be missed. As a result, Chuck's has cemented itself as a pillar of the Pacific Northwest craft community in the four years since its founding.
Though the Chuck's staff makes running this establishment look easy, there's a lot happening behind the scenes. You see, at Chuck's, there is always something new to try, whether you're looking for something to take home or something to enjoy on the Chuck's patio. Chuck's also has a plethora of tap takeovers: days on which their selection features the best sours, IPAs or stouts from across the Pacific Northwest. They've also started partnering with local breweries to put out collaboration beers that are available for sale in the taproom. Needless to say, they keep themselves busy.
All of this is in part due to Chuck's General Manager, Jordan White. White's job is simple: Maintain Chuck's status as the place to go for the broadest, most exciting beer selection in Seattle. We caught up with Jordan to figure out what a day in his life is like and to hear more about how it all began, what's in his glass and what we can expect from in terms of upcoming trends and breweries.
PD:

First things first: Where does your story with craft beer begin? How did you get to where you are now?
JW: My craft beer story started like many others, trying everything in the beer aisle at QFC (a supermarket chain in Washington and Oregon). A person I went to high school with was a brewer at Portland's Alameda Brewery. That lead me to seek out Chuck's to try some of the beers he had brewed. I had a few friends that had left a previous job to work for Chuck's and they got me in the door. I was already passionate about beer; Chuck gave me the freedom and support to explore and try to innovate.
How would you describe what you do and where you work (for those that don't already know)?
I am the General Manager at one of Seattle's best craft beer bottle shops. We offer 62 taps, approximately 1,000 packaged beers, rotating food trucks and we're family friendly. We're a small business so I'm required to take on many roles, but my most important one is that of our beer buyer.
Chuck's has an extensive selection of beer at any given time, so we can imagine that buying the product is a massive undertaking. Can you talk us through what it's like to manage that process? What are the biggest things you consider in your buying position specifically?
Our team of managers alternates the packaged beer ordering and I order all of the draft beer and new items. I think by sharing the responsibility with many people we can offer a more diverse selection. I consider many things while purchasing like shelf life, packaging dates, pricing, perceived demand and how best to cultivate a healthy relationship with our brewery and distributor partners. We also collaborate with several different breweries on exclusive releases. It allows us to give breweries feedback on what we think will be popular and they get to experiment with much less risk.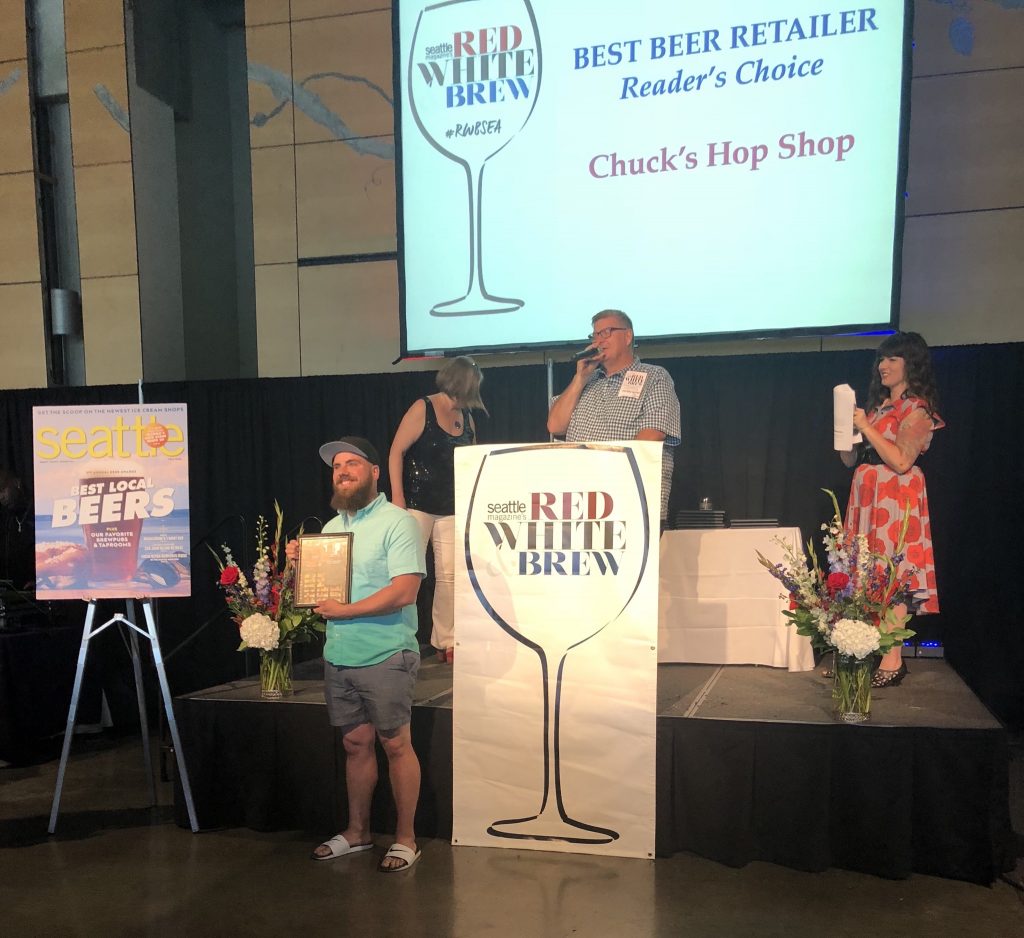 Have you ever been in the situation where you've purchased a product that you and your staff are excited about but that has failed to resonate with your patrons? How do you get people excited about a beer or style that they might not order on their own?
Absolutely! I'm a huge fan of Brut IPAs but so far they've been receiving mixed reactions. I think it's a style that still requires more experimentation before it starts to build a following. It's not always possible to warm up our guests to a beer style or brewery they don't enjoy. As much as we help influence people's palates, we also have to look at what our guests are purchasing. You can have the most highly curated selection but it's all for nothing if there is no demand.
We can imagine that your buying position offers interesting insight as to what will be trending in the market. An easy example here is the explosion of hazy IPAs here in the Northwest over the last few years. What do you see as up-and-coming styles from meeting with brewery contacts and distributors? What should we look forward to?
Everyone is brewing a Brut IPA right now. It's a super dry IPA made with an enzyme that converts unfermentable starches to fermentable sugars. The rules of the style are that it is as pale as possible, it needs to be dry (below 1˚ Plato) and should feature an aromatic hop profile with a very low bitterness.
In this position, you obviously have to be knowledgeable about new products so you can bring those to Chuck's. What have you found to be the best tools for exploring and researching new breweries and beers?
Lurking around on Instagram has been one of my biggest tools. Not only am I able to keep up with our local breweries, but I can also get a feel for what is happening around the country. We were the first beer store in Seattle to get a crowler machine because of a video I saw that Oskar Blues posted about the crowler machine.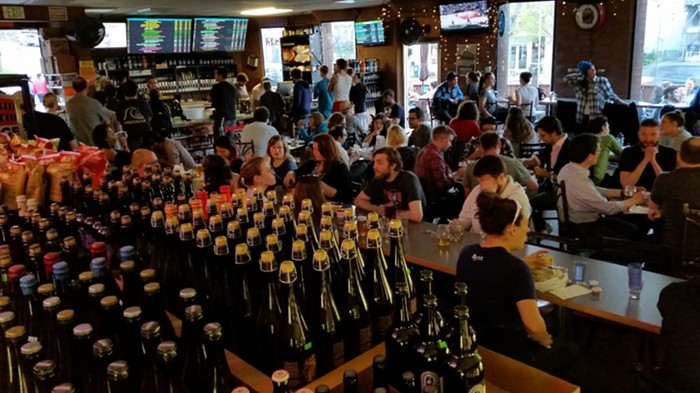 What are you drinking right now? Are there any specific breweries or styles that you're currently craving?
I am always in search of a Pilsner from the likes of Chainline, pFriem or Chuckanut. I am also a member of Floodland's Oakworks Membership so that keeps me stocked with incredible mixed-fermentation saisons.
Where are you drinking, if not at Chuck's? We'd love to know the taprooms and beer bars that you frequent the most.
The Shambles is one of my absolute favorite places right now. I've always felt that in Seattle we either get world-class beer or world-class food. The Shambles deliver both with an extremely high level of service. The Masonry in Fremont is also a huge source of inspiration for me. Their annual Farmhouse Fest is hands-down one of the best events in the city. To be honest, though, I've been drinking a lot of wine lately, too. I really love going to L'Oursin and Bottlehouse.
* * * * *
Catch Jordan White at Chuck's Hop Shop Central District location.
Feature image courtesy of Chuck's Hop Shop
---