No Comments
North By Northwest Brewery | Zombie Dragon IPA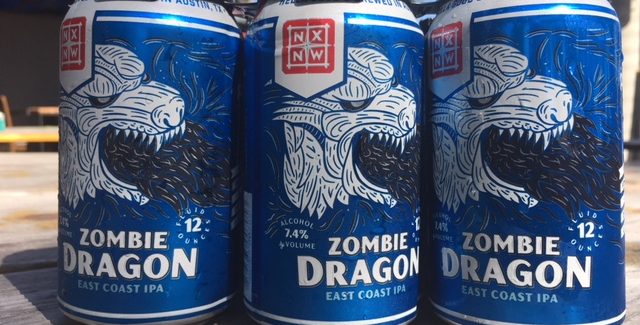 Davis Tucker is one of the OGs of the Austin craft beer scene, originally brewing the Pecan Street Lager through a contract brewing arrangement with Shiner back in the late 1980s. He went on to open the original Copper Tank Brewery, but left that partnership shortly after, "I knew pretty quickly that I wanted to go out on my own," he said. In September of 1999 he established North by Northwest Restaurant and Brewery (NXNW) and it remains the longest standing brewpubs in the city.
NXNW expanded in 2014 opening a second location in South Austin, resulting in expanded brewing capacity. Today the expansion continues with a new canning line and the release of three canned offerings: Zombie Dragon, Northern Light, Red Zepplin, "Cans were the next step, a natural progression," Davis points out. Distribution is planned throughout the city and ultimately throughout the state.
Zombie Dragon is their newest release, giving East Coast IPA fans something to rejoice about. This slightly hazy IPA is heavily hopped with Mosaic & El Dorado in whirlpool and dry-hopped in two stages, resulting in a big, juicy hop character that's not overly bitter.
I reached out to head brewer Kevin Roark to find out more about this delicious hop bomb of a beer.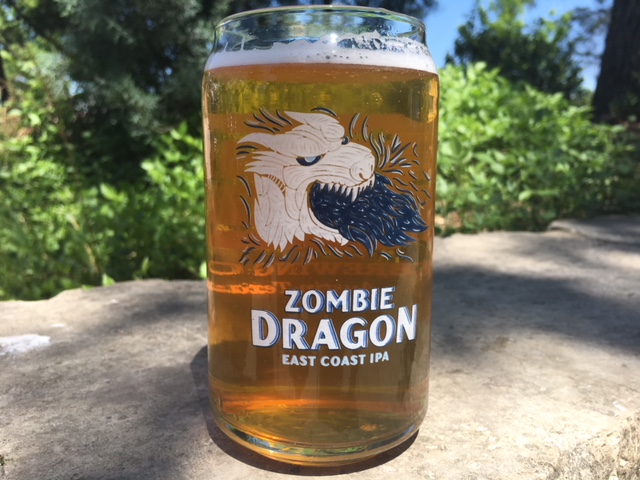 How did Zombie Dragon come about?
Every year we try to brew something fun and unique for our anniversary party in late August. A northeast-style IPA was one of the styles we were kicking around doing last summer. One of our regulars came in with a can of Sip of Sunshine from Lawson's and we all sat down and tried it. It was incredible, and we decided right then, that we would do our own twist on that style. Nothing too hazy, but heavily focused on tropical aroma/flavor with very little bitterness. I had a couple boxes of some cool, new aroma hops with no plans for them so we just based the recipe on using all these hops with the intention to brew more. After we released it at the anniversary party, we got such good feedback and it sold out so quickly, we decided to brew another batch (this time a double batch). I had to scramble to find some more hops. Next thing we know, it has become a mainstay and Davis is working on can designs. The rest is history and we're still trying to keep up with demand and still scrambling to find hops!
What inspired the Game of Thrones reference?
Spoiler alert if you're not up on Game of Thrones, but really, it's been almost a year since the episode, so here goes: After we came up with the recipe, brewed it and had it almost ready for release, it was tasting great, but we still had no name for it. Both Matt [Benevidez] and I are Game of Thrones fans and were talking about what might happen in season 7. He told me that a fan theory was that one of the dragons would be killed by the White Walkers and be turned into one of their army. After watching the scene where the Night King takes down the dragon Viserion, I immediately knew what was coming next. I almost texted Matt the words "Zombie Dragon!!!", but then remembered he had an event that night and might not have seen it yet. I had to wait until the next morning to talk about that episode, but I think that was the first thing I said to him after hearing that he watched it. That day also happened to be the final day that we had to submit our beers to the 2017 Texas Craft Brewer's Fest. Hayden was in charge of that and was asking me for a name. I got a last-minute phone call from him saying time was up and I said "F*ck it, let's call it Zombie Dragon!" We all kinda laughed about it at the time, but later at the Craft Brewer's Fest we had people coming up to our booth saying "I gotta try this beer based on the name alone!"
Where can folks get Zombie Dragon? Is it a seasonal or a mainstay?
Steve pretty much answered this one, but it is available in many local retail locations and bars/restaurants that feature local craft beers. I'm continually amazed at how many places serve it on tap or sell it in cans. It's definitely a mainstay.
What's on the horizon for NXNW?
We are always trying to do rotating seasonal IPAs and lagers. We recently released our Bohemian Pilsner (on draft only) and Prost Pils will be released late summer. We've got something in the works for a new, exciting style of IPA for our next anniversary party on Sunday, September 2nd. We'll have several lagers available for Lager Jam at the Spokesman on September 8th. We've got a collaboration brew with Redhorn coming up for the Partners in Craft portion of Texas Craft Brewer's Fest on Friday, Sept 28th as well as a booth at Texas Craft Brewer's Fest on Sat. Sept 29th. And of course, we will have our annual Oktoberfest celebration at the original location on Saturday, Oct 20th and Sunday the 21st. So, Sept-Oct is looking like a busy couple months! I've also got a couple barrel-aged sours that are maturing nicely, but those will only be available at the original location taproom. Stay tuned for more details on those events and special releases.
Keep with with NXNW on Facebook, Instagram and Twitter.
---