One Comment
Ranking & Reviewing the 2017 Bourbon County Brand Stout Lineup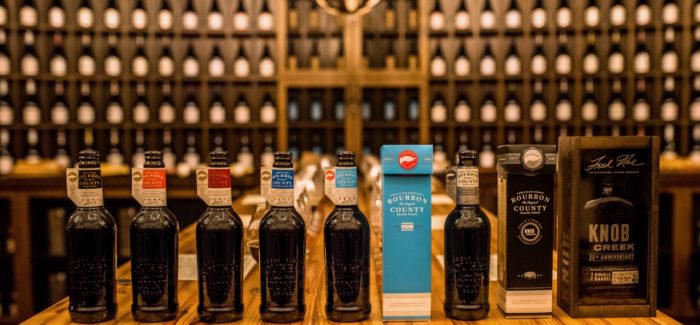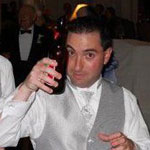 Surrounded by bottles of past years' Goose Island Bourbon County Brand Stout and the Sisters in their Barrel Warehouse, about 30 people or so prepared to taste the entire lineup of 2017 BCBS. After a conservative release of just four variants in 2016, in front of us were six snifters of the black liquid that so many covet every Black Friday.
This year's lineup has some highs and lows with a couple of surprises in-between. It's also interesting to try the different variants and see how they differ from year-to-year. Below, you will find what I thought of each of the BCBS' this year, in order of preference.
Proprietor's Bourbon County Brand Stout
ABV: 14%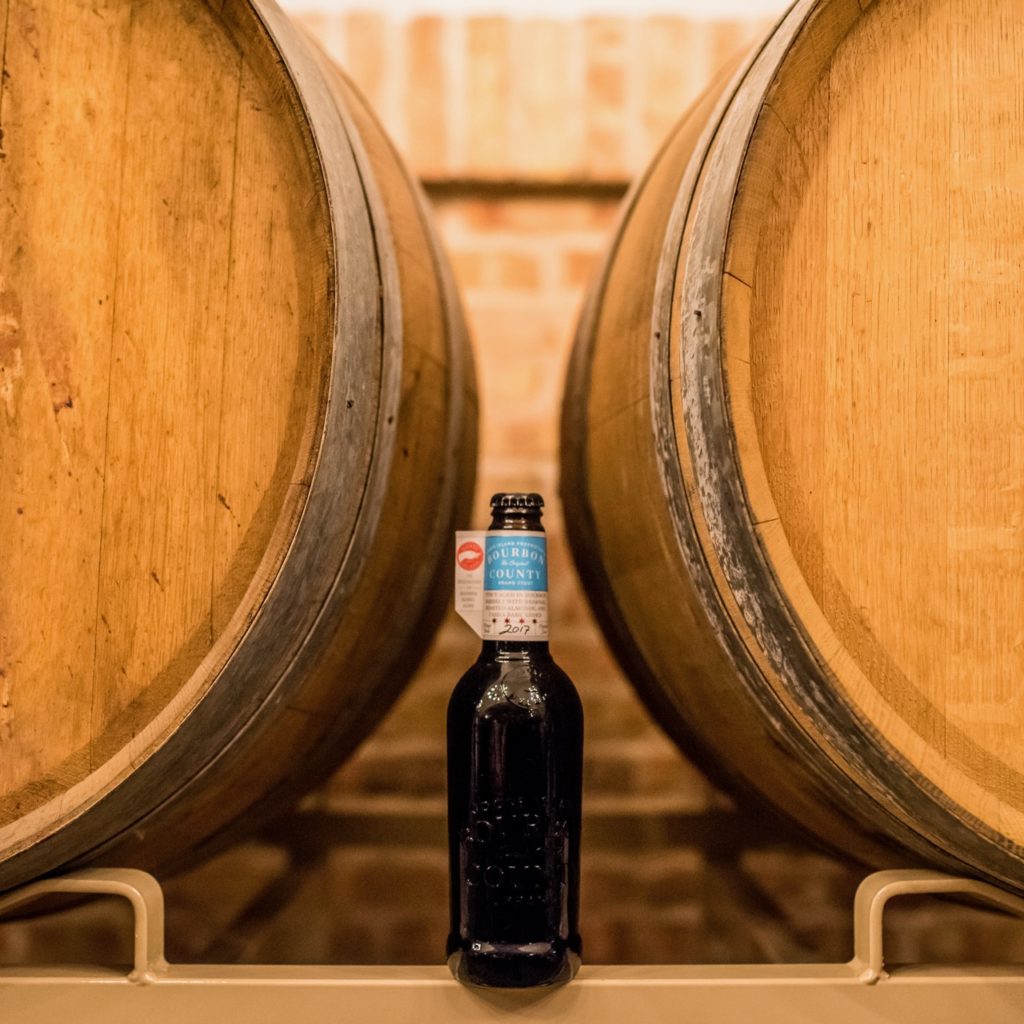 I went into this tasting fully expecting to dislike this year's Prop. If you're like me, when you hear banana flavor, you think of banana Runts or banana Laffy Taffy. That fake artificial banana flavoring haunts my childhood, and I was afraid Prop would be an extension of that.
How wrong I was! Quinn Fuechsl, the Goose Island brewer that came up with this year's Prop, said the use of banana puree allows for a subtler and gentler flavor. The aroma is fantastic with the bananas and slight cinnamon notes playing off one another. Quinn was going for a bananas foster taste and he nailed it.
When you take your first sip you'll get that the banana is present in the beer but you won't be in Chiquita Country; the cinnamon adds another level of flavor that balances the beer out so well.
Prop Day will be held on Nov. 19th, and if you were lucky enough to get chosen in the lottery, you'll absolutely enjoy this beer. Getting bottles ahead of time will make your Black Friday hunt a lot easier.
2014 Prop will always have a special place in my heart, but 2017 Prop is right up there and was easily the biggest surprise of the entire tasting.
Bourbon County Reserve Brand Stout
ABV: 14.8%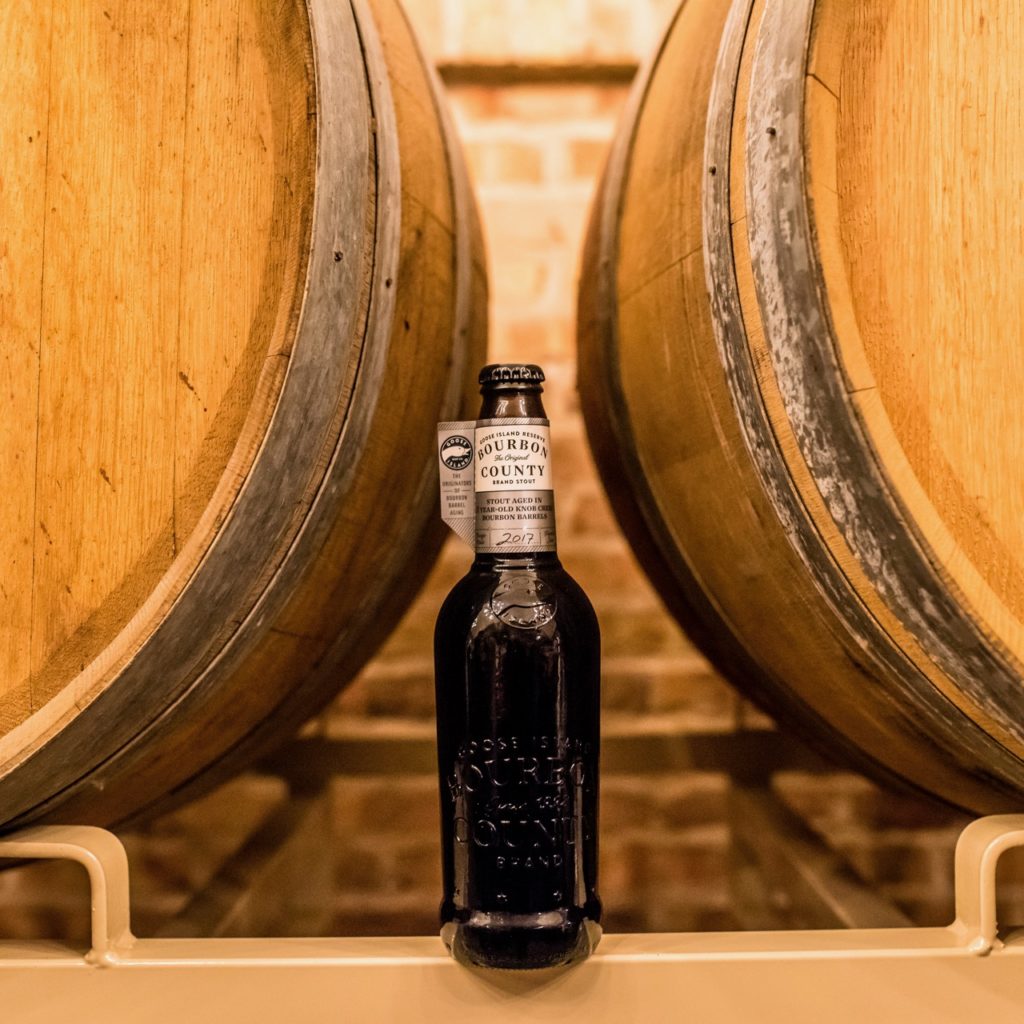 Behold the power of the barrel. Reserve is the same base beer as Original Bourbon County this year, but you would never be able to figure that out. I think it's great to highlight how important the role the barrel plays in this beer.
Instead of Heaven Hill barrels, they used freshly emptied 11-year old Knob Creek barrels for Reserve. The difference produces a boozier, more char-filled smell and flavor that are fantastic.
Despite being boozier, there's no harsh burn on the end or nose-stinging aroma. All the different notes, combined with the additional level of bourbon flavor produce a beer that pays homage to the very idea of barrel-aging beers.
Some might find this year's Original to be too sweet – I'll talk about that later – but Reserve is definitely not. The older barrels provide that deeper flavor that I think a lot of people look for in Bourbon County.
When you compare Reserve and Original side-by-side you'll notice there's almost nothing similar about them, except for the fact that they started with the exact same base beer.
After tasting the entire line-up, we also tried Knob Creek straight-up, which you might think was a bit ambitious after drinking all six variants. It was. But it was also delicious, and you get a sense of where Reserve got its character.
Reserve will have limited release in Chicago and parts of Kentucky only.
Bourbon County Brand Stout
ABV: 14.1-14.7%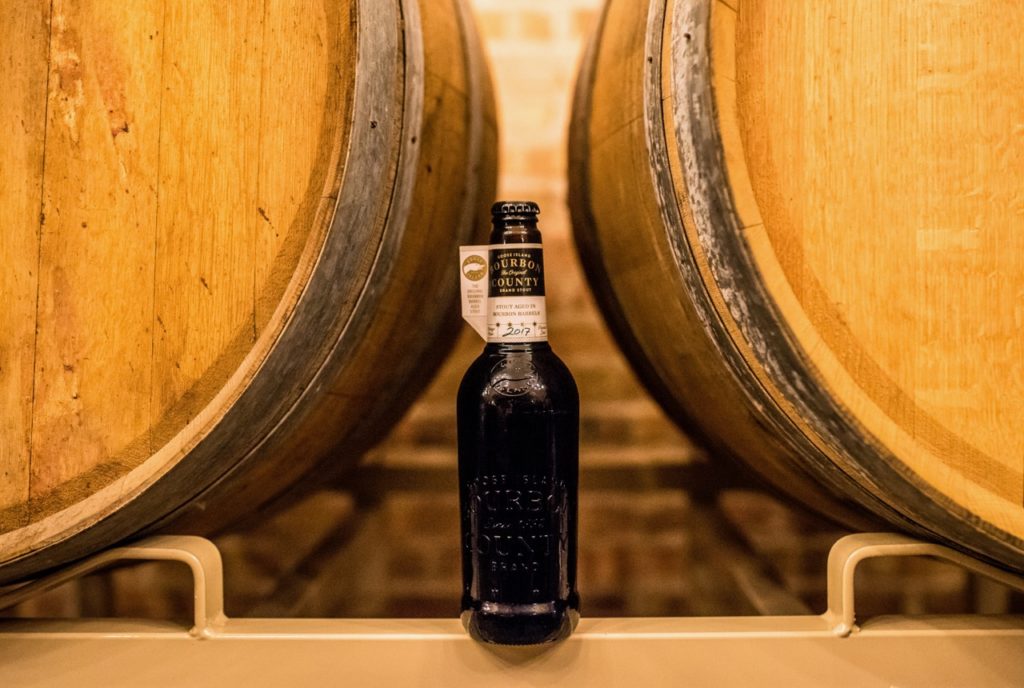 Hope you like chocolate! This year's Original Bourbon County Brand Stout is loaded with chocolate, low heat and essentially no burn at all during the sip.
The aroma is a chocolate punch in the face, and the taste that follows holds suit. While I'm not an advocate of aging beers at home, it would be interesting to see how the chocolate flavor mellows over the coming months.
Over the years, I have felt that some Originals have had too much fruity sweetness, and some might think that this year's is too sweet because of the level of chocolate they get. Personally I'm OK with where this beer is at. If you want more heat and char, you have the Reserve to balance out your needs.
Like I mentioned above, if you taste this beer and Reserve side-by-side, there's no way you'll be able to figure out that they started out as the same beer. The difference is all in the barrels, and this is a perfect representation of how they affect the beer.
Bourbon County Brand Barleywine
ABV: 14.4%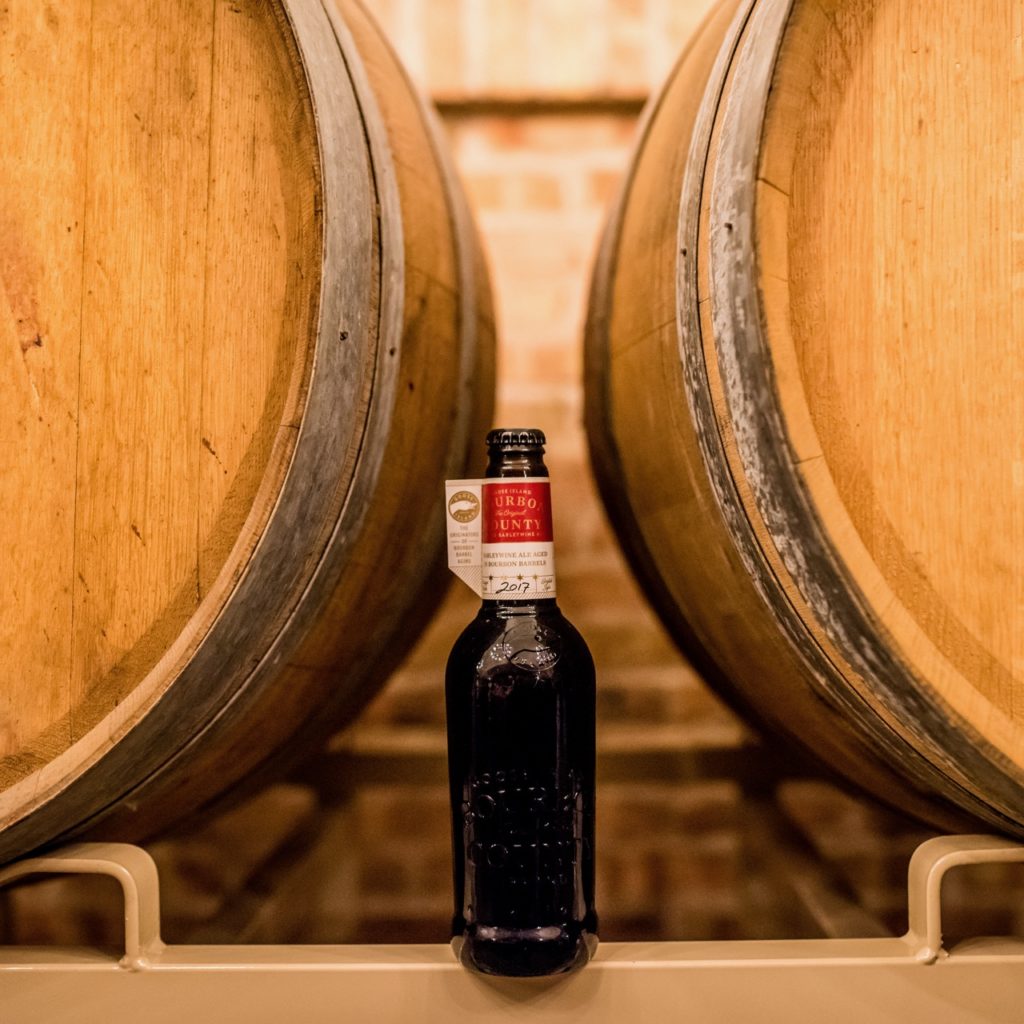 Typically, Barleywine falls at the bottom of my list. It's not because I don't like Barleywines, but, when it comes to BCBS, I like to have that consistent stout flavor profile and I feel like the Barleywine interrupts that sometimes.
That being said, this year's Barleywine is one of my favorites. In the past, Goose used a blend of 2nd and 3rd-use barrels. This means that some barrels had only held bourbon, and some held bourbon and then Bourbon County before being used a third time for Barleywine.
One brewer told me that Goose Island is no longer using 3rd-use barrels for any of their beer. The risk for infection and other off-flavors is higher, so using only 2nd-use barrels makes things a lot easier.
But back to this year's Barleywine. It's a bit boozier and more bourbon-forward than previous years, thanks to the barrel, and I like that a lot. You'll still get raisiny notes and an overall sweeter beer but it's not what it used to be.
Bourbon County Brand Coffee Stout
ABV: 12.9%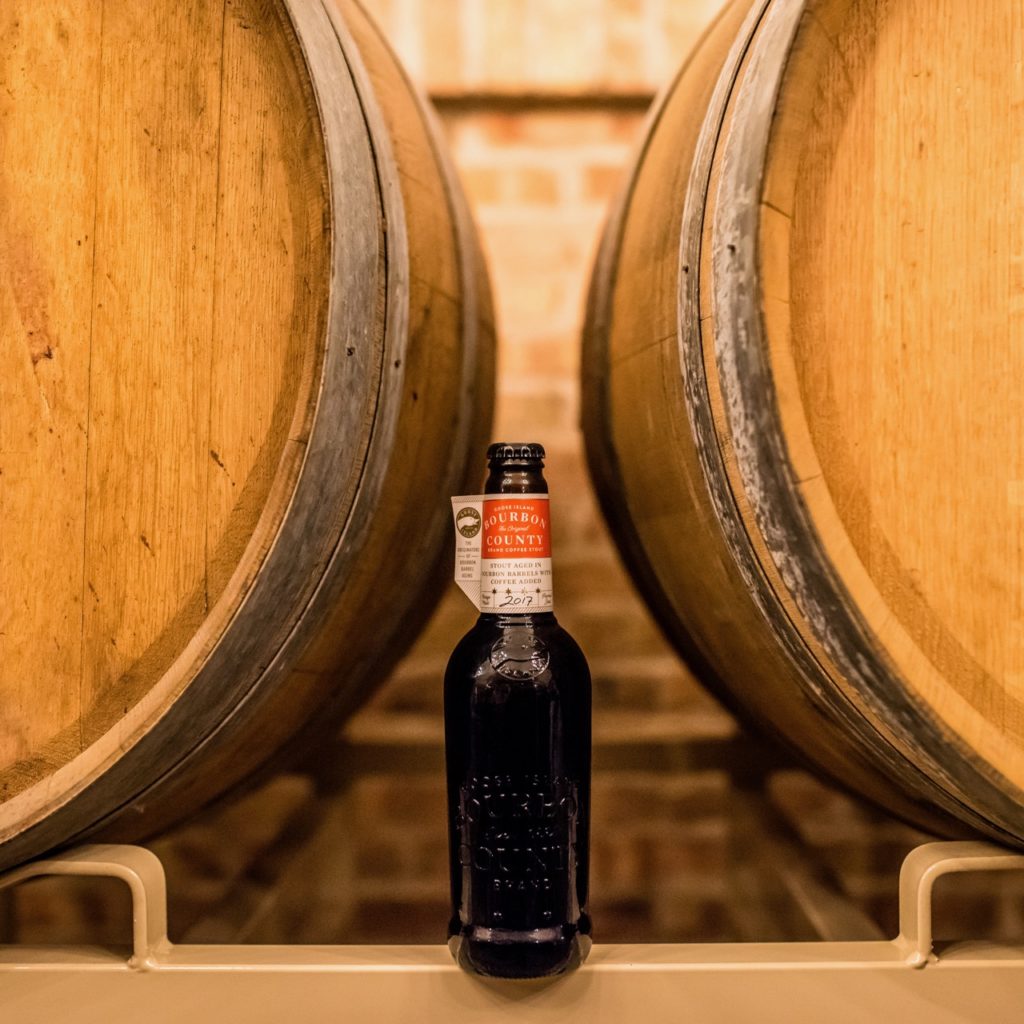 The coffee variant has always been one of my favorites. So when I heard that they were using the same coffee bean that was used in the first-ever BCBCS, Intelligentsia's Black Cat Espresso, I was really excited.
When you smell coffee variant this year, it's going to hit you like a ton of bricks. It's a roastier, more aggressive smell then in years past, and you'll be excited to try it if you like coffee.
From smell alone, I could tell it was going to be a coffee bomb. A great balance of coffee and bourbon melded together to create what would hopefully be a fantastic coffee beer. The coffee flavor just wasn't there.
I did get some light coffee notes on the end, but the smell and the taste didn't add up. The beer itself is very smooth with essentially no heat, but the star ingredient of the beer needed to have a bigger role.
If you aren't a big coffee drinker and prefer a lighter coffee beer you might love this one. While it's not a bad beer, it doesn't stack up against previous coffee beers that really focused on the coffee flavor. Personal preference really is the key here.
Bourbon County Brand Northwoods Stout
ABV: 12.6%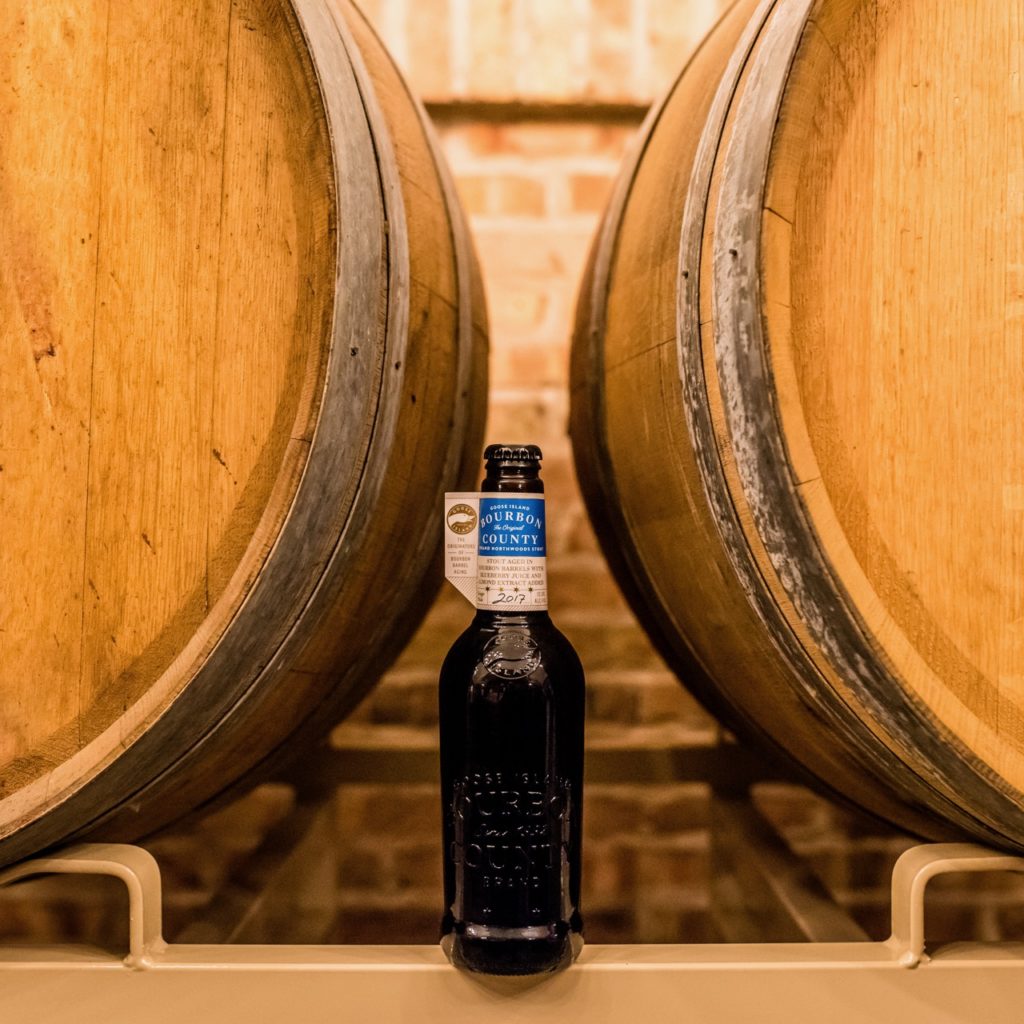 The initial announcement of this variant got me excited, but I had to try hard to justify the smell and flavor. I said it was "unique" and "different," but ultimately I couldn't kid myself, this beer simply isn't for me.
The smell really is unique as it's nothing I've ever smelled in a BCBS before. You get a load of almond extract and blueberry on the aroma. Blindfolded, you would never guess that this was a BCBS beer. If I was walking into a bakery, that's the smell I'd be going for. Drinking a barrel-aged beer, not so much.
Unfortunately the taste matches the smell. It's way too sweet. The almond extract gives the beer a marzipan-like profile that makes anything more than a sip an unpleasant experience.
As I mentioned for coffee above, it's really all about personal preference. There were some people at the tasting who enjoyed Northwoods, however, the general consensus among myself and some other writers was clear. This beer was a miss for us.
Reserve Bourbon County Brand Barleywine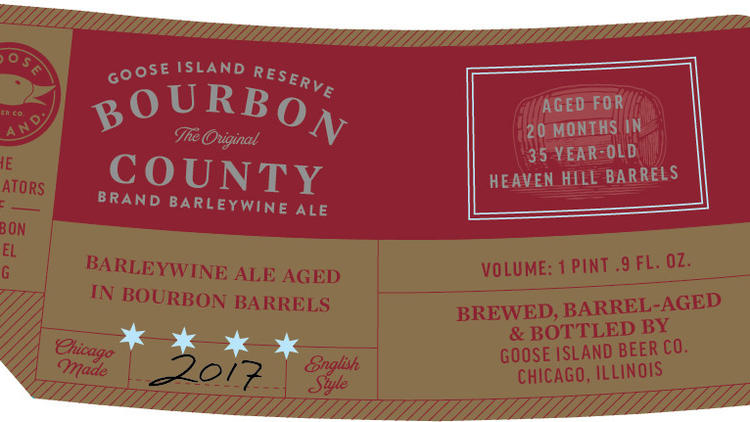 The morning of this BCBS tasting, Goose Island Brewmaster Jared Jankoski released a blog post on the company's website saying, "It doesn't taste like what we wanted it to."
Obviously after the disaster the brewery had in 2015 with the BCBS recall, they're playing it extremely safe when beer isn't up to their standards. In the blog post Jankoski admitted that re-using barrels and aging for any length of time can potentially cause issues and it looks like it happened with Reserve Barleywine.
While some will be bummed to not have this beer, it's the right move by Goose Island. If they wouldn't drink it, why would they sell it? There are still six other variants to get your hands on this Black Friday.
Double Barrel Bourbon County Brand Stout
ABV: 17.2%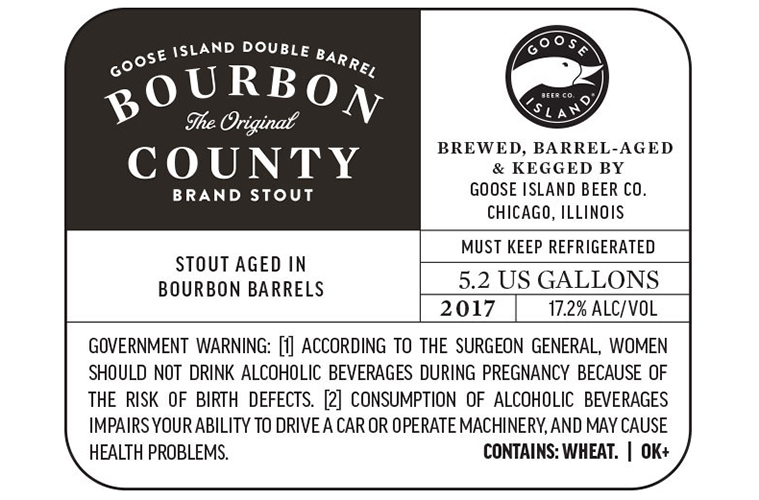 No, we didn't try this one. In fact all day I was skeptical if it was even real or just another label Goose had approved to mess with the beer world.
As it turns out Double Barrel is real. It's going to be draft only and be extremely limited. If you're going to FoBAB my guess is that will be your best bet to have it there. If you have access to the extra hour before the gates open, this would be my first stop because it will most likely be one of the most popular beers at the event.
I'd expect it to be on draft at the tap room at Fulton & Wood and wouldn't be surprised if it made an appearance at the new Clybourn Brewhouse.
Featured Image Credit: Eric Dirksen
MIKE ZOLLER IS THE MIDWEST EDITOR FOR PORCHDRINKING.COM. FOLLOW HIM ON INSTAGRAM: @CHICAGOBEER AND PORCHDRINKING CHICAGO'S TWITTER FEED FOR THE LATEST CHICAGO CRAFT BEER NEWS: @PORCHDRINKCHI.
---