No Comments
Brewery Showcase | Big aLICe Brewing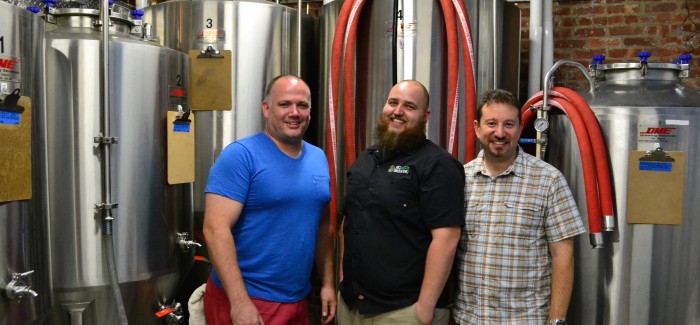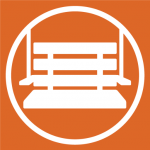 Big aLICe Brewing: 808 43rd Rd., Long Island City, NY 11101
WEDNESDAY 5-9pm | THURSDAY 5-9pm | FRIDAY 5-10pm | SATURDAY 12-10pm | SUNDAY 12-8pm
Interviewing the owners and brewers of Big aLICe Brewing was less of a formal meeting and more like a warm welcoming into their "home". Co-owners (and in-laws) Kyle Hurst and Scott Berger are the perfect combination of business savvy and consistent creativity. But, Assistant Brewer Jon Kielty is the missing variable to such a solid equation. With his expert networking skills and outside-of-the-box thinking, the three run an incredibly successful craft beer destination in the heart of Long Island City, New York.
Over the past year, Big aLICe has grown significantly. Moving away from bottles to growlers, and mostly providing beer on tap, they've noticed that demand is starting to outweigh supply — a good problem to have! Brewing 1-2x a week is reasonable, but the company has reached a growing phase and will be looking to expand internally as well as in distribution. One thing that will never change? The philosophy behind the brand.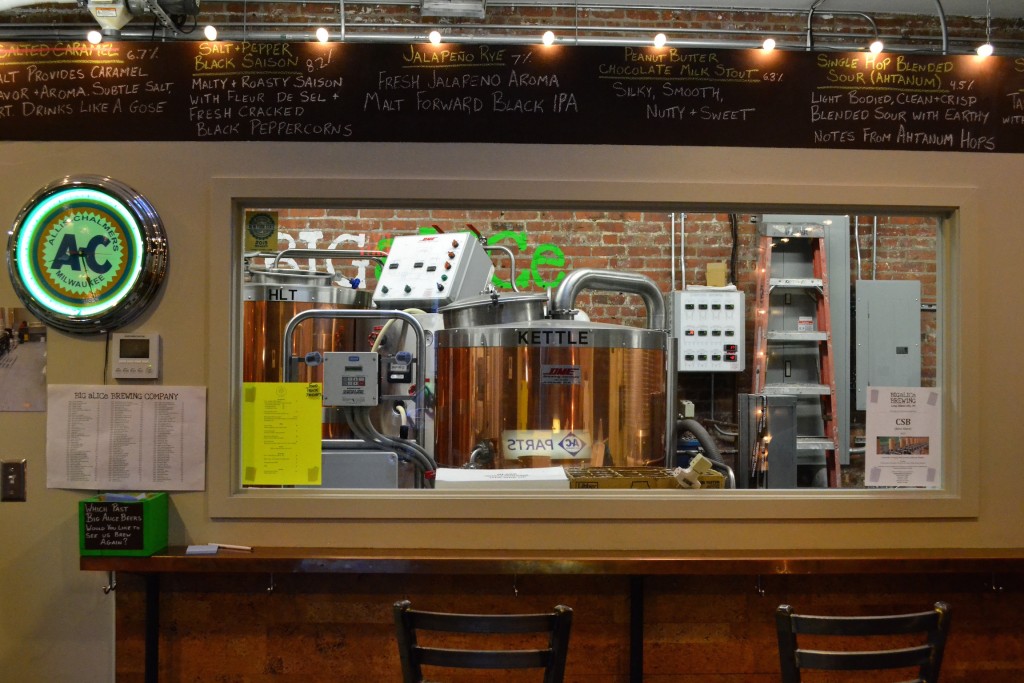 Big aLICe's extremely small batches of brews are meant to have a shorter life-span than your average craft beer. With over 140 unique labels to back this up, you quickly learn that there is a reason behind this strategy. Kyle & Scott's vision relies on quality over quantity, but even more than that, is community. Their weekly menus are meant to start a conversation, invite in curious newcomers and provide a truly one-of-a-kind experience within the craft beer world. As nano-brewers, they operate on innovation, truly enjoying what they do and standing behind the creations they produce within their 5-barrel system.
When it comes to choosing ingredients or deciding on flavors for each individual batch, the inspiration is boundless. Sometimes, a beer comes to life for the purpose of rounding out the current menu offerings. Other times, the product is a result of a weekend trip, a sip of another company's craft beer or challenging their palates to work with a fruit one of the three don't personally enjoy. However they arrive, the results are usually pretty epic.
The longest running beer on tap right now is Sour Multigrain Stout, with the Jalapeño Rye as this summer's seasonal offering. While visiting, I was fortunate enough to try a glass from the latest batch, which exists thanks to an overwhelming customer response and some serious jalapeño chopping by Jon. As far as projecting which of Big aLICe's 141 variations will return as a "limited edition" or seasonal brew, the team has a few selections they plan to bring back throughout the year but can certainly rotate moving forward in 2016. To request a repeat of your favorite, a box exists in the tap room where suggestions are highly encouraged and considered for future production.
One of the most impressive attributes aside from a high-yield of batches per year,  is the company's green initiative plan. Aware of the high water-waste that brewing produces, Big aLICe has been working with The City College of NY to measure their overall waste output and establish methods of environmentally safe practices. They are also working with a solar powered energy company to reduce energy usage and currently send out all of their ingredient ends for feed. An experiential brewery with a considerate conscious? Go Big A!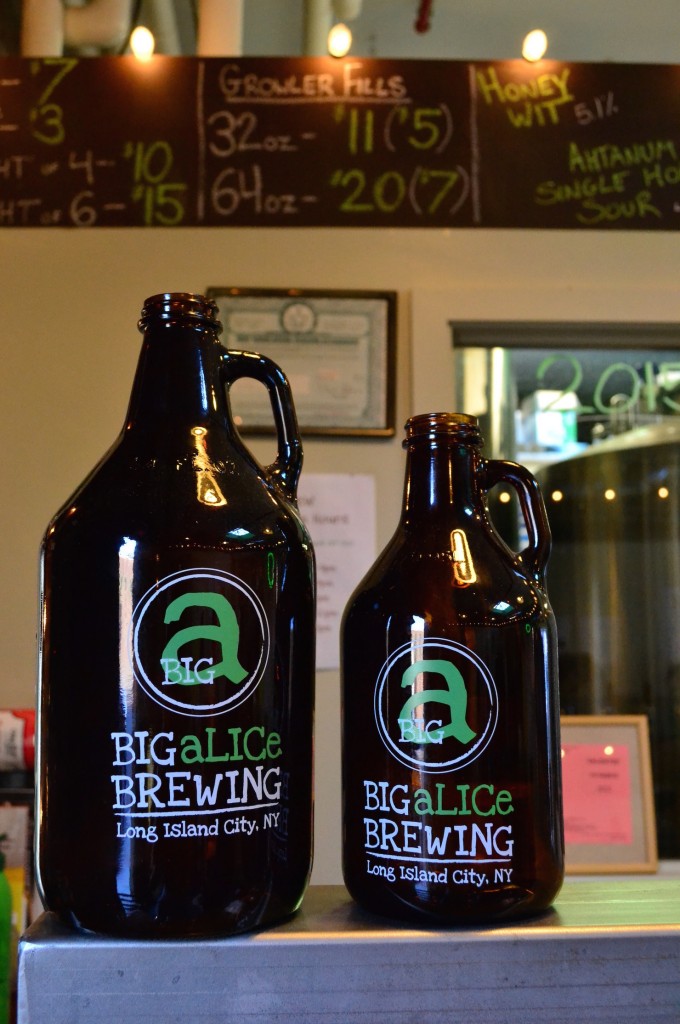 Collaborations
Being considered a "local" business or supporter of your "local" community is easier said than done. Kyle and Scott have chosen to operate Big aLICe on a farm brewery license. Because of this, at least 20% of all malts and hops for each beer currently come from a NY State Farm. Outside of license regulation, any specialty ingredients or honey from a local apiary (that goes into at least one beer per season) are also efforts to support their neighbors.
This summer, be on the lookout for Big aLICe's collaboration with Renegade Lemonade, a Brooklyn-based beverage company that follows a similar blending & mixing strategy when it comes to creating a menu. From June through August, you can purchase some incredibly fringe combinations in the Tap Room @ Big aLICe.
Food Truck Friday's: This new concept is intended to offer local eats to customers with some beer infused dishes and budget-friendly prices. Throughout the summer season, stop by Big aLICe for an excellent pairing of delicious eats & unique craft beer flavors.
Big aLICe Brewing just celebrated their 2nd Anniversary Party this past Sunday July 5th (12-8) and we expect so much more from the upstart brewery in the coming years. Here was their tap list during this weekend's festivities, many of which are still available in the tap room!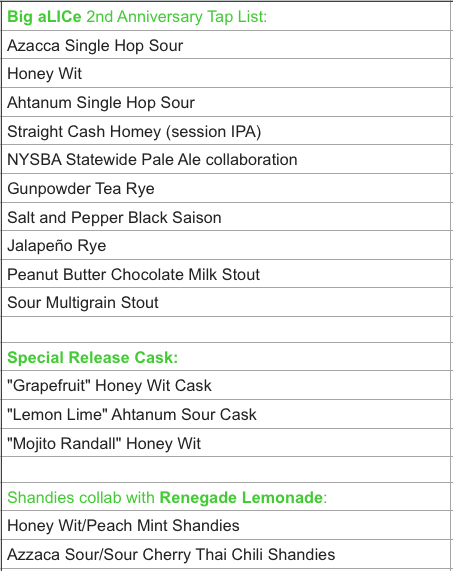 For exclusive exposure to Big aLICe's new releases in Queens, check out the taps at both locations of Astoria Bier & Cheese. You can contact the brewery for a listing of the locations currently distributing their beer (approx. 30), including: Gingerman, Ratte N Hum, Crescent and Vine, Oliver's, Alewife, the Jeffrey, Fools Gold, Station House, Hoptron, the Sampler.
---