No Comments
Call To Arms Brewing Begins Open Fermentation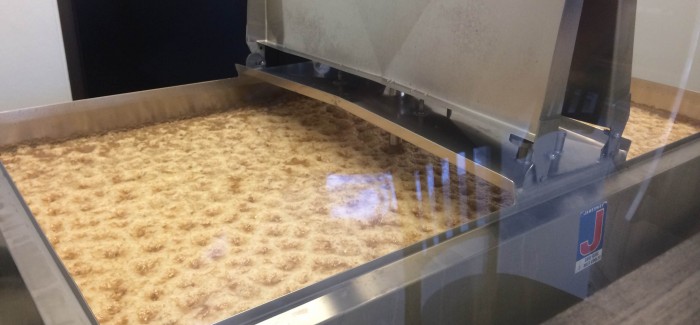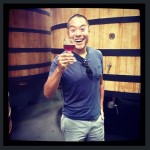 IT'S NOT A KOELSCHIP! (yelled in the accent of Arnold Schwarzenegger)
A few weeks ago we showcased the grand opening of Call to Arms Brewery, the brain child of former Avery employees Jesse Brookstein, Chris Bell and Jon Cross. Located on 46th and Tennyson, the 10 barrel neighborhood brewery lived up to it's motto of "Quality. Consistency. Comaraderie." during opening weekend. But still, we were intrigued.
There were more stories here, ones that we couldn't completely capture during our first showcase, like the fact that their first and last taps are referred to as the Chimney and the Barrel respectively. This is due to the fact that Brookstein loves smoked beers and will always have a smoked beer available on Tap 1. Similarly, Bell has a passion for barrel aged beers and plans to consistently keep a barrel aged beer on the last tap beginning in January. However, what we were more intrigued about was something we really didn't completely understand initially.
During the initial walk through of the facility back in April, amid the dusty floors, unfinished blueprint draped bar, our attention immediately fell upon the solitary, sealed off area located directly to the left when you enter the tap room. The room, painted white on three sides, with a glass pane looking into the tap room, housed nothing but a repurposed dairy tank. We knew what this was to be used for, or at least I thought I did. But alas this is the reason we've returned to take a closer look at Call to Arms Brewery.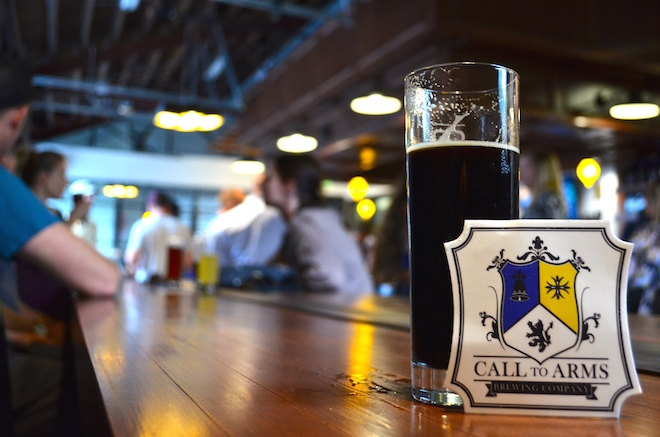 No, it's not a koelschip, but rather an open fermenter. "The biggest difference would be that the wort is not chilled in the fermenter, as is the case with a koelschip," explained Brookestein. "Instead we send it through our heat exchanger as we would with any other normally fermented beer. The advantage to the open fermenter is the different fermentation profile you can get without the hydrostatic pressure and other fluid dynamics associated with a cylindroconical fermenter."
Translation: open fermentation brings out bolder more accentuated flavors that would normally be lost in normal fermentation. Jon Cross went on to explain "The shallow bathtub setting creates a more natural, happier environment for the yeast which helps to better bring out the esters, and also ferments faster."
"This process really lets the yeast speak for itself," said Cross.
And so it did. When we stopped by last week, we got a sneak taste of their first open fermentation run of Burkhalter Dunkelweizen. This iteration drew out much more pronounced notes of banana and clove with a bready-er malt driven finish. Think liquid banana bread. The original Burkhalter was much lighter, and only exhibited slight traces of the clove-y banana-y flavors on the finish.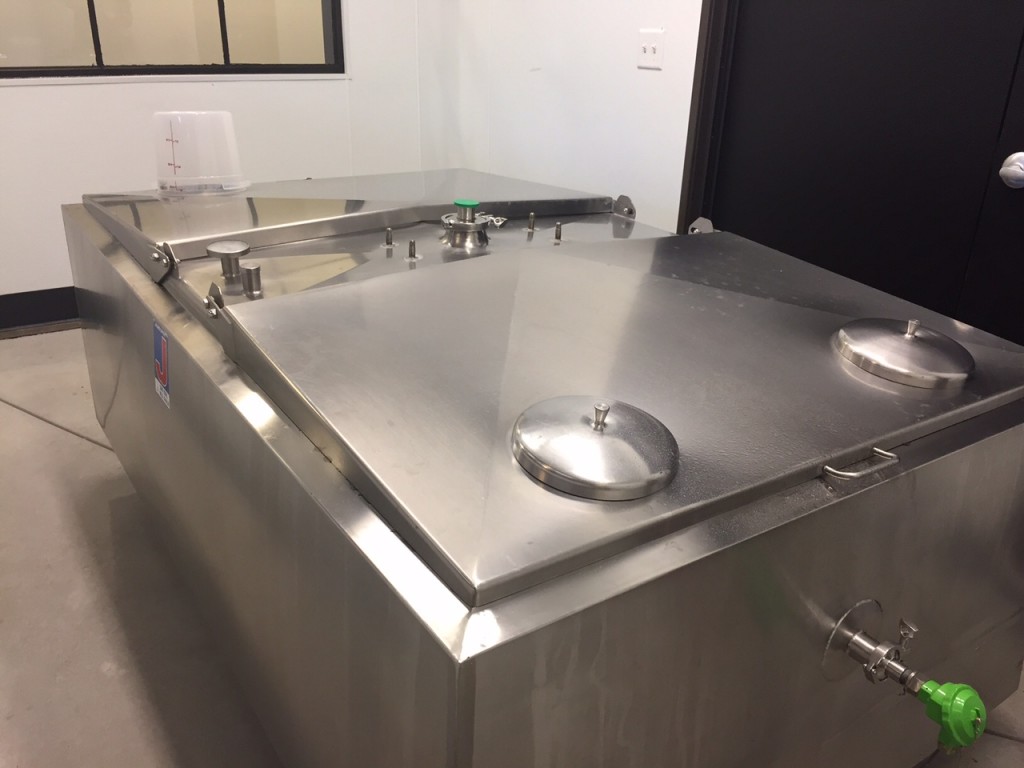 In preparation for their open fermentation projects, the trio flew to Michigan last year and sought the consultation of Ron Jefferies, founder of Jolly Pumpkin Brewery. And while the Call to Arms team may have expected extremely technical advice they got something more practical, and reassuring "Its all about cleaning practices," recounted Bell on Jefferies. "You guys are brewers, you know what you're doing, just be clean."
And while the open fermenter may not be a koelschip in the technical sense of the word, that doesn't mean the CtA team doesn't plan to brew some sour and wild beers in the future. "Our first two open-ferment beers were straight sacc, though we do plan to sour some beers after the fact – and we definitely plan to ferment with brett down the road," said Brookstein.
---