2 Comments
Event Recap | Denver Rare Beer VII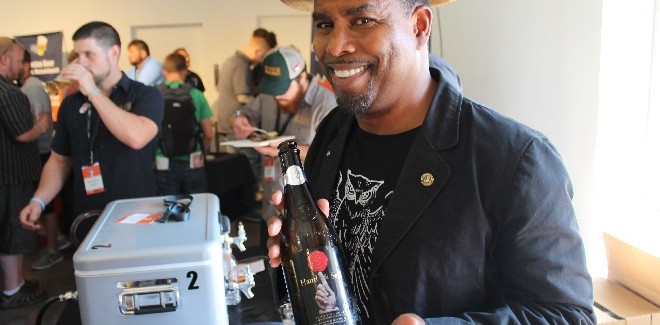 Average Reading Time: 7 minutes
Best event of the #GABF2015 weekend?! We think so. John Maguire and Cory Pelc pontificate on their favorite pours, casual convos with the beer celebs of the craft beer world and provide a minimal amount of criticism. A Recap of all things Denver Rare Beer VII.
The Denver Rare Beer Tasting VII was held on Friday, Sept. 25, during the Great American Beer Festival weekend. Tickets for this event went on sale on Father's Day and sold like hot cakes. Speaking of cake, we tried a cake beer. Derp, a cake-like beer. Anyway, we will get to that in a second. Let me do a few more housekeeping items before making you all hella jealous of all of our liquid journeys.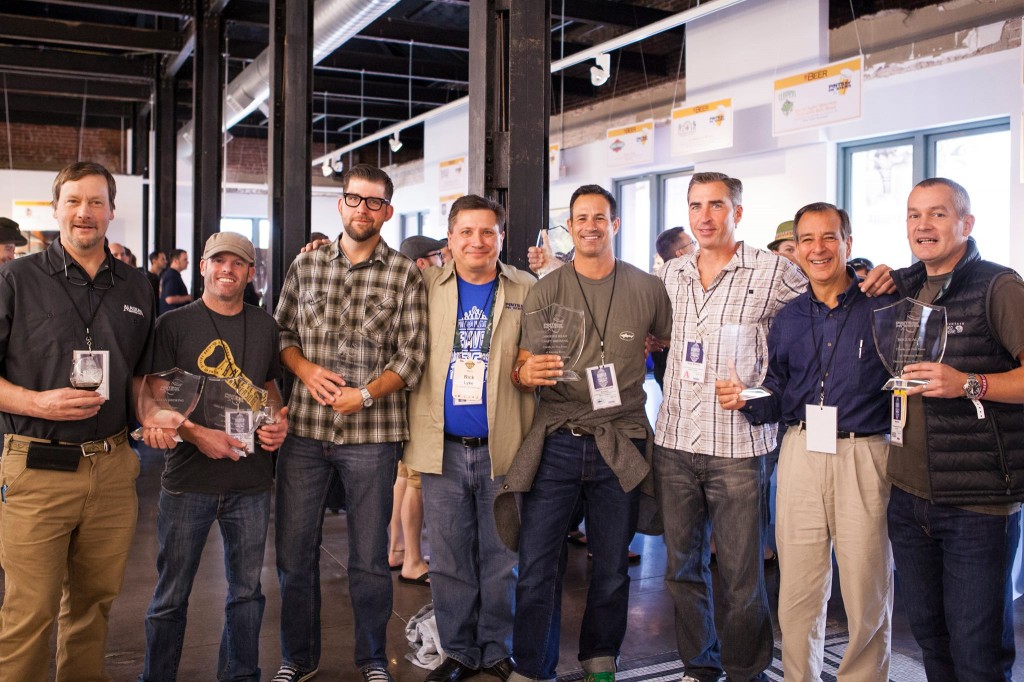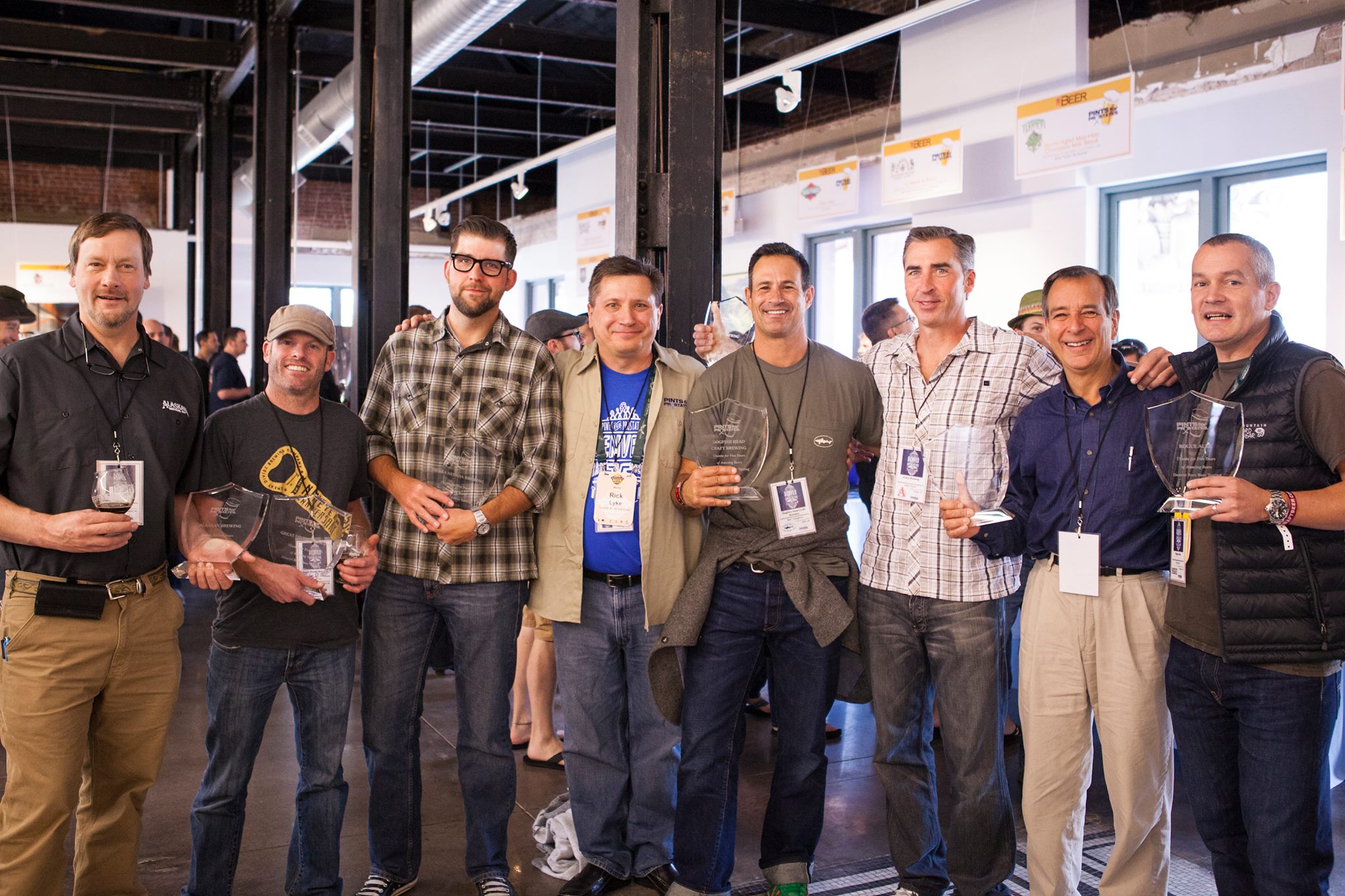 History:
As we've articulated a few times, GABF week's multitude of events have lately grown to the point of overshadowing the event itself. And while many of these periphery activities offer a host of rare or limited distribution beers, Pints for Prostates' Rare Beer Tasting offered the most impressive lineups we found all weekend.
But what most attendees don't realize is that this event goes far beyond a beer geek's wet dream of a pour list. One of the many reasons the Rare Beer Tasting has been able to attract stellar beer lineups and brewery celebrities like Adam Avery and Sam Calagione is that Pints for Prostates has made such a relevant impact.
Rick Lyke, who has written about beer for over 30 years and attended his first GABF in 1992, was diagnosed with prostate cancer in 2007. The following year he founded Pints for Prostates as a way to raise awareness through the universal language of beer. Since 2008, Pints for Prostates has also been able to provide free and easy health screenings, as a means to promote men's health and identify previously undetected health issues.
The Pints for Prostates mission is one that resonates with a large portion of the beer community and it is events like tomorrow's Rare Beer Tasting that help to raise that awareness.  While tickets sold out to the event really quickly, we always encourage folks to be sure to check out the Pints for Prostates cause to find out more and get ready to buy your tickets next year around early June 2016.
What was Poured:
Abbey Tripel Reserve, Abbey Brewing, Abiquiu, N.M.*
25th Anniversary Perseverance Ale, Alaskan Brewing, Juneau, Alaska
Vallum, Avery Brewing, Boulder, Colo.
Barrel 178, Bear Republic Brewing, Healdsburg, Calif.
Bell's Tawny Port Baltic Porter, Bell's Brewing, Kalamazoo, Mich.
2012 Oak Aged Cherry Biere de Noel, Big Sky Brewing, Missoula, Mont.
Samuel Adams Kosmic Mother Funk Grand Cru & Utopias, Boston Beer, Boston, Mass.
Love Child No. 5 &

2013

2014 Bourbon Barrel Quad, Boulevard Brewing, Kansas City, Mo.
Brandy-Barrel Rye Wine & Birra Minestra, Breakside Brewery, Portland, Ore.*
Brooklyn Hand & Seal, Cognac Edition (Ghost Bottle), The Brooklyn Brewery, Brooklyn, N.Y.
Bourgogne Blanc, Bruery Terreux, Placentia, Calif.
Casey Family Preserve: Montmorency Cherry, Casey Brewing & Blending, Glenwood Spgs, CO.*
Black Gold, Central Waters Brewing, Amherst, Wisc.*
Nightmare on Brett Port Barrel Aged, Nightcap & L'Brett d'Cherry, Crooked Stave Artisan Beer, Denver, Colo.
[Banished] Tough Love Barrel-Aged Imperial Stout, Crux Fermentation Project, Bend, Ore.*
Collage (Conflux No.1), Deschutes Brewery, Bend, Ore.
Barrel Aged Palo Santo & Festina Lente, Dogfish Head Craft Brewery, Milton, Del.

Mango Tango

Kettle Sour, Elevation Beer Company, Poncha Springs, Colo.
Old Sage Brett & 2011 Brainless on Cherries, Epic Brewing, Salt Lake City, Utah
Firestone Walker XVIII &

2014

Sucaba, Firestone Walker Brewing, Paso Robles, Calif.
Bourbon Barrel Aged Sexual Chocolate, Foothills Brewing, Winston-Salem, N.C.
Barrel Aged Snowed In, Funky Buddha Brewing, Oakland Park, Fla.*
2014 Proprietor's Bourbon County Brand Stout, Goose Island Brewing, Chicago, Ill.
American Sour, Grand Teton Brewing, Victor, Idaho
A Sour Patch Divided, Great Divide Brewing, Denver, Colo.
Once Upon A Time & The Count, Grimm Brothers Brewhouse, Loveland, Colo.
Barrel-Aged B.O.R.I.S. VAN WINK Imperial Stout & Barrel-Aged Silk Porter, Hoppin' Frog Brewing, Akron, Ohio*
Ursae Majoris, Jolly Pumpkin Artisan Ales, Ann Arbor, Mich.
Tenth Anniversary BA Imperial Rye Ale, Laughing Dog Brewing, Ponderay, Idaho
Cable Car, The Lost Abbey, San Marcos, Calif.
Saranac Javanac & Saranac Imperial Barrel-Aged Rye Porter, F.X. Matt Brewing, Utica, N.Y.
Whiskey BA Blackberry Barley Wine Ale, New Belgium Brewing, Fort Collins, Colo.
2013 Incorrigible White Sour, New Holland Brewing, Holland, Mich.
2014 Bourbon Barrel and Vanilla Bean Aged Olde Voyager & Between the Berries and Me, NoDa Brewing, Charlotte, N.C.
Genesis 2015, NXNW Restaurant and Brewery, Austin, Texas
Ignorance is Bliss, Odell Brewing, Fort Collins, Colo.
ProCATstination, Perennial Artisan Ales, St. Louis, Mo.
Anniversary Ale #3, River North Brewery, Denver, Colo.
Cold Brew IPA, Rogue Ales, Newport, Ore.
Bourgogne Blanc, Bruery Terreux, Placentia, California
Twig and Berry, Schooner Exact Brewing, Seattle, Wash.*
Barrel Aged Rain Check Spiced Stout, Sierra Nevada Brewing, Chico, Calif.
Ornette, Spangalang Brewery, Denver, Colo.*
Xocoveca Charred & "The Tiger Cub" white wine BA Saison, Stone Brewing, Escondido, CA
Rye Barrel Aged Batch 666: Sympathy for the Devil, Sun King Brewing, Indianapolis, Ind.
BA Balt the More & Barrel Aged Old Pro w/Peaches, Union Craft Brewery, Baltimore, Md.
Mountain Man & Verboppin' Frogoten, Verboten Brewing, Loveland, Colo.*
White Raspberry & Pumpkin Smash, Cascade Brewing, Portland, Oregon
Dark Arts and Montmarretto, Wicked Weed Brewing, Asheville, N.C.
Tart Project: Saison, Wormtown Brewing, Worcester, Mass.
2014 Chianti Brett Saison w/Sangiovese Grapes & Deux Rogues Grand Cru (Batch Two), Yazoo Brewing, Nashville, Tenn.*
(* Indicates first appearance at Denver Rare Beer Tasting.)
Our Favorite Beers:
Avery Brewing: Vallum – Grapes, neutral oak, spontaneously fermented. Okay, we're cool with that.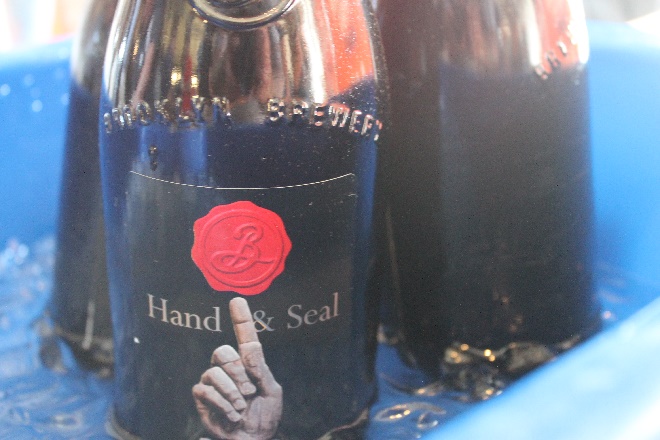 Brooklyn Brewery: Hand & Seal – You know, just Garrett Oliver's bottles that were pulled from his personal stash. Oh, yeah, I guess that is pretty rare.
The Bruery: Bourgogne Blanc – Belgian-style sour ale fermented with Cali Chardonnay grapes then aged in French Oak barrels. Fewer than 150 cases of this beer were packaged and it was only sold to the Hoarders Society membership holders.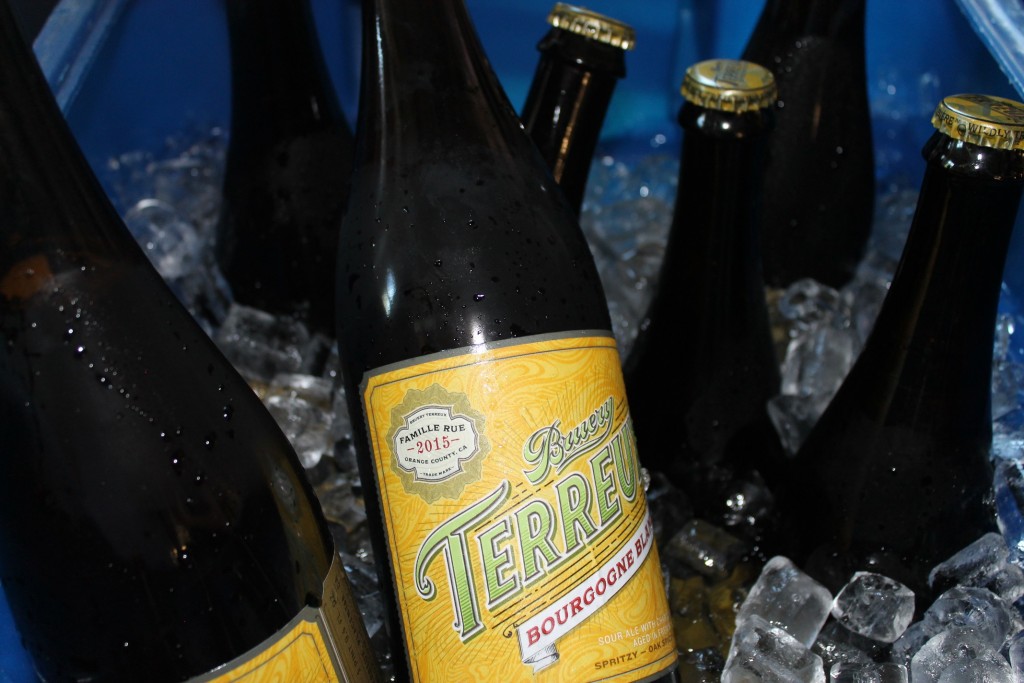 Cascade Brewing: White Raspberry – Limited, single-barrel release. 14-month-old Strong Blond Ale aged in a white wine barrel with fresh white raspberries for eight months. This was a live barrel project only released for two weeks, and there were only 10 gallons left. Oops. We drank a lot of that.
Cascade Brewing: Pumpkin Smash – short run release from 2014, and bottles have yet to the market. 1,200 lbs of roasted pumpkins added over three weeks to Old Stock Quads aged in rum barrels for up to two years with spices added.
Casey Brewing and Blending: Casey Family Preserve – Montmorency Cherry – Can I have a refill please?! Thank you. No need to dote on this, just drink it if you can get your dirty little paws on it.
Funky Buddha: Snowed In – Liquid cake in a glass as John put's it. Pitch black and viscous, it's made with coconut, chocolate, and coffee. They then aged it in Bourbon barrels for 6+ months to accentuate the vanilla and coconut notes. 11.8% of liquid german chocolate cake covered in Almond Joys. Gah. We can't talk this beer up enough.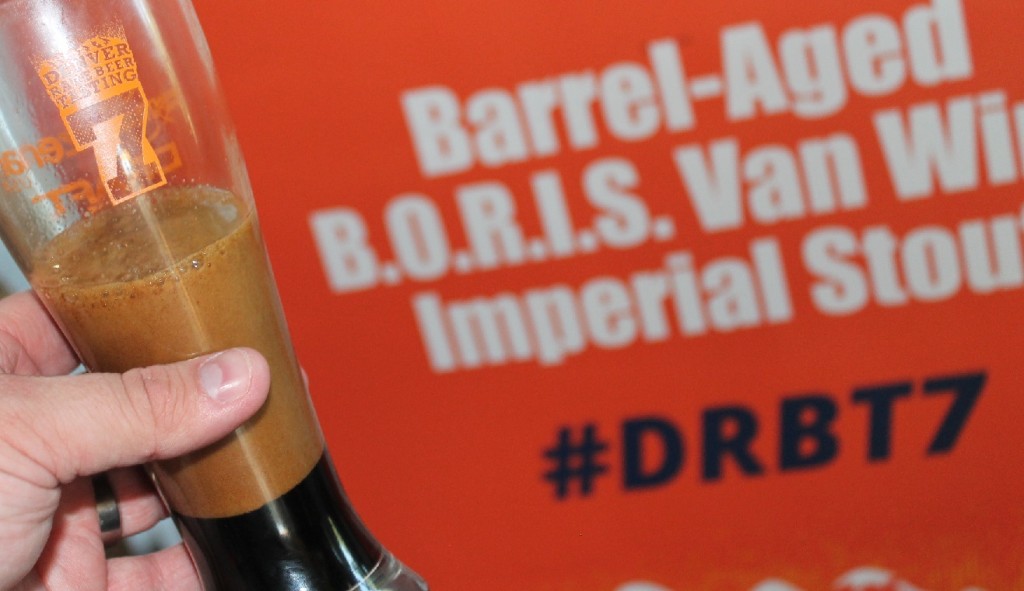 Hoppin' Frog Brewing: Barrel Aged B.O.R.I.S. VAN WINK Imperial Stout – Cory kicked the keg on this; turns out that giant glass was good for one thing this festival. Aged in the rarest bourbon barrels at the brewery; this beer showcases caramelized vanilla and buttery whiskey flavor adding the perfect complexity and depth of flavor to this full-flavored imperial stout.
The Lost Abbey: Cable Car – Cory got a sample of this from a local friend who had the last pour of this beer. This beer is only sold at the Toronado and must be consumed on-site, making it extremely rare to even be seen outside of the bar. It was pretty fucking tasty.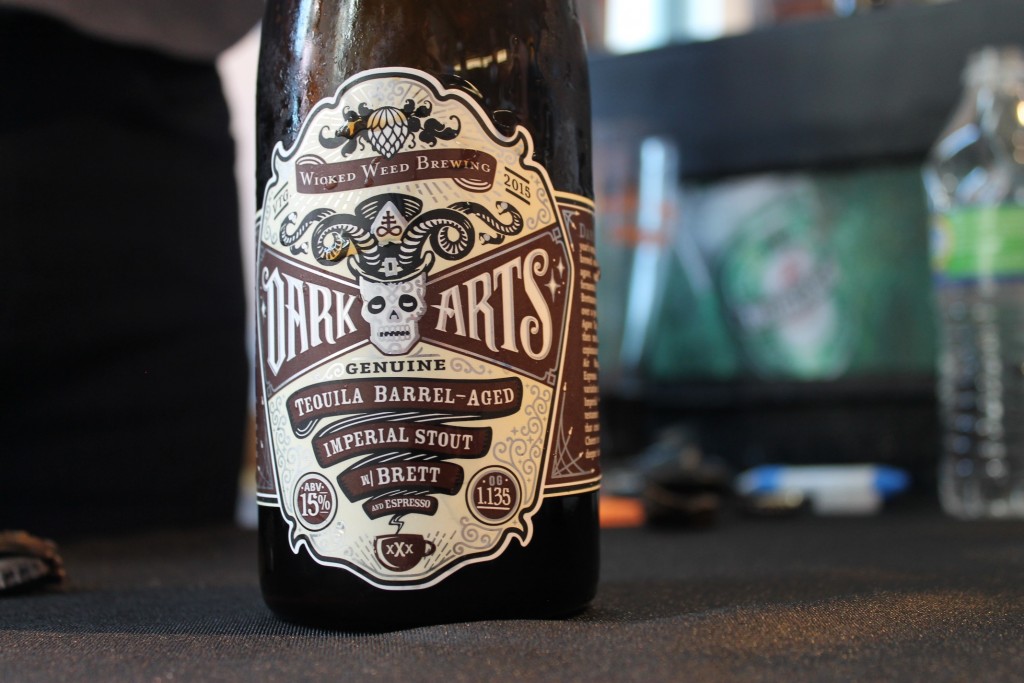 Wicked Weed: Dark Arts – Only in its second year of production, this year's version is the first with brett and espresso added. Organic Blue Agave Tequila Barrels hold the beer for a year moving onto Mountain Air Roasters Heirloom Ethiopian espresso. In addition to holding the title of the first beer to reach North Carolina's cap for ABV, this version of Dark Arts is extremely limited and is expected to sell out in just minutes when it is released in late October.
Takeaways from the Fest:
"Hi Sam" (Read with the vocal inflection used by Mr. Narwhal on the movie Elf) became our quote of the night. We actually passed by Sam from Dogfish on our way upstairs and all we could muster was a quick salutation as did he.
We were amazed how easily you could grab the beers that you wanted. Best experience of the weekend as far as face time and interaction with breweries and beers we love.
GABF seemed junior to the experience this festival provided – Short lines, amazing beers, beer celebrities, no (few) bros/d-bags. That last part is huge in the spectrum of the weekend. No amateur hour here folks.
Wait there is no line at Avery? Again, we were baffled that we could walk right up to Avery and grab a Vallum and talk to Adam. Even when there was a line, it vanished quickly and we never felt crammed or like we were in anyone's way like other festivals that happened this week.
Great way to enjoy GABF outside of the convention center. A different location but definitely had that same buzz, that same feeling. The McNichols building gave it a classic feeling that the convention center lacks. Natural light rather than horrific yellow glow is the way we like to drink our beers!
Everyone was chill. The crowds were not freaking out, people were polite in the bathrooms, way less farts. Just overall a more mature crowd than the typical GABF scene lends to the beer drinker. A true connoisseurs'event with good food and good brews and no bullshit.
Volunteers seemed very sincere and uninterested in getting off of their shift early to drink beer which made for a great and well maintained event. Stocked water at the rinse station and often emptied buckets. Well stocked facilities and little to no spills. Shoot, we even saw Logan 'the Beer Hunter' Perkins handing out waters to patrons and booths to make sure everyone was well hydrated.
One Piece of Beer Nerdery for Your Thoughts:
"Only nine brewers have been invited to all six Denver Rare Beer Tastings, while 41 have made a single appearance at the event." Also, this year, there were 10 new breweries pouring their wares. We think kind of variety provides a great platform for a festival without letting it grow too big.
Constructive Criticisms for Denver Rare Beer:

Large glassware. Why such a large glass?! If this is supposed to be a classy event, let's get a nice snifter. We get that the event logo may look great on this weisen glass because of its shape, but this glassware was way too big and way too busy with two large sponsor logos on the back side of the glass.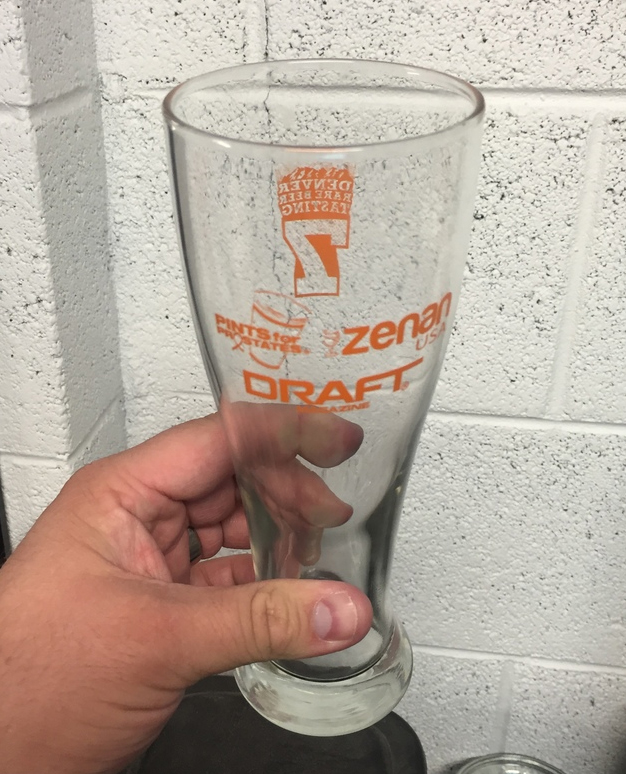 Bow Ties?! This is the opposite side of spectrum for class. And for $50? Who am I, John Frank?!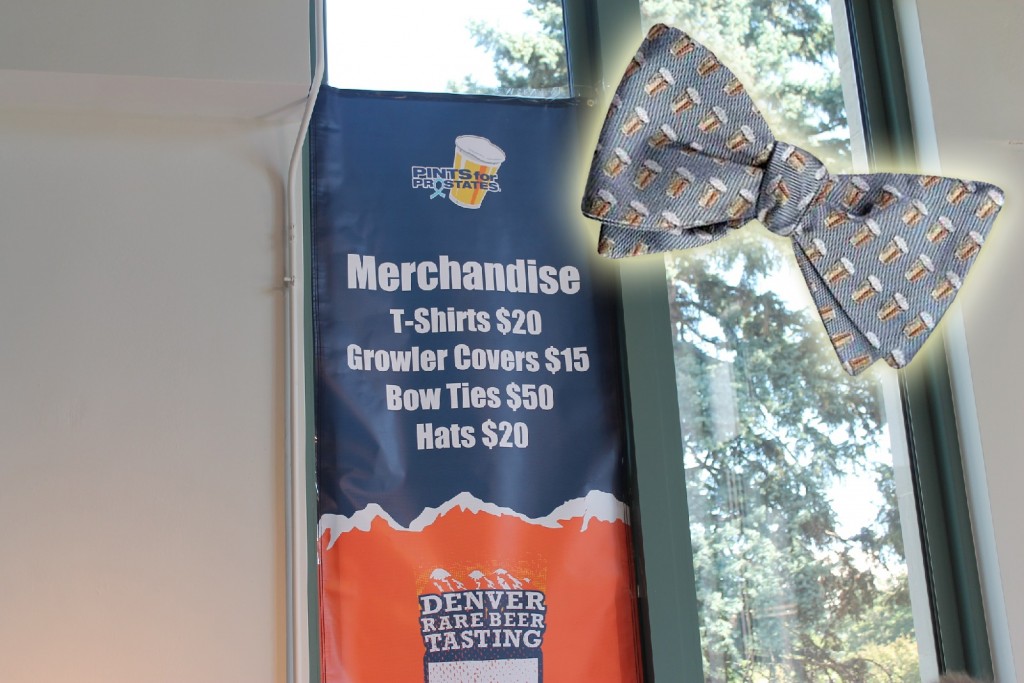 Well done, #DRB7!!!
---