No Comments
Roaring Fork Beer Company | Hoppa Road Imperial IPA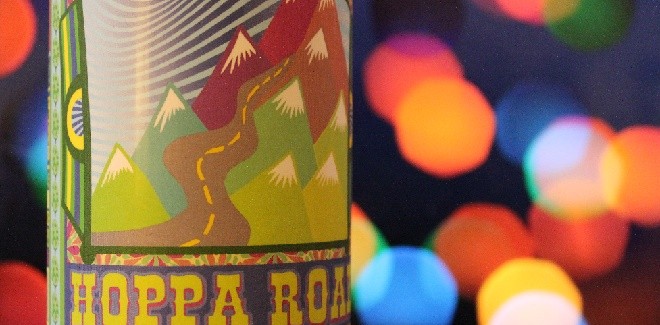 Style: IPA – Imperial/Double | ABV: 8.5% | IBUs: N/A
An 8% hop bomb; Hoppa Road is brewed with over two and a half pounds of Citra Hops per barrel. This makes for a big juicy, lupulicious brew.
The Brewery
Roaring Fork Beer Company was launched in 2013 by Chase Engel, a long-time professional brewer with a dream of producing creative beers to match the changing seasons. From their home base in Carbondale, CO, they brew, package, and sell exceptional beers for distribution throughout the Roaring Fork Valley and a handful of accounts in Denver. Roaring Fork is dedicated to producing fresh, approachable, and flavorful beers, while continuing to push the envelope with experimentation and barrel aging on a small batch scale.
The Label Artwork
Tripp has screen printed over 500 posters since the fall of 2002. He has printed official posters and other merchandise for Phil Lesh & Friends, Pretty Lights, The Disco Biscuits, Umphreys Mcgee, STS9, The New Mastersounds, Pasture Palooza, Aura, Jamcruise, Trombone Shorty, Boombox, RAQ, Yo Mama's Big Fat Booty Band, Toubab Krewe, Preservation Hall Jazz Band, Talib Kweli, and Ivan Neville's Dumpstah Funk. 
Nearly all designs are hand-drawn first, then modified digitally. Tripp silk-screens using acrylics on watercolor paper. Every print is archival and acid free. All prints are printed, by hand, using a manual press, laying on each color separately and hanging to dry on a clothesline. Each print is hand signed and numbered. Find more of his work over at Tripps Prints.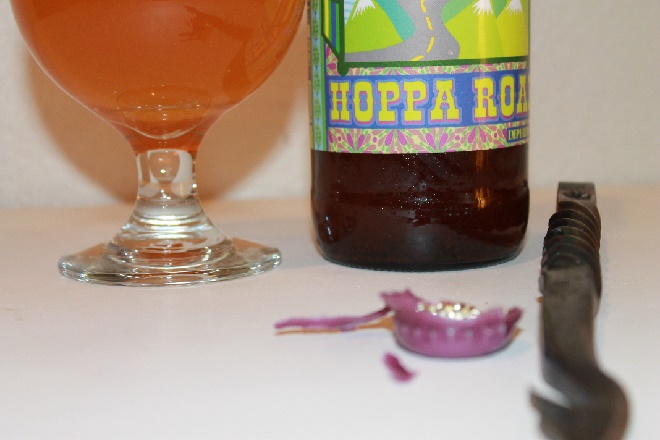 The Brew
Alright, after reading the label and wondering what the fuck a 'boognish' was, I had to look it up. The search engine lit up with DEMON GOD. This Demon God isn't your typical fare of scariness though. This is the Demon God of WEEN lore. So, not so menacing. Much more "jammy." Nonetheless, I am cool with hailing to a Demon God. Anyway, upon more searching, Hoppa Road is actually a play on words coming from the WEEN song, Joppa Road. I must admit, I don't know anything about WEEN other than that one song from Road Trip, what's the name of it, Voodoo Lady? Their sound isn't for me… but this beer is!!!!!
So, let's take a trip down Hoppa Road…
Tearing through the purple wax with my whaleslayer and popping the top, this brew emits a fresh, citrusy lemon and grapefruit bouquet, much like you'd expect from a DIPA. Sweet orange comes next and balances out this magic carpet-ride of fruit on the palate. A welcomed layer of sweet malt flavor bolsters a blitz of muscular hops.
While hop bitterness usually arrives toward the end of a sip, here it's present right at the beginning with refreshing, juicy grapefruit and lemon for balance. All Citra, big grapefruit, drier than most Colorado DIPAs, a touch of a garlic/herbal note that is present in the Citra hop that works really well with the piney aroma. Lingering foam cascades with each sip, cloudy golden color, good bitterness up front underpinned by a balanced maltiness. A sweet finish with pronounced alcohol.
Soft honey sweetness, dry leafy, dank, earthy, medium bitter hoppiness with grapefruit, light lemon, mango and a hint of papaya. Hoppa Road is balanced throughout, with a well-timed, clean bitterness that tidies up the palate and lasts well after the beer's disappeared.
Keep an eye out for their other offerings – that Slaughterhouse Lager may be my favorite craft lager out there!
Roaring Fork Beer Company is located at 1941 Dolores Way 81623, Carbondale, CO
Normal tasting room hours are: Mon – Sat from 2pm – 8pm
Roaring Fork's Hoppa Road along with the rest of their bomber and can varietals are available at Small Batch Liquors.


Small Batch Liquors – 4340 Tennyson St, Denver, CO 80212
---