No Comments
The Ultimate 6er | Trick R Treat!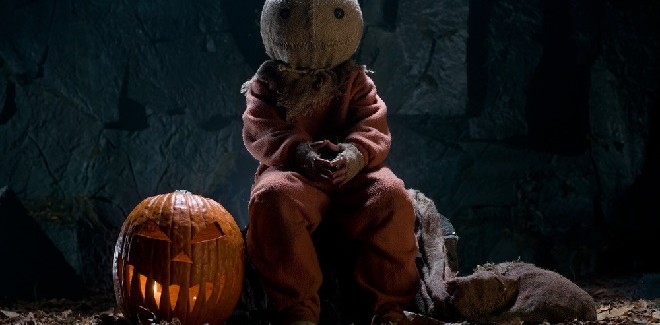 Halloween is my favorite holiday. Something about the crisp fall air and the leaves changing colors has always pulled at my heart strings. Growing up in Colorado, we would always wait for the 31st of October and crossing our fingers that it wouldn't snow so you didn't have to wear a coat under your costume. Fast-forward a bunch of years and the holiday still has me twisted. I look forward to picking out my costume, planning on which parties I can attend and planning my must-try beers to go along with my favorite Halloween movies. My favorite Halloween movie is without a doubt, Trick R Treat. The one from 2007 and not the 80's one. Sure, the 80's film is great for all of its metal mischief but it can't hold a candle-in-a-jack-o-lantern to the Samhain anthology of stories that intertwine and enthrall you into following all of the Halloween rules!
Trick 'r Treat is a 2007 American anthology horror film written and directed by Michael Dougherty (Superman Returns, X2). The film stars Quinn Lord, Dylan Baker, Brian Cox and Anna Paquin, and centers on four Halloween-related horror stories. One common element that ties the stories together is the presence of Sam, a mysterious child trick-or-treater wearing shabby orange pajamas with a burlap sack over his head. His presence in the film is one of the central themes and his appearance in all the stories occurs whenever someone breaks Halloween traditions.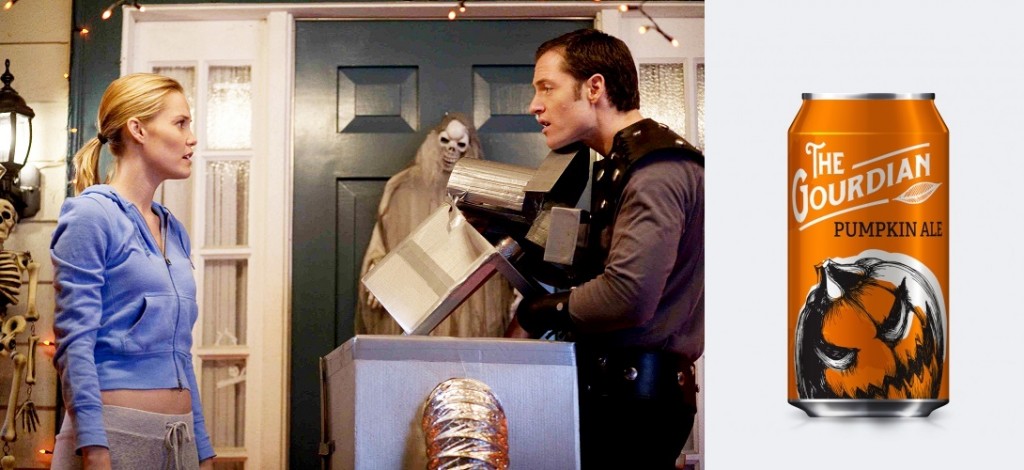 Opening Sequence
Emma (Leslie Bibb) and her holiday-obsessed husband, Henry (Tahmoh Penikett), have set up numerous ghost-scarecrows for Halloween in their yard, although she is mostly uninterested in Halloween. After returning home from a Halloween party, Emma tries to blow out a jack-o'-lantern, but Henry tells her not to because it is against tradition to extinguish a jack-o'-lantern on Halloween; she blows it out anyway. While Henry is inside waiting for Emma to take down the decorations, our central character Sam (named after the actual holiday Samhain) comes to let her know what happens to those that don't believe in leaving up your Halloween decorations until after the holiday has passed.
In this sequence, Sam is kind of the guardian, nay Gourdian, of the Halloween holiday and so it only makes sense to pair his efforts to save Halloween's traditions with Epic Brewing's Gourdian Pumpkin Ale.
Epic Brewing's Brewmaster re-imagined the flavor of fall by blending orange peel, star anise, cinnamon, cacao nibs and plenty of hearty pumpkin flesh. The mild and toasty malt offers just a hint of graham cracker piecrust and maple sweetness. Clocking in at 5.2% percent, this brew can be session'd and celebrated until the snow falls. Enjoy the fresh taste of Autumn! And don't blow out your jack o'lantern or take down your decorations too early!

The Principal
Steven Wilkins (Dylan Baker), the town principal, spots his young neighbor Charlie (Brett Kelly) stealing candy from his yard as he returns from the store. Smiling, he places him down at his front door and talks to him about candy and stealing, carving out a jack-o'-lantern, and he gives him a candy. Charlie eats the candy, which turns out to be poisoned with cyanide, and throws up large amounts of chocolate and blood before he dies. While trying to take Charlie's corpse to the backyard to bury it, Wilkins' doorbell rings. The trick-or-treaters, among them a small boy in orange footed pajamas and wearing a burlap sack on his head, take their candy without finding out what Wilkins has done. Later, Wilkins arrives in his basement, where he helps his son Billy carve a "jack-o'-lantern" in their basement, which is revealed to be Charlie's severed head. The sequence ends with Billy saying "But don't forget to help me with the eyes."
The moral of this sequence is to never steal other's candy and to always 'check your candy'…
Uinta Brewing's Crooked Line Series Oak Jacked Pumpkin pairs perfectly with the All Hallows Eve holiday and the tradition of 'checking' your 'ABV'! This beer appears to be a happy go lucky foray into the pumpkin patch but with a very Samhain ABV of 10.31% (see what they did there?); this oak-aged monster has a giant, sweet malt backbone while whiskey, pumpkin, vanilla and spice make up its proverbial ribcage. This beast is big!

The School Bus Massacre Revisited
Four kids — Macy (Britt McKillip), Schrader, Sara, and Chip (the same trick-or-treaters who earlier visited Wilkins) — meet up with Rhonda, a savant, and journey to the local rock quarry where Macy tells them the local urban legend of "The Halloween School Bus Massacre". Thirty years ago, in 1977, there was a group of mentally challenged kids. Their parents were embarrassed by their conditions and saw them to be a burden to them, and as such, they were sent off to a school in another town so they would not face the townspeople's mocking. One day, on Halloween, they paid the bus driver to kill the kids so they would be freed of their burden. He drove the bus to the quarry, chained the kids to the seats, and while he was checking them, one kid managed to get free and went to the steering wheel, wanting to drive back home; however, he set the gear in forward instead of reverse and drove into the lake, drowning them all. However, the bus driver managed to get out alive & was never heard from again. Some say the school bus sank so deep it couldn't be found. Others say the town didn't want the school bus to be found.
The group plays a prank on Rhonda in which they pretend to be the undead children, and chase Rhonda until she trips and knocks herself out. Macy kicks a jack-o'-lantern into the lake, where after the school bus children suddenly rise from the water. The undead children chase the group and manage to grab hold of the chains which Sara is wearing as part of her costume, dragging her away to be killed. Meanwhile, Rhonda has locked herself in the elevator leading out of the quarry. Despite the others begging her to open it, she ignores them and rides it up herself as the School Bus children corner them as a revenge for the prank. As Rhonda steps out of the elevator, the other kids are heard being dismembered and eaten alive. As Rhonda begins walking home, the small boy in the orange footed pajamas and burlap sack looks on at a distance.
The morals of this sequence are many but it's to be said not to make fun of others, and to underestimate the lore of Halloween's presence. It is believed that on Samhain or 31st of October, the veil between this world and the afterlife is at its thinnest point of the whole year, making it easier to communicate with those who have left this world.
Much like the children of the massacre passed have taken over the quarry in the film, Hops have taken over the world. Permeated the senses of the masses. Hop Zombies now roam the streets. Lupulin ichor oozing from ravaged legions. Gorging, gouging, and masticating. Salivating over insane hop flavors and aromas. The time is nigh. No more festering away in hopless oblivion. Join the HopZombie Revolution with Epic Beer's Hop Zombie. This brew bursts with pink guava, mango, and passion fruit.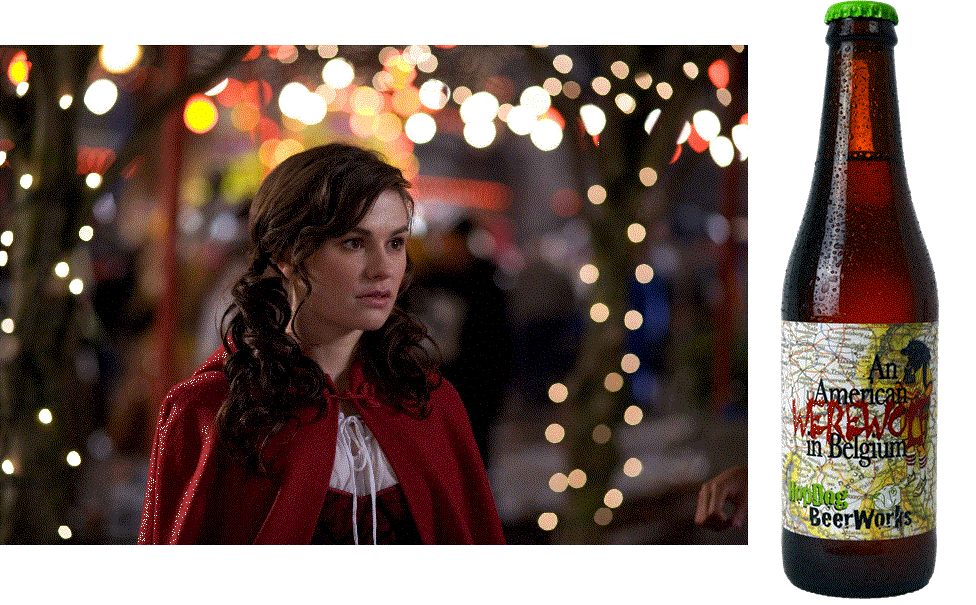 Surprise Party
Laurie (Anna Paquin), a self-conscious 22-year-old virgin, is getting ready for a party with her older sister Danielle (Lauren Lee Smith) and their two friends Maria (Rochelle Aytes) and Janet (Moneca Delain). Annoyed by their talk about boys, she stays behind and plans to join them later. The other girls find local men to bring along with them. Later, alone on her way to the party, Laurie is attacked by a vampire dressed in black. Meanwhile, Danielle, Maria, and Janet party at a bonfire with the men they brought, with Danielle worried about Laurie. The vampire's body suddenly drops from a tree onto the party and Laurie appears. The "vampire" is revealed to be Principal Wilkins in disguise wearing fake fangs. The girls at the party, along with Laurie, suddenly transform into werewolves, removing their skin. It is revealed that Laurie's "virginity" actually signifies that she has never killed anyone before. The girls then proceed to devour their dates along with Wilkins, while the same small boy in the orange footed pajamas and burlap sack looks on.
The moral of this sequence is to be wary of the wolves in sheep's clothing… sometimes they are more bite than they are bark…
HopDog's An American Werewolf in Belgium may just be the perfect pairing. Although it is a true work of lycanthropic hop prowess, they aren't all up in your face. As you might expect, it is still a complex creature; three kinds of malt, two yeasts (a Belgian and Canadian – presumably Flemish speaking) and three types of hops (NZ's Southern Cross and Motueka and Citra). And at 6.5% ABV and 70 IBUs it's still got some aggression, yet those Belgian yeast characters have been balanced expertly with the hops, both on the nose and on the palate. When you do look at what's gone into it – not to mention the name – perhaps this beer should be a bit frightening. But rest assured there's absolutely no need to be afraid because rather than being a drooling, terrifying Werewolf, this beer is really a drop dead Belgian beauty much like Anna Paquin's character in the Surprise Party sequence.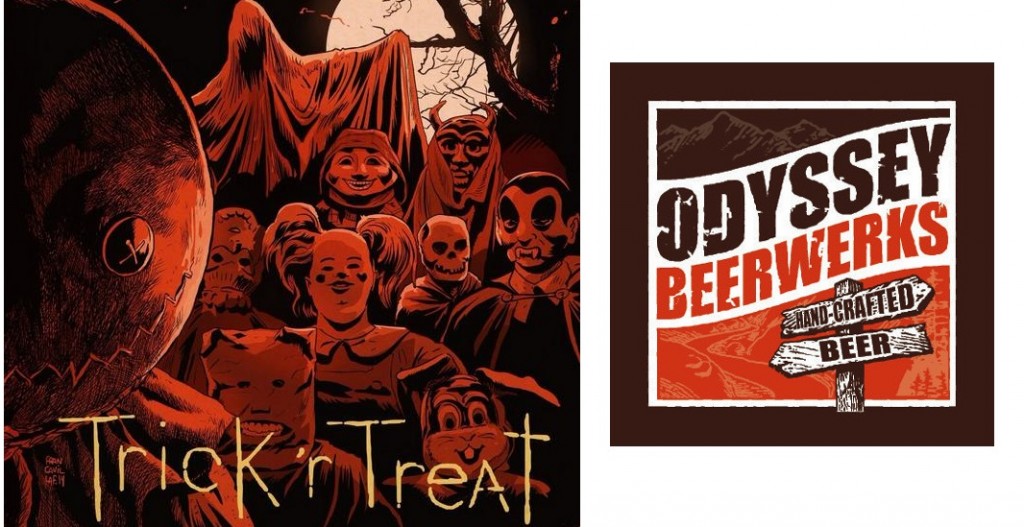 Meet Sam
Kreeg, a Halloween-hating man (not too far off from a Scrooge-esque naysayer), lives alone with his dog, Spite, as his only companion. Kreeg shows his disgust for Halloween by scaring away trick-or-treaters. While at his house, Kreeg is attacked by Sam (Quinn Lord), the same small boy in the orange footed pajamas who has watched over all of the events of the evening. During the struggle, Kreeg rips off the sack over Sam's head to reveal his head to be a cross between a jack-o-lantern and a human skull. Kreeg runs to his window calling for Mr. Wilkins to help him, but is tackled by Sam. Kreeg gains the upper hand when he manages to fire his shotgun at Sam, seemingly killing him, in the process shooting off one of Sam's hands. **Side Note – Sam is filled with pumpkin guts – his insides are pumpkin! ** As Kreeg dials 9-1-1, Sam re-attaches his hand and rises. Sam then attacks him again, stabbing at him with a large pumpkin lollipop out of which he has taken a bite, rendering it sharp. Sam finds that the lollipop has lodged itself into a piece of chocolate from which Kreeg had earlier taken a bite. Sam takes the lollipop wedged into the chocolate and walks away, now satisfied that Kreeg has fulfilled a tradition of Halloween. Meanwhile, pictures burning slowly in a nearby fireplace show a class photo of the masked children from the "School Bus Massacre" and the bus driver, who is revealed to be Kreeg.
The moral of this sequence in its references to Halloween traditions is pretty obvious. Don't be a scrooge. Pass out treats. Always wear a costume. Don't try to kill Sam.
If you try to kill Sam, you will probably just get a bunch of pumpkin guts. And speaking of pumpkin guts, the pairing for this sequence should be Odyssey Beerwerks Fluffy Pumpkin Toasted Marshmallow Porter. A rich chocolatey porter base with toasted marshmallow and pumpkin has made this beer Odyssey's most requested specialty beer.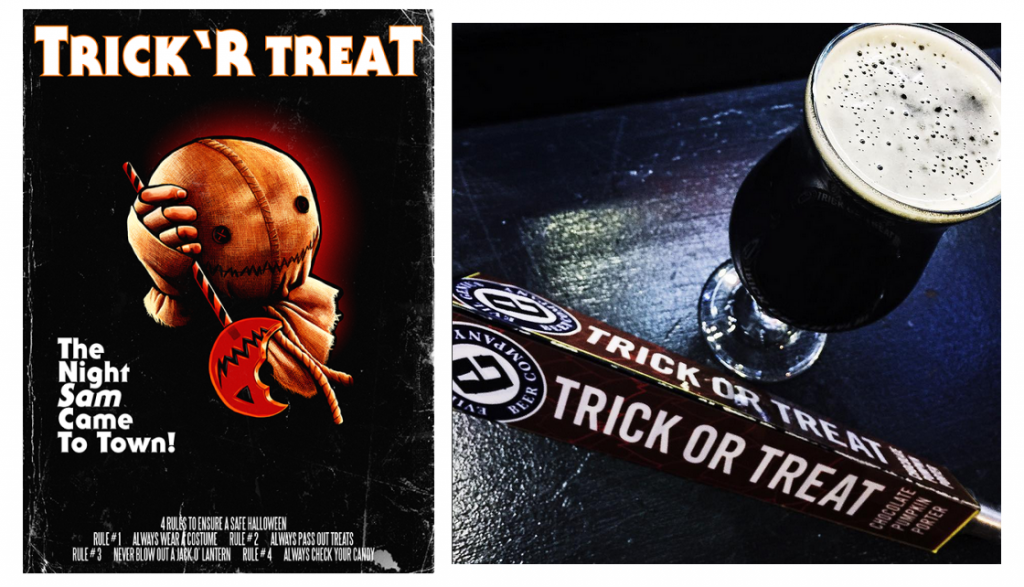 Conclusion
Bandaged and bruised from his encounter with Sam, Kreeg answers his door to give candy to trick-or-treaters. While on his porch, he spots Sam walk over to Emma and Henry's house just after she blows out the jack-o'-lantern, revealing himself as Emma's killer in order to punish her for not following Halloween's rules. A traumatized Rhonda walks across the street and is almost hit by the laughing, human-form werewolf girls in their car, on their way back from the surprise party. Billy is sitting on his porch handing out candy, unaware that his father is now dead. Kreeg then walks back inside when there is another knock at the door. He opens the door to find the kids from the School Bus Massacre standing there with their bags outstretched, saying, "Trick 'r Treat", and, suddenly recognizing them, stares in shock. A series of comic strip panels shows Kreeg being murdered and dismembered by them.
To end the Ultimate 6er for Trick R Treat, the folks over at Evil Genius made an actual beer called Trick or Treat Chocolate Pumpkin Porter. Seems legit to me. Trick or Treat is a pumpkin porter brewed with chocolate and spices. This is not your typical pumpkin beer by any means. This is a deep, dark, decadent seasonal delight that is sure to warm you up as the weather start to cool off. First, they brew a rich robust porter that is spiced with cinnamon, clove and nutmeg. Then they UP THE ANTE and make it truly their own by adding chocolate post fermentation. Trick or Treat is a spicy, rich, unique, and full-bodied dark ale with all the comfort and warmth needed to survive the chilly and ever-lengthening autumn nights. 7.8% ABV and 38 IBU's. I have a feeling that Sam would approve and that you too will find it a welcomed treat on All Hallows Eve.
Happy Halloween boils and ghouls!!!!!
---