No Comments
Vail Big Beers Pour List & Must Tries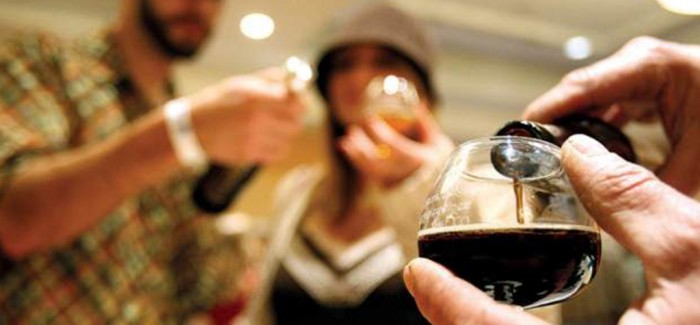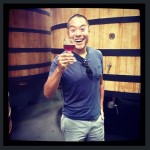 Cover image courtesy of vaildaily.com
AC Golden – Kriek Noir
The base sour beer was then allowed to ferment on 800lbs of Colorado grown sweet and sour cherries. 5.5 % ABV
Allagash – Nancy
Balaton & Montmorency cherries. The flavor is a medley of tart cherry, citrus, and pie spice. The fi nish is dry with a lingering tartness. ABV 6.3%
Arizona Wilderness Brewing Co – Sweet Potato Saison
Ceylon cinnamon, Madagascar vanilla beans and brown sugar compliment the sweet potatoes which were added directly to the mash and hopback. ABV 8%
Atom – Small Batch Barrel
It's made up of a series of 15gal oak barrels, usually neutral in nature that are used in various ways and the beers are aged for anywhere from a month up to a year. (mystery ABV; enticing)
Baere Brewing – Batch 200
(This is that go-back-to; refreshing brew) Batch 200 is a refreshingly tart saison. This beer was brewed by blending kettle soured wort to acidify the wort prior to boiling. Generous hopping rates and a dry hop with Northern Brewer makes this saison tart, drinkable, and a bit hoppy. ABV 4.7%
Bell's Brewery – Barrel Aged Expedition Stout
A huge malt body is matched to a heady blend of chocolate, dark fruits, and other aromas. Intensely bitter in its early months, the fl avors will slowly meld and grow in depth as the beer ages. ABV 10.5%
Black Project Spontaneous & Wild Ales – Mach Limit: Tempranillo
This beer blurs the lines between wine and beer – black cherry, currant, and herbal notes from the grape combines with the beer which has a dry tartness, wild-yeast "funk" and stone fruit from our house coolship microbes. ABV 8.8%
Black Shirt Brewing – Red Evelyn
Notes of caramel and toffee, rye, Colorado wildfl owers, foxtail pine, grapefruit, as well as other bright and vibrant citrus tones make this Imperial Red Rye IPA just like Evie – unmatched! 95 IBUs, ABV 10%
The Bruery – Ukuele
Ukulele is a blend of a sour ale and a bourbon barrel aged ale to which passionfruit, ginger and ghost peppers have been added.
Cannonball Creek – Chain Shot Abbey
Belgian Style Abbey/Dark Strong Ale. Prominent notes of fi g, plum, and raisin are balanced by fruity esters and subtle spice. This complex mahogany ale is mediumbodied, and slightly sweet with a dry fi nish. ABV 8.5%
Casey Brewing & Blending – Casey Family Reserve: Laredo Plum
The Casey Family Preserve series is CB&B's Saison base beer aged on whole, local fruit at twice the level of their Fruit Stand series. This version was aged on 2.3 pounds per gallon whole Laredo plums from Palisade, CO.
Copper Kettle Brewing Co – 2013 Well Bred
Barrel-Aged English Barleywine. An English-style barleywine significantly less hoppy than American style. Ruby in color with lavish hints of vanilla, caramel, coconut and earthy wood undertones from being aged for months in Breckenridge Distillery Bourbon Barrels. 72 IBUs, ABV 10.7%
Dogfish Head – 2010 Worldwide Stout
After some time in your beer cellar, the heat of the booze fades into the background and the port notes and roastiness take over. World Wide goes great with (or as!) dessert. Share one with someone you love. 70IBUs, ABV 15-20%
Dry Dock Brewing – Bligh's Barleywine
The nose wafts of coconut, toffee, and a smooth hint of alcohol. The fl avor and aroma merge, becoming one after just one single sip. There is a touch of bitterness, and it will age nicely. 30 IBUs, ABV 10.6%
Firestone Walker – Parabola
Bold bourbon, tobacco and espresso aromas and a hint of American oak greet the nose. Rich, chewy roasted malts, charred oak and bourbon-like vanilla fi ll the palate and create a seamless fi nish. A remarkably complex brew that offers a transcendental drinking experience – enjoy with good company. 82 IBUs, ABV 14%
Great Divide – The Smoothness
Dark lager aged in Jameson barrels as a part of the "Drinking Buddies" campaign. These barrels were the shipped back and currently hold Jameson whiskey to be released as part of "Caskmates".
Jackie O's – Oil of Aphrodite
American Imperial Stout brewed with Black Walnuts. Oil of Aphrodite is an American Imperial Stout brewed with locally (Ohio) harvested Black Walnuts and Belgian candied syrup. English, German, American, & Belgian malts are accompanied by Pacifi c Northwest hops, creating a sweet & rich springboard for deep nuttiness.
Jackie O's – Dark Apparition
Russian Imperial Stout. Dark Apparition is a hauntingly good brew rife with dark complexities. Seven malts are used to create deep fl avors of coffee, chocolate, caramel, & molasses. A hint of bitterness & herbal character come from carefully selected European & American hops that help support the monolithic maltiness.
Lost Abbey
Anything. And. Everything.
Loveland Aleworks – 2012 Flanders Red Ale Horizontal
(Try all three!) Stainless, French Oak, French Oak with Apricots.
Ninkasi Brewing – Ground Control Imperial Stout
You know, because, space. This rich, complex Imperial Stout is brewed with Oregon hazelnuts, star anise and cocoa nibs, and fermented with an Ale yeast that survived a trip to space and back. Mankind will enjoy the sweet fi nesse of this beer that only fares better with time. 80 IBUs, ABV 10%
Perennial – Foeder Saison
A Belgian Style Saison – but you know, Foeder'd. Which is just how we like most of our beers to be.
Surly – Nein
All of the malt in this anniversary beer comes from Weyermann Malting, a family-owned operation in Bamberg, Germany, which is the center of Rauchbier (smoked beers) in Germany. The inspiration came from a trip that head brewer, Todd Haug, took to Bamberg to visit the Weyermann facility. NEIN draws from the traditional banana and clove notes of hefeweizen yeasts and layers on deeper toned malt flavors, a distinctly smoky character from oak-smoked wheat malt and charred "honeycombs" of white oak.
Upslope – Wild Christmas Ale
Known around the brewery as "The Grinch", Upslope starts with their Christmas Ale and ages it in Leopold Maryland Style Rye Whiskey barrels with their house sour culture for 9 months. Mellowed Spices, intricate sour character and finishing with just a touch of a warming alcohol note, this version of the Christmas Ale will give a whole new meaning to holiday spirit.
Verboten – Dizzying Intellect, Volume 3
This farmhouse wit dry hopped with Eureka and aged in cab barrels with lacto and brett will be a sneak peek debut at VBBB. Verboten continues to churn out great stuff up in Loveland and Vail Big Beers will be a great showcase of some of their more experimental gems.
Wicked Weed
Every single thing you can find. No joke. Better yet, don't go to here. Save us all of the pours. This place is a tumble weed. 😉
---
Also while you're up in Vail you might want to check out a few events happening around town tonight and throughout the weekend from our buddies at Upslope, the Elite Brands takeover at Vail Ale House, and the crazy classic bowling event from Dogfish Head and Avery.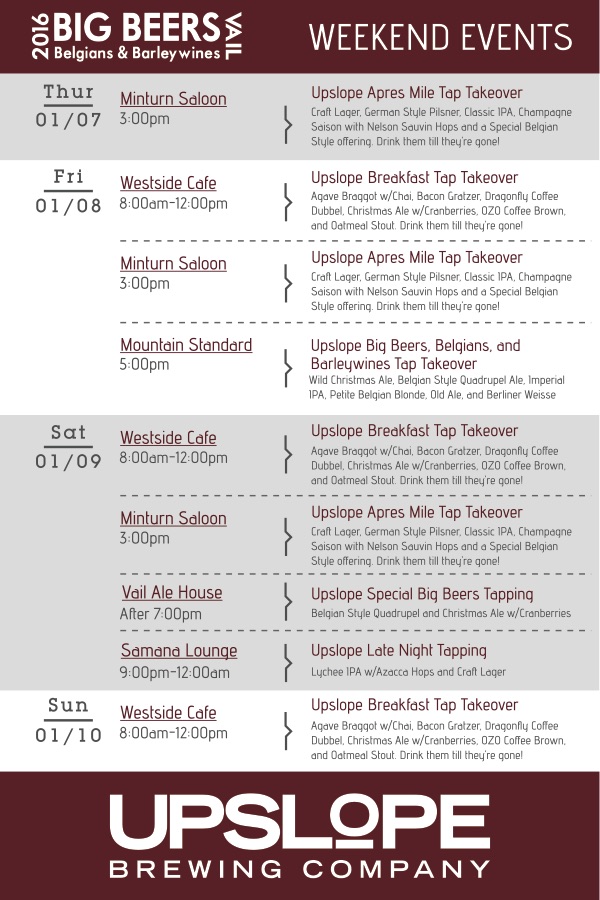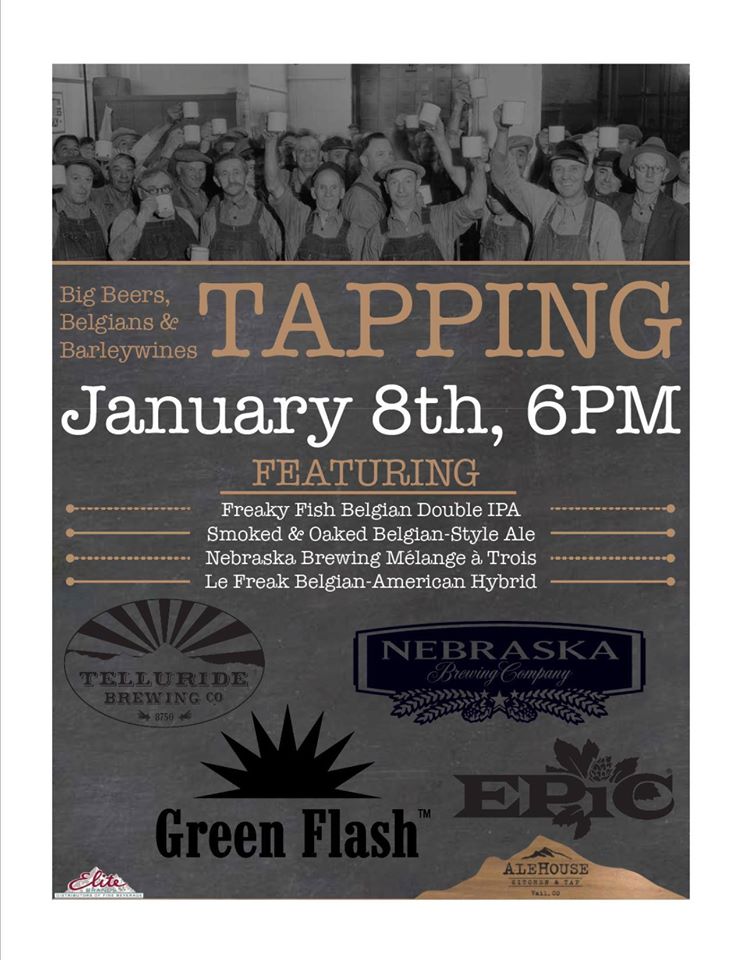 ---