No Comments
Mikerphone Brewing | One Man Wrecking Machine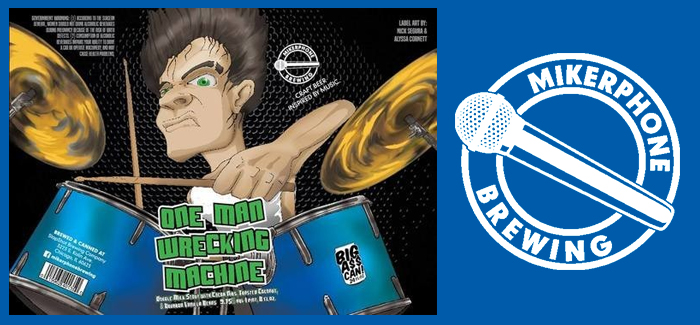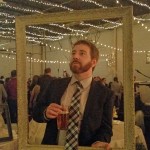 ABV : 9.75%
Commuting to work is one of life's pleasures that many people get to experience twice a day, everyday. Fighting traffic, navigating through throngs of people crossing the street, cramming into train car nooks, tapping impatiently while waiting for a bus to show up — chances are, your daily commute provides some nice slices of stress between which you sandwich your workday.
Oftentimes, the commute ends with a strained "I need a drink!" Well, if you're lucky enough to take the Metra, you don't have to wait until you get home. And if you're even luckier, the local convenience store by your stop will carry some of Mikerphone Brewing's Big Ass Cans for you to take with. And to really kickstart your workday decompression, it's probably best to grab a One Man Wrecking Machine.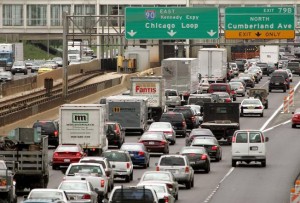 Such a situation recently presented itself to me. A rare trip to the western suburbs on a weeknight provided an opportunity for a Metra road beer. As a participant in the 9-5 culture, mornings and evenings consist of repetitive struggle against the clock and the dreaded "We're stopped temporarily, waiting for signal clearance…" announcements on the L. Although, this is much preferred to the white-knuckled, soul sucking 60-minute rush hour driving adventure a previous endeavor offered me. Regardless, a Metra ride was a welcomed change of pace and I prepared accordingly.
Well of course, as with any evening commute, even the best preparation typically amounts to nothing, as I quickly discovered that night. Except for one bit of preparation: I grabbed a Mikerphone's One Man Wrecking Machine before my ride out. After shuffling like cattle through the station and sitting down next to an individual who smelled like a stale burger, Mikerphone provided a much needed bit of respite.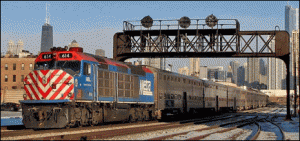 Mikerphone Brewing has been contract brewing at various other breweries since their start in 2010, but recently signed a lease to their own space in Elk Grove Village, IL. All of their beers are music inspired, drawn from head brewer Mike Pallen's experience in the music industry prior to opening the brewery. They also just won the 2015 RateBeer Best Award for Best New Brewer in Illinois. Keep an eye out for them in 2016, as they're in the process of a building a taproom in their new Elk Grove location.
One Man Wrecking Machine is a Double Milk Stout brewed using cocoa nibs, toasted coconut and vanilla beans. I enjoyed this straight from the can, so sight and smell were a little impaired (especially considering my aforementioned neighbor for a chunk of the ride…) But, that did not stop me from tasting the wonderful roasty, chocolately and vanilla notes. I felt like I was having a summer afternoon dessert, albeit huddled in the corner of a cold commuter train. The hearty 24oz of 9.75% helped keep me warm for sure, though. According to my research, this beer pairs well with headphones blasting your favorite Guster album from high school so loud that the train conductor has to tap your shoulder for your ticket, and heavy doses of staring out the window at the frozen world moving past.
https://www.instagram.com/p/7BFyTCsZw1/
---