No Comments
Event Recap | 2020 Uppers and Downers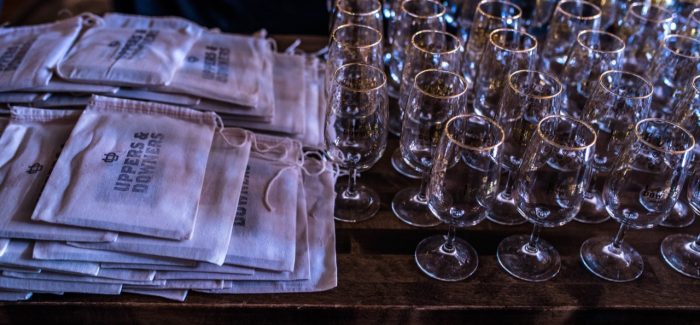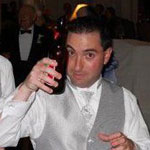 Probably one of the smallest venues for a beer festival out there, the intimacy of Thalia Hall creates part of the charm of Uppers and Downers, one of the top festivals showcasing the versatility of coffee. Moving to a Sunday for the first time since the inaugural event, the day change didn't impact the crowd size as once again beer and coffee lovers alike packed the Pilsen music venue for two sessions of coffee beers, cocktails, and more.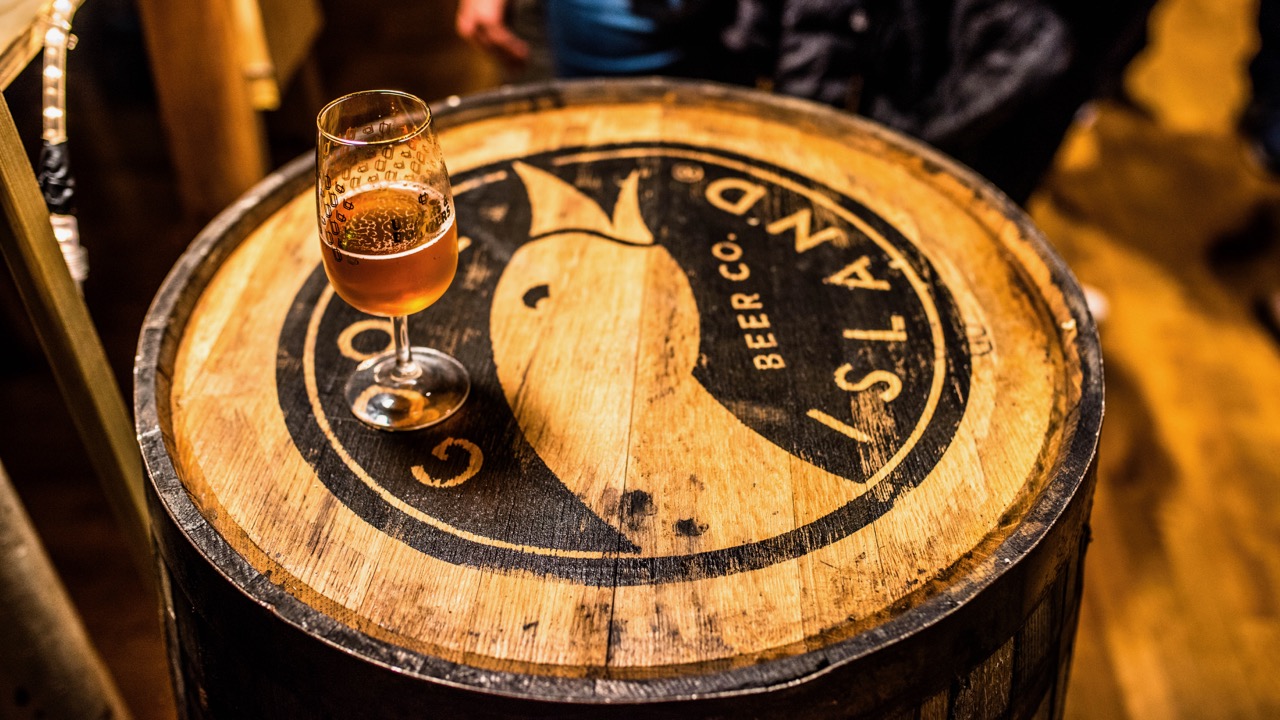 "I'm not really into beer so I'm going to focus on the coffee," one person said as she walked onto the floor of Uppers and Downers. A quote that truly encapsulates what Michael Kiser and Good Beer Hunting have been trying to convey with the festival.
If it's your first time attending Uppers and Downers you might be surprised at how few breweries there are for a beer event. Only about half of the space is dedicated for breweries to be pouring the beer. The other areas are reserved for the roasters themselves to provide pours of their beans, cocktails, food, and more.
My Top Beers
While there is so much more than beer at this event, I tended to focus on the coffee beer offerings. Here were some of my favorite from 2020 Uppers and Downers.
When you think of coffee beers you tend to gravitate towards stouts and porters. Brewery Bhavana brought a double-IPA with cold-brewed coffee from Counter Culture. The North Carolina brewery was my stand out from Uppers and Downers with a beer that was hoppy, coffee-forward, and overall perfectly blended.
I ran into Alarmist's rep prior to the festival starting and naturally assumed they would be pouring Java Jus, a coffee version of their gold-medal winning hazy IPA. Instead, he told me they were pouring a Schwarzbier which surprised me in the best way possible.
This was their first coffee Schwarzbier and they nailed it. Using their house lager yeast and Weyerman malts, the beer was then steeped with coffee from Big Shoulder's. The result was a roasty, malty, coffee beer that worked really well.
The World's Colombian Coffee Exposition – Hop Butcher
What has become one of Chicago's most recognizable coffee beers, Hop Butcher once again became a fan favorite with this strong coffee stout that clocks in at 10.5% ABV.

Despite the high ABV, the beer is very well balanced to really showcase the Colombian beans from Hero Coffee. The all black, simple design can stands out from the other Hop Butcher cans that usually feature intricate designs from local artist Dan Grzeca.
Cruz Blanca Pushes the Envelope Again
Last year Cruz Blanca owned the center of the festival floor with a multi-sided booth offering a variety of unique and creative coffee and beer offerings. They returned to the same location in 2020 and put an even greater emphasis on coffee in other drinks beside beer. Each side of their booth included a beer, a coffee, and a cocktail.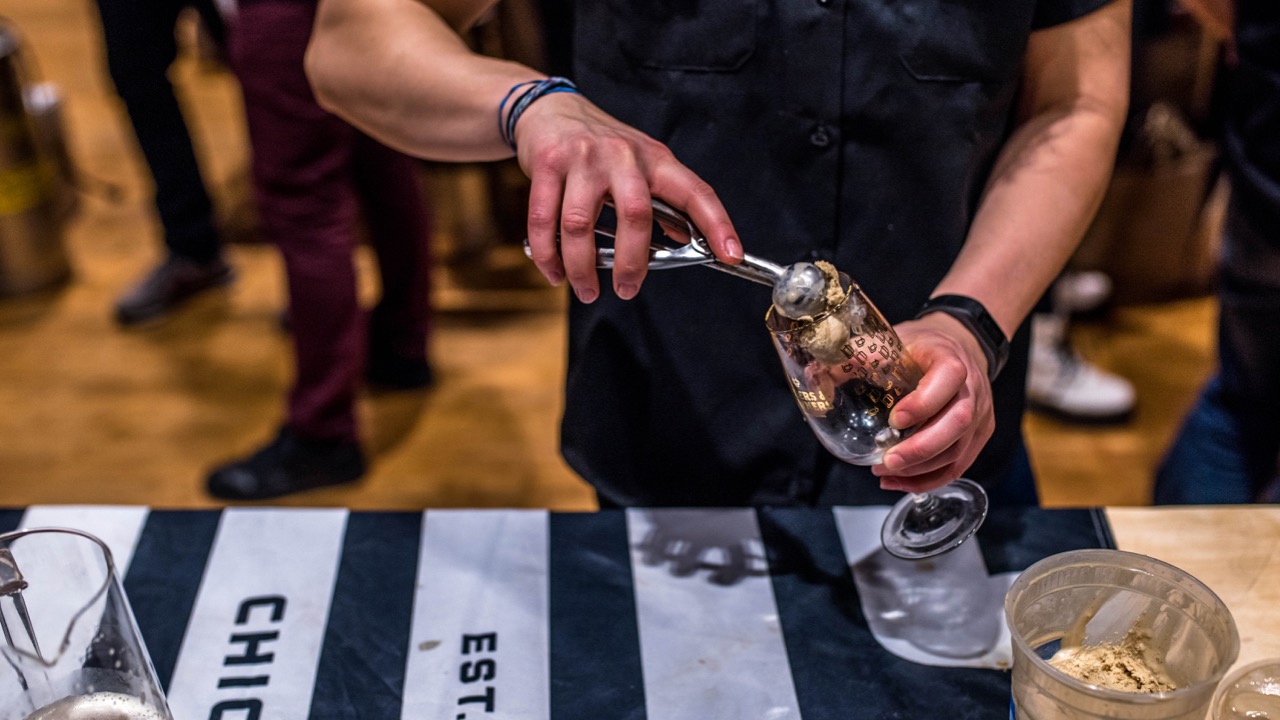 The cocktail that stood out to me at the 2020 Uppers and Downers was a take on an ice cream float that included Old Bardstown 90 Proof bourbon, coffee ice cream, peach liquor and Melletti Amaro. The ice cream provided a creaminess to help cut some of the heat from the liquor but everything paired very well together.
Dear Goose Island, More Coffee BCS Please
The longest line at Uppers and Downers went to Goose Island for their 3-year Coffee Bourbon County Stout vertical that included 2014, 2016, and 2017. My takeaway after sampling all three vintages, Goose island needs to get back into the Coffee BCS game and stop fooling around with these adjunct versions that include coffee.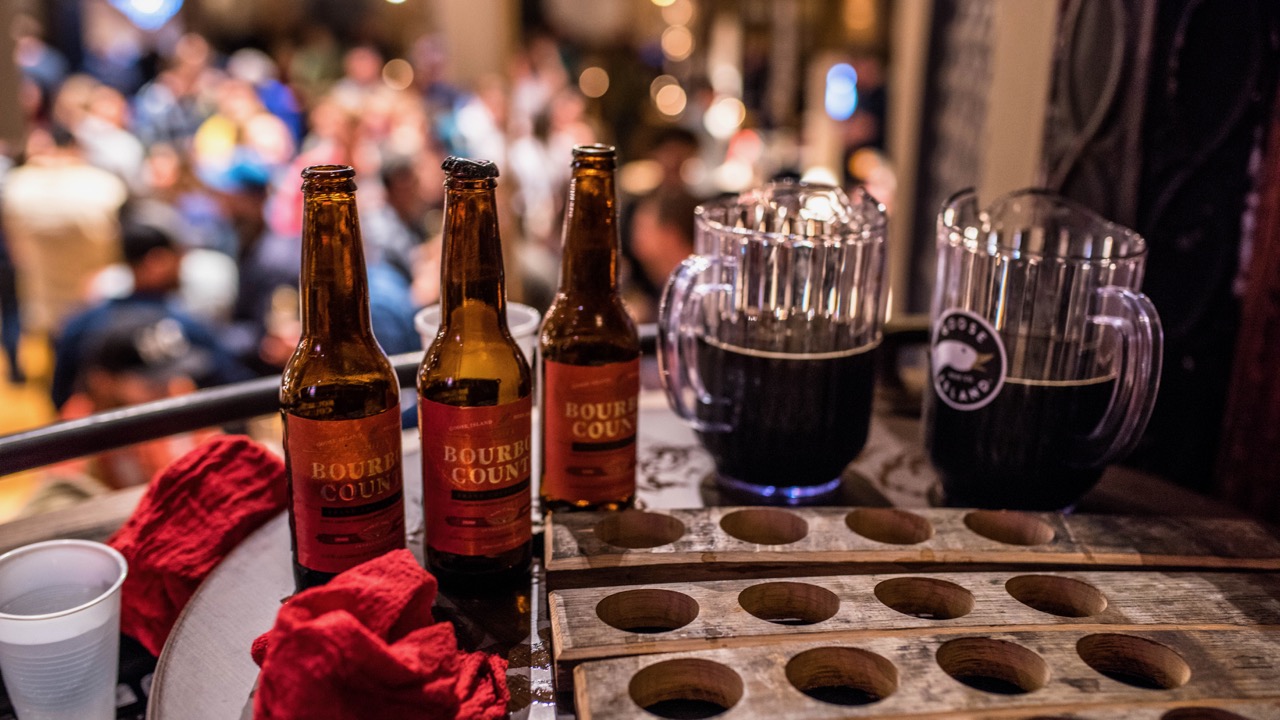 Over the past couple of years they've released a coffee barleywine and Café de Olla which featured coffee, orange and cinnamon. And over the past couple of years when it comes to coffee barrel-aged stouts, Goose has lost badly to Revolution Brewing's Café Deth – it's not even close.
But what this vertical showed is that Goose Island is really really good at making coffee barrel-aged stouts. The coffee flavor in 2014 was still very present which is hard to do in coffee beers. Many brewers that make coffee stouts have told me to drink as fast as possible as that coffee flavor tends to fade.
In all three years, Coffee BCS still had remarkable notes of coffee that paired well with the base stout. 2016 was the favorite for me followed by 2014 and ultimately 2017. I'm not sure why Goose went away from their coffee BCS variants but one thing is for sure, they can do it very well and let's all hope that 2020 sees the return of this once very popular variant.
When I spoke to Good Beer Hunting's Michael Kiser a few weeks before Uppers and Downers he expressed how the event was so much more than a coffee beer event. When you see just how versatile coffee is it's impressive what these brewers, roasters, and mixologists can do with a common ingredient.
If you missed out on the 2020 Uppers and Downers event, we hope to see you at Thalia Hall in 2021.
Feature Image Photo Credit: Eric Dirksen.
---