No Comments
Stone Brewing Co.| Pataskala Red IPA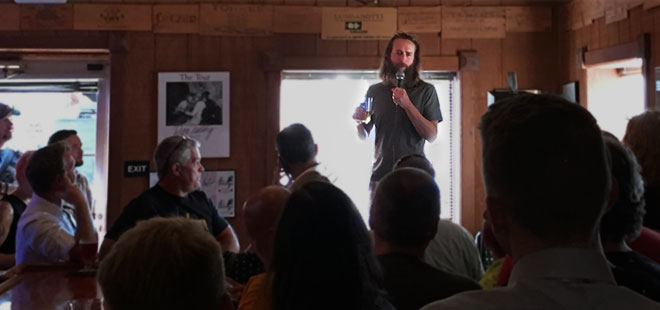 ABV: 6.2% | IBUs: 70
This is a technically a review of Stone Brewing Co. Pataskala Red IPA, but it's really a story of remembering your roots.
Last spring, Watkins Memorial High School in Pataskala (pronounced Puh-ta-skuh-luh), Ohio, had a problem. Their school district needed to pass a levy or ALL extracurricular activities would be cut, from sports to band. Freshman Ally Jeffers depended on band to get her through the day, a creative outlet that challenged her like no other class. The levy had failed twice before and the situation looked dire. That's when inspiration struck- Ally wrote a letter to Stone Brewing CEO/Founder Greg Koch (Watkins Memorial class of '81) asking for help.
Lucky for Ally, Greg found similar solace in band during his self-described awkward and "really awful" childhood in Pataskala. After making a sizable donation to the affected extracurriculars, Greg brainstormed with Stone Community Relations Manager Chris Cochran about what more the brewery could do. To rally community support behind the levy, Stone pledged to create a beer specifically for Pataskala with 100% of the proceeds benefitting Ally's newly-formed Ally's Warriors of Stone Foundation. Lucky for Ally, the Warriors of Stone, and beer-drinkers throughout central Ohio, the levy passed by a 2-1 margin!
Cut to present day and Greg Koch is in my local bottle shop, Grain + Grape, to tap one of a mere 32 kegs of Pataskala Red IPA available ONLY in the Columbus area. Stone estimates those 32 kegs will raise approximately $25,000 for charity. The 38 RSVPs on Facebook was woefully inaccurate, as the place was packed with beer lovers from far and wide. As you'd expect in a small room full of beer fans, it was hot as hell, and everyone was thirsty.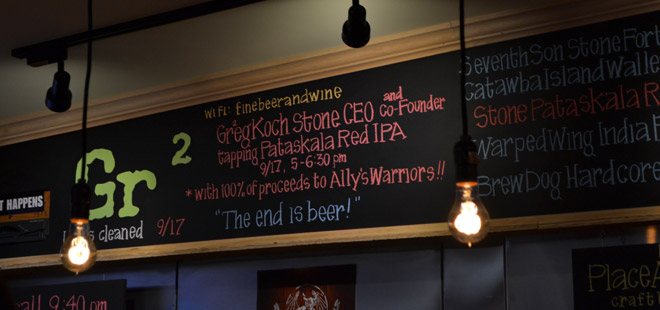 Pataskala Red IPA pours a lovely clear crimson color with the trademark bone-dry malt character found in the West Coast red IPA style. Its aroma is bursting with pineapple, grapefruit, and a touch of flowery hop goodness. The taste can only be described as bold, with the raspy bitterness from (I believe) Chinook hops, followed by the tropical fruits found in the aroma. For all the hop character in Pataskala Red IPA, the relatively light 6.2% ABV means a second pint was not out of the question. In fact, I was in line for a third when the keg kicked barely more than an hour into the celebration. I was comforted by the fact that I had the privilege of enjoying TWO pints of a great beer <.001% of the beer-drinking population will get to try and barely had to leave my porch to get it.
Support Ally's Warriors of Stone Foundation's GoFundMe campaign here.
---