No Comments
Conquest Brewing Co. | Artemis Blonde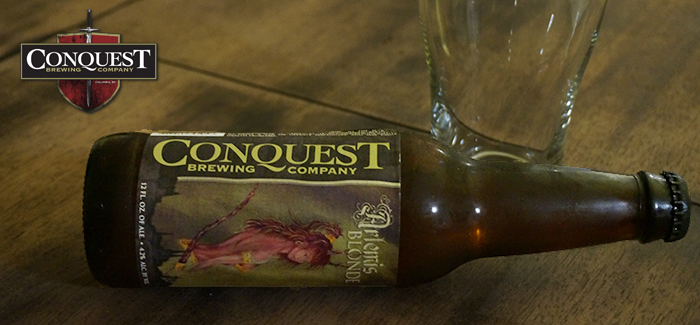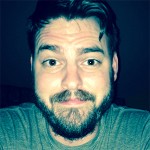 ABV: 4.2% | IBU: 25
I am home from work at 10:00pm tonight, a little late at night but that is the schedule I am on right now. I want to celebrate the end of my day with my usual ritual of opening a new beer I haven't enjoyed before and relaxing with a new episode of Bob's Burgers. However, the fridge is filled with barrel-aged this and double IPA that with a spattering of Imperial. All too much beer for what I want at this hour. Except, there, my wife thought ahead and put a bottle Conquest Brewing Co.'s Artemis Blonde in the fridge. She is my favorite for a reason. My wife that is, not Artemis, although… no, moving on!
Artemis is the perfect bottle to pour this evening.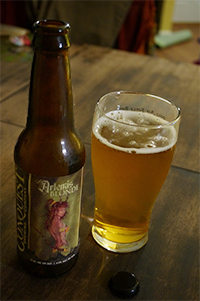 Artemis is a true blonde with a gold body and mild white head. Her aroma is reminiscent of that all too familiar "beer smell" that you recall from your dad's beer. Nothing specific really shines through but, instead, comes across as more of a collective scent. The fact that it is a blonde ale and only 4.2% can be disarming. However, the flavor that this gal packs is far from disappointing. I am not talking about blasts of bitterness or spice. I mean she is complicated and fun. Artemis gives you flavors of bread, slight honey-like sweetness and a kiss of bitterness from the Warrior, Zythos and Belma hops used to brew her.
Conquest Brewing's Artemis Blonde is not going to put you under the table, or be at the end of any dares, but she is what she is. Artemis is a splendid example of a well-made blonde ale. She is a reminder that sometimes, the basics are what we really should be enjoying from time to time. She is unapologetic for who she is and I am glad Conquest brews this blonde year round. Thank you Conquest for helping me put a period in my day. Good night and sleep tight.

Be sure to follow Conquest Brewing Co. on social media!

---