No Comments
Golden Road Brewing | Pints & Pierogi (Grand Central Market)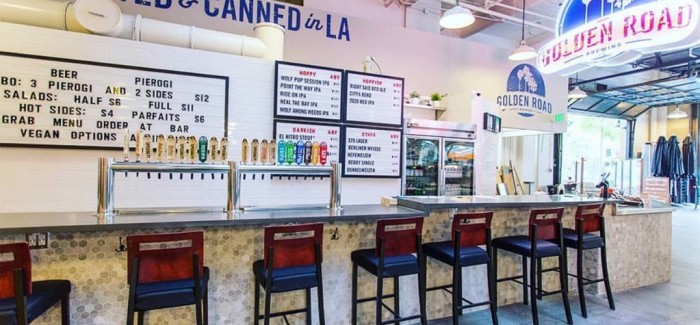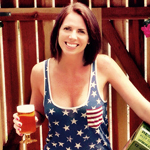 Golden Road Brewery is named as a tribute to the Grateful Dead's song The Golden Road (To Unlimited Devotion." If they had a motto, I believe they would take inspiration from a quote by the great Jerry Garcia said:  "our strong suit is what we do…" Golden Road opened their newest tasting location in the wonderfully eclectic and diverse Grand Central Market. Join them for a pint and a pierogi, and you will certainly know that their strong suit is everything they do.
I found myself in Los Angeles on a rainy Friday afternoon and I was lucky enough to experience the sights, sounds and experience of Golden Road and their newest location in the Grand Central Market.
If the Grand Central Market had a Grateful Dead theme song, it would be The Music Never Stopped.  The Grand Central Market opened in 1917 and has been in continuous operation ever since; you can feel the history.  The vendors inside the 30,000 square foot arcade reflect the culture, trends and cuisines of the people in the surrounding area. downtown Los Angeles continues to grow in popularity and inside the Grand Central Market, there was always some thing missing.  The something missing was a brewery; a void Golden Road was happy to fill.
https://instagram.com/p/BDR3B98jO8h/
I was very happy to find this not so hidden gem, and while I knew their beer was top shelf, their pierogi were a very pleasant and delicious surprise. Adam Levoe, the head chef that created the pierogi gave a brief statement about the delightful puff pastry that is the pierogi:  "Our Grand Central menu was inspired by a recent trip to the Czech Republic where I fell in love with Eastern European culinary traditions, especially their pierogi," He continued, "Grand Central Market is a true melting pot of culinary traditions, and we're excited to contribute to this cultural fusion with our creative take on pierogi. And most importantly, nothing pairs better with a plate of fresh pierogi than a pint of beer brewed right here in LA." the delicious array of sweet and savory pierogi is the main spotlight of this primarily vegan menu, other delectable items include breakfast parfaits, salads, and hot sides.
https://instagram.com/p/BCyAorajO8c/
Favorite Pierogi & Pint Combinations
Pierogi: Wild Mushroom – Wild forest mushrooms, onions, spinach, and potato
Topping: Pesto Sauce
Beer: Right Said Red Ale 5.3% ABV
Pierogi: Duck – Shredded duck confit, roasted kabocha squash, green onion, dried cranberries, garlic, herbs and spices
Topping: Cumin Sour Cream
Beer: Golden Road Hefeweizen  5% ABV
Pierogi: Soy Chorizo – Soyrizo, vegan cream cheese, sweet corn, onion, and potato
Topping: Avocado Mousse
Beer: 329 Days Of Sun Lager 4.8% ABV
Other Notable Golden Road Beers
Wolf Among Weeds IPA 8%
Citra Bend Hoppy American Wheat Ale 6.1%
Wolf Pup Session IPA 4.8%
Berry Single Wheat Beer (with Raspberries) 4.5%
https://instagram.com/p/BB5lWaWoncY/
Even when it's raining in LA, you can hopefully find Sonny at the Golden Road Brewing Booth while enjoying your pint(s) and pierogis. He is the Golden Road version of a "Sunshine Dream" by Grateful Dead.  His bright and friendly manner was a key part in making our visit so great (along with the food and beer.) Service can make or break an experience and Sonny was truly a breath of fresh air; happy to help with food recommendations and beer decisions without being dismissive. His fondness for Golden Road is exhibited through his genuine interest and passion in everything they serve; food and beer alike. Sonny has been working for Golden Road for two years and is currently the assistant manager for the Golden Road Brewing Booth in Grand Central Market. Our group was laughing and cheers-ing him for the duration of our visit. Sun or rain, you will have a great time. The pints, the pierogis, and the people are all great reasons on why a stop by the Golden Road Booth at the Grand Central market is a wonderful idea the next time you are in LA.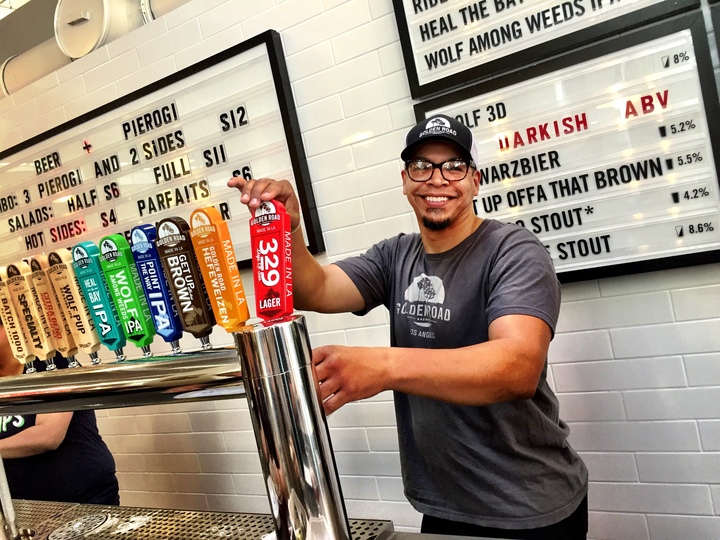 Golden Road Brewing is dedicated to giving back and being environmentally conscious. All of their beers are only available in cans, and never bottles. "Committed to engaging and supporting the growing community of socially-minded beer enthusiasts, Golden Road offers Heal the Bay IPA year-round, donating sale proceeds to keep Southern California's coastal waters and watersheds safe, healthy and clean in partnership with Heal the Bay non-profit organization."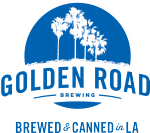 You can follow my beer adventures on Instagram and Twitter @tapswithtor!
---