No Comments
Weekly Growler Fill | National Beer News Roundup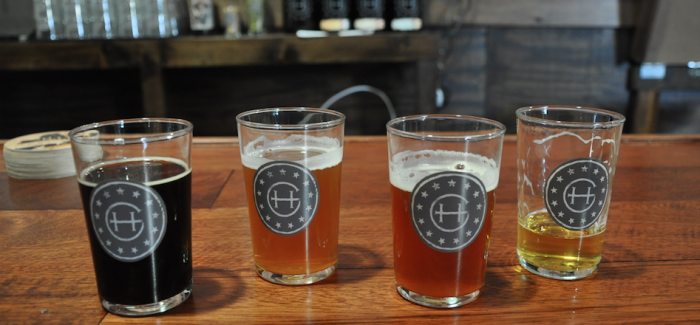 New Belgium cruisers are now produced in the US, AB InBev buys Birra del Borgo, and the cast of Hamilton is getting into brewing. Like every week, we are here to cure those Monday blues with a little craft beer news. Keep reading to catch all of the details in this edition of the Weekly Growler Fill.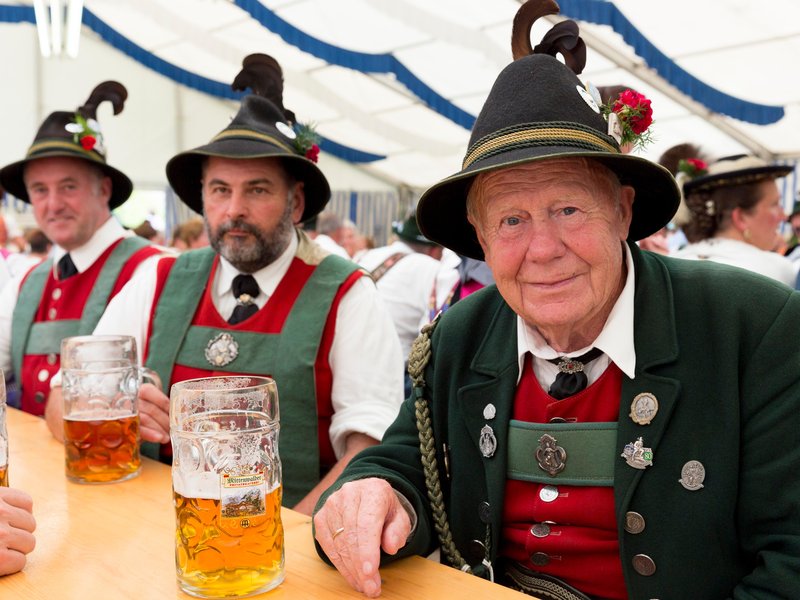 Last week, Germany's beer purity law, Reinheitsgebot, turned 500 years old. The law is famously known for its restriction on brewing ingredients to include just three: barley, hops, and water. Yeast was not included in the first drafts of Reinheitsgebot because the microorganisms were not yet discovered; beer at that time was fermented in open-air vessels and yeast from the environment floated in to begin the fermentation process. The law was originally passed as a form of protection – to protect wheat supplies for bakers and to protect beer drinkers from questionable ingredients. Today, many German brewers still follow the purity law. They believe it protects the quality of the beer by excluding ingredients such as rice and corn in the brewing process. However, some brewers disagree because fruit beers, coffee beers, etc. are technically violations of the law. Nevertheless, it is important to remember tradition and learn the history of the thing we all know and love: beer.

Deschutes and Roanoke City Council have crossed their T's and dotted their I's. Now, the brewery can officially build its second facility after finalizing the deal in the Virginia city. With its first home in Oregon, Deschutes will now hold claim to production on both US coasts. As a part of the deal, Deschutes must hire a minimum of 70 employees and invest $26 million. However, they intend to hire a lot more employees than that. The goal for the new facility is to have the capability of producing a million barrels of beer per year, which will require many hands on deck. Virginia won't be the only one profiting from this deal, though. They made it pretty sweet for Deschutes as well, promising $3 million up front and reimbursement on half of the company's machinery and tools taxes. The brewery has until June 1st, 2019 to build and begin production.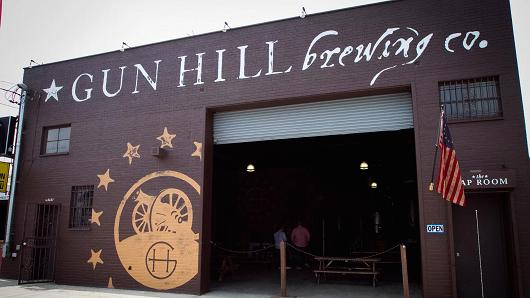 The most talked-about Broadway show is teaming up with a Bronx brewery for a good cause. The cast of Hamilton will be collaborating with Gun Hill Brewing to create a one-off brew for charity. It is all a part of the 'Broadway Brews' project that will feature more Broadway plays+breweries in the future. The recipe is not yet complete but Dave Lopez, the co-managing partner of Gun Hill Brewing Company, hinted at the possibility of a rye beer. Above all, the Hamilton cast hopes the brew appeals to all audiences, just like their show. Sales of the beer will benefit The Eliza Project, a program that feeds into Graham Windham, a charity that provides foster care and schooling for vulnerable children in NYC.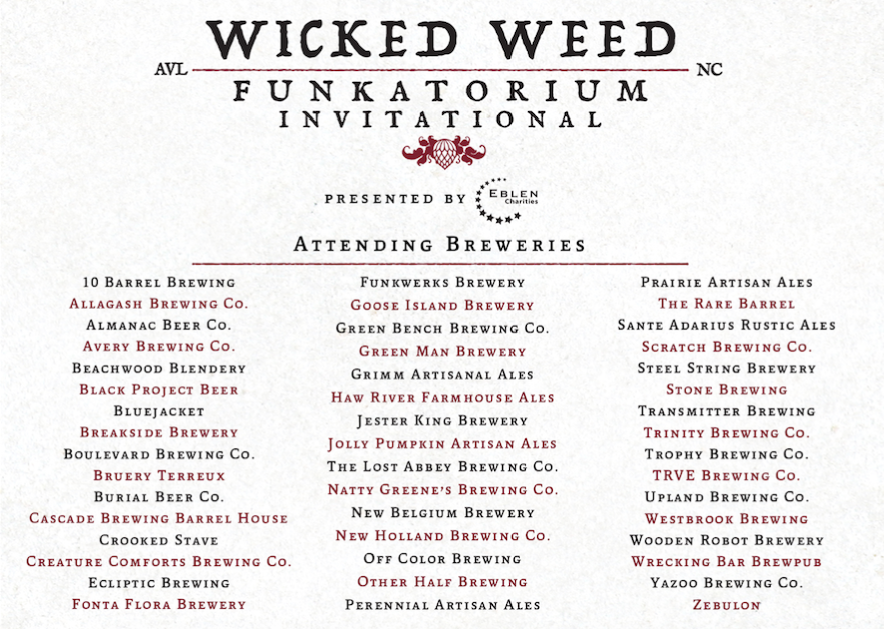 Wicked Weed Brewing out of Asheville, NC has announced the brewery lineup for their much anticipated Funkatorium Invtational. Tickets officially go on sale on May 9th through ETIX. Additionally, the brewery will sell 100 VIP tickets at GA price as a thank you to their hometown patrons, from May 2-6 in the taproom. General admission tickets are $80 and VIP tickets are $100. The Funkatorium Invitational will commence at 8pm (with an 7pm entry for VIP) and end at 11pm in the wooded outdoor space at Wicked Weed's production brewery in Candler. Guests can expect live music, local food trucks, and over 125 sour and wild offerings. The full lineup can be found in the infographic above.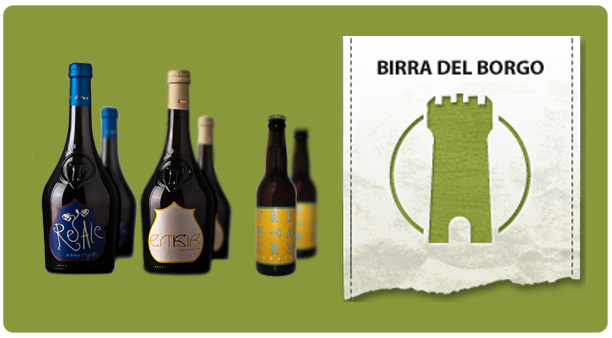 We couldn't have a Growler Fill without news from AB InBev. This week, AB InBev has bought Italian craft brewery Birra del Borgo. The European brewery is best known for its brews ReAle and Duchessic Ale. Leonardo Di Vincenzo, founder of the brewery, will remain in place as the CEO after the deal is finalized. In a similar fashion to all of the other AB InBev sellers, Vincenzo was quoted saying, "… [the buyout] will allow Birra del Borgo to grow in a sustainable way while staying true to our unique identity and the philosophy that we have followed since the very beginning." Another one bites the dust.
It is a well-known fact that New Belgium employees get super-cool cruiser bikes after working for the company for one full year. Now, New Belgium has teamed up with Detroit Bikes to produce the cruisers in the U.S. The partnership has created new manufacturing jobs in Detroit with the company doubling its workforce from 20 to 40 employees. "Bikes are a big part of our history and culture so partnering with Detroit Bikes just made sense in every way," said New Belgium Brewing Bike Designer, Ryan McKee. "Zak [of Detroit Bikes] first reached out to us and we were inspired by his vision. We've been looking to source U.S. made bikes for some time, which isn't easy at scale. We now get to work with a U.S. bike manufacturer to produce thousands of bikes, while also giving an economic boost to Detroit." Detroit Bikes will produce about 2,500 cruiser bikes during this first year. So far about 1,000 bikes have been released, with about 40 bikes going out a day for fundraisers, anniversary gifts, and giveaways. See the video below to learn more about the partnership.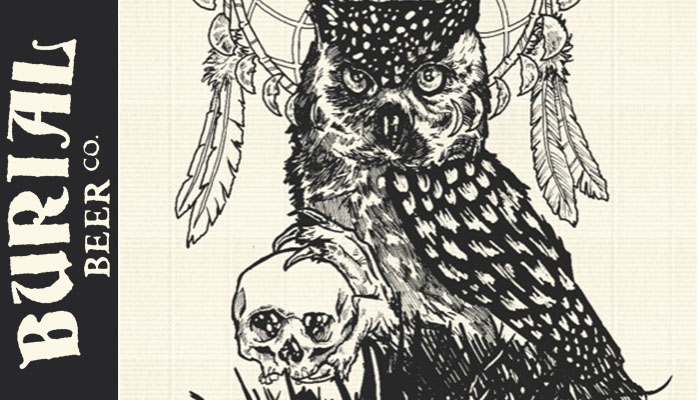 Burial Beer Co. has big plans in the works. The brewery just announced plans for a second brewery as well as a new side project. Burial obtained a historical two acre property, deemed "Forestry Camp" in South Asheville to accommodate the expansion. The camp is home to six buildings that will be re-purposed into a production brewery, staff offices, a two-story tap room, a locally purveyed restaurant, urban gardens, and plentiful parking. They will also add add a four-vessel, twenty-barrel system capable of producing sixty-barrel batches. Brewing is slated to begin on the new system in early July. After the expansion is up and running, Burial has plans to distribute to South Carolina and Georgia, bringing beers such as Skillet Donut Stout, Shadowclock Pilsner, and Ceremonial Session India Pale Ale. "Our goal is to expand in such a way that allows us to know the community of people who are supporting our brand. Being in niche markets fosters that connection," explains owner Jess Reiser. "It's my true belief, that in this craft, quality of beer and branding are the things that stand the test of time. Human connection is what is going to push craft further." Burial hopes their expansion and addition of their grand cru sour and wild side project will bring revival to another industrial city-scape and to craft beer itself.
---