No Comments
6 St. Louis Beers Perfect for Team Captain America (Part 1)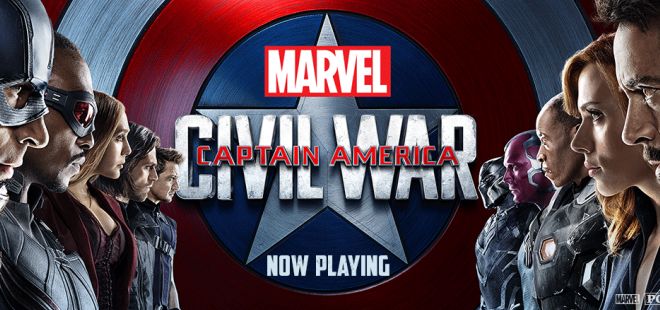 Let's get it out of the way.  I've never been a "geek" about anything, ever.  But after now attending two Comic-Con's with my self-proclaimed "geek" of a son, who I might add was wearing his "Deadpool" costume, my inner "geek" finally emerged about 10 minutes into Captain America: Civil War.
15 minutes in, I was literally cheering from my seat, (I was such a geek).  An hour in, as the Avengers began taking sides for the upcoming Civil War battle, I realized that my new superhero geek gene was merging with my beer geek gene.  Six Avengers sided with Captain America, while six others went with Iron Man.  I was already imaging two Super Hero 6ers.  A virtual Avenger 12 pack.  Fun.
So let's get it on.
The Civil War
So clearly from the title, something is causing a rift among the Avengers.  I won't give away too much plot, but the team is undergoing a new conflict that has members choosing sides between Captain America and Iron Man as they battle for the heart and soul of the group and it's future.
After watching this unfold, it is clear that everyone needs a beer.  Bad.

Team: Captain America
---
Bucky Barnes the Winter Soldier
Bucky is Steve Rogers best friend.  We first meet Bucky in the original Captain America: The First Avenger in which he dies fighting along with Captain America in World War II.  In 2014's Captain America: The Winter Soldier, we learn that Bucky did not perish, but rather his body was preserved in ice for decades.  He was revived by Russian scientists and rehabbed into a mysterious killer known only as the Winter Soldier.
Bucky needs a beer that will warm him up.  We have selected Piney River's Hot Date.  Hot Date is a handcrafted amber ale brewed with a touch of sweet dates and a hint of chipotle pepper heat.
---
Falcon
In the recent films, Falcon (Sam Wilson) is probably Captain America's most trusted ally and friend. Falcon has a mental connection with birds and awesome suit with wings that gives him ability to fly as well as perform as a weapons on his enemies.    His wings are just nuts, which make for an easy beer recommendation for the Falcon.
Similar to a Hefeweizen.  The first beer in the Revolution series of modern, American craft beer.  A bit nutty but the low IBU of 22 makes it perfect. Affectionately referred to as an "unusual little bird," it's a little on the flighty side and it's a little on the wacky side because it's brewed with finely milled chestnuts (genus castanea …for you nut freaks), Willamette hops, and fermented it with a Bavarian Weissbier yeast strain. All of these nuances contribute to its 'nutty' personality.
---
Hawkeye 
Hawkeye is one of two Avengers with no real "super powers," which kind of makes him interesting.  In the four Avenger related movies Hawkeye has appeared, he has always been reliable and loyal to his team, taking the brunt of much of the violence inflicted by their enemies, yet he never wavers and always is there for his comrades. This brew was Recess' first foray into bottling with everything being done by hand.  This gigantic beer utilizes 9 different grains to create a complex flavor that is balanced out by the large dosage of Warrior hops.  They also added some Goshen coffee post fermentation.
---
Ant-Man
Technically he may not be a 'made' member of the Avengers, but he's so cool and is such a pest that he is certainly an associate.  Brought in to help Team Captain America by Falcon, Ant-Man uses his astonishing ability to shrink in scale but increase in strength to play a insane game of hide and seek with anyone trying to get him.
The Public House take their Hefeweizen seriously.  Pale, spicy, and fruity, this Hefeweizen is medium-bodied with a fluffy, creamy fullness that comes directly from the wheat.
Subtle flavors and aromas of banana, clove, and even bubblegum–all naturally imparted by the yeast–are balanced by slightly tart and citrusy noble hops.
---
Scarlet Witch 
This character crosses between the Avenger's movie franchise and that of the X-Men and is among the most popular of them all among fans.  In Captain America: Civil War, Scarlet Witch is one of the Avengers, and unlike her use of telepathic powers in Avengers: Age of Ultron, in this film she is using  the power of her telekinesis to change the course of the battle.  She is a busy woman and deserves a good beer.
Hopswitch is part of Urban Chestnut's Single-Hop Series, which demonstrates how a beer's flavor and aroma can vary simply by changing the hop varieties of an otherwise identical beer. This version utilizes Mistral hops, a new French variety featuring prominent notes of passionfruit and tropical fruit.
---
Captain America
Conflict reigns for the poor Captain.  He's battling the forces of international law, angry over the mass casualties inflicted in the previous film, Captain America: Age of Ultron.  The layered issues split the team into two factions led by Captain America, who wishes the team to remain independent and Iron Man who welcomes international regulations.  On top of that, he is also working to protect his childhood friend Bucky Barnes, The Winter Soldier from a revenge minded new character, The Black Panther.  The crusading Captain is dire need of a happy hour.
Crusader, like the Captain himself is an unpretentious golden ale.  Full of flavor thanks to an ingredients challenge pitting a careful blend of three hops against a sweet malty backbone and nice hoppiness.  Medium-light in body.
---