No Comments
Schlafly Beer Debuts New "From The Ibex Cellar" Specialty Series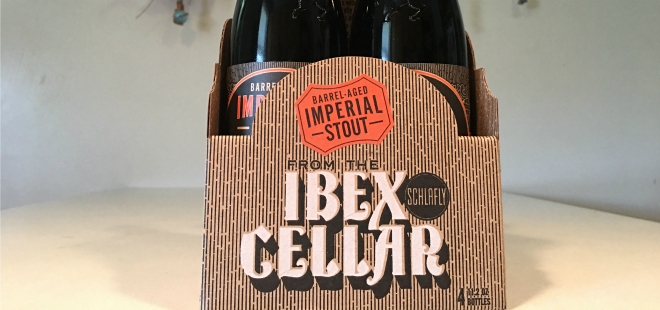 This week I got the rare pleasure to visit the Schlafly Beer Taproom and sit down with Ambassador Brewer Stephen Hale.  I've known Hale for 15 years and I credit him with introducing me to craft beer.
The reason for the visit was to learn about Schlafly's newest releases.  But I want to do more than profile a new line of beers. Instead I sought to tell the whole story, showcasing the creator down to the though process behind The Ibex Cellar's creation.
Welcome to Beerography! 

What is New!
This week, Schlafly Beer introduced a new, premium series for 2017 called "From The Ibex Cellar."  The series will feature six new, handcrafted beers from what is known as the Ibex Cellar.
Inside the Ibex Cellar
Nestled deep within the belly of The Schlafly Tap Room, below the footsteps of patrons and beyond the daily routine of brewing, lies a sacred room that connects the north and south structures below the earth. This solemn room, quiet in space and undisturbed by light and motion, is where the most favorful batches are brought to rest and evolve.
It is here the beers spend extended aging times in spirit barrels of different varieties. Then, the beers will make their way upstairs to Schlafly's new Horn & Quill Room that features a new craft bottling line as well as two new foeder tanks, made with Missouri white oak from Missouri-based Foeder Crafters.
From The Ibex Cellar
Unlike Schlafly's extremely limited Ibex Rare series, which was only available in 750 ml bottles, the six releases in this new series will be available in four-packs of 11.2 ounce bottles with a suggested retail price of $17.99.
But why release in smaller bottles?
"Think of the 750 ml bottle.  It is just bit more then two 12 ounce bottles," said Hale. "There's nothing wrong with them. We're still doing them, in fact we're bottling our Baltic Porter as we speak.  But now having these in specially designed 4-pack, 11 ounce bottles gives the consumer a better value experience."
The six beers will be released throughout 2017.  The first release will be Schlafly's Barrel-Aged Imperial Stout, aged in bourbon barrels from the Willett Distillery.  This is a beer that Schlafly has a lot of experience brewing, but previously available only in the 750m bottles.
Barrel Aged Imperial Stout
ABV: 10.2% | IBU: 40
One of their biggest, boldest beers, it imparts a spicy, slightly sweet vanilla character and a pleasant warming finish. It's brewed to evoke a full malt flavor, plenty of hop bitterness and roasted barley for notes of dark chocolate. As a finishing touch, the beer is aged in freshly emptied Kentucky bourbon barrels before being carbonated and bottled.
Even as a bourbon lover, I've not been a big fan of bourbon barrel beers until recently.
On first taste, the bourbon is right there, but does not overpower.  The beer is jet black and appears to be thick but doesn't drink thick.  I didn't find this version as bitter as other stouts I've tried.
The Bottle
While they have been around, this is my first introduction to 11.2 ounce beer bottles.  But the size is certainly not the only unique thing about these bottles.  These bottles were crafted with love and symbolism.
"The bottles deserve it.  Our brewers brew with a lot creativity and came up with a great series of beers for this," said Hale. "And you can see it on each bottle as well as the 4-pack packaging."
Each bottle is embossed with three Ibex symbols.  The "Ibex" (a wild goat) comes from the seal of the village of Steinhof where brewery founder Tom Schlafly's great grandfather was born.
The packaging mimics the striking architecture of the Schlafly Tap Room's building from the pitches and peaks to the arches that hold up the cellar below. A typeface from the 1900s, discovered by one of the Schlafly designers in the St. Louis Public Library archives, inspired the exclusive design for the label and packaging.
The bottle case's wood stained look represents the two new foeder tanks, made with Missouri white oak from Missouri company, Foeder Crafters.
What's next?
The next beer to launch in the series will be Schlafly's Local Oak. A mixed-fermentation process creates a lot of personality for this beer with a light malt character and tart fruitiness. This beer is aged in the new foeders. The series will continue with beers such as Imperial Coffee Stout, Gooseberry Gose, Barrel-Aged Pumpkin Ale and Single Malt Scottish Ale.
---