No Comments
SAVOR Event Preview | Adroit Theory Beer & Cheese Pairing Salon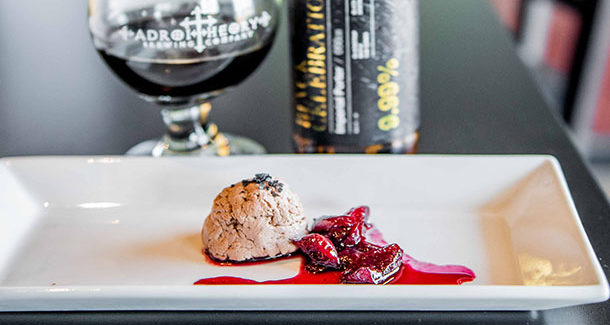 If you're in the DC area or headed into town this weekend, you are in luck. There are a plethora of craft beer drinking options at your fingertips courtesy of SAVOR. The event, held at the National Building Museum this coming Friday and Saturday, is a must for both craft beer lovers and foodies alike. More than 70 small, independent craft breweries from all over the country will be in attendance, their selected beers being paired with a variety of appetizers (see full list of beer and food pairings here) and delicious gourmet cheeses. I can't tell you how excited I am to be covering the event for PorchDrinking.com! Beer and food pairings are my lifeblood.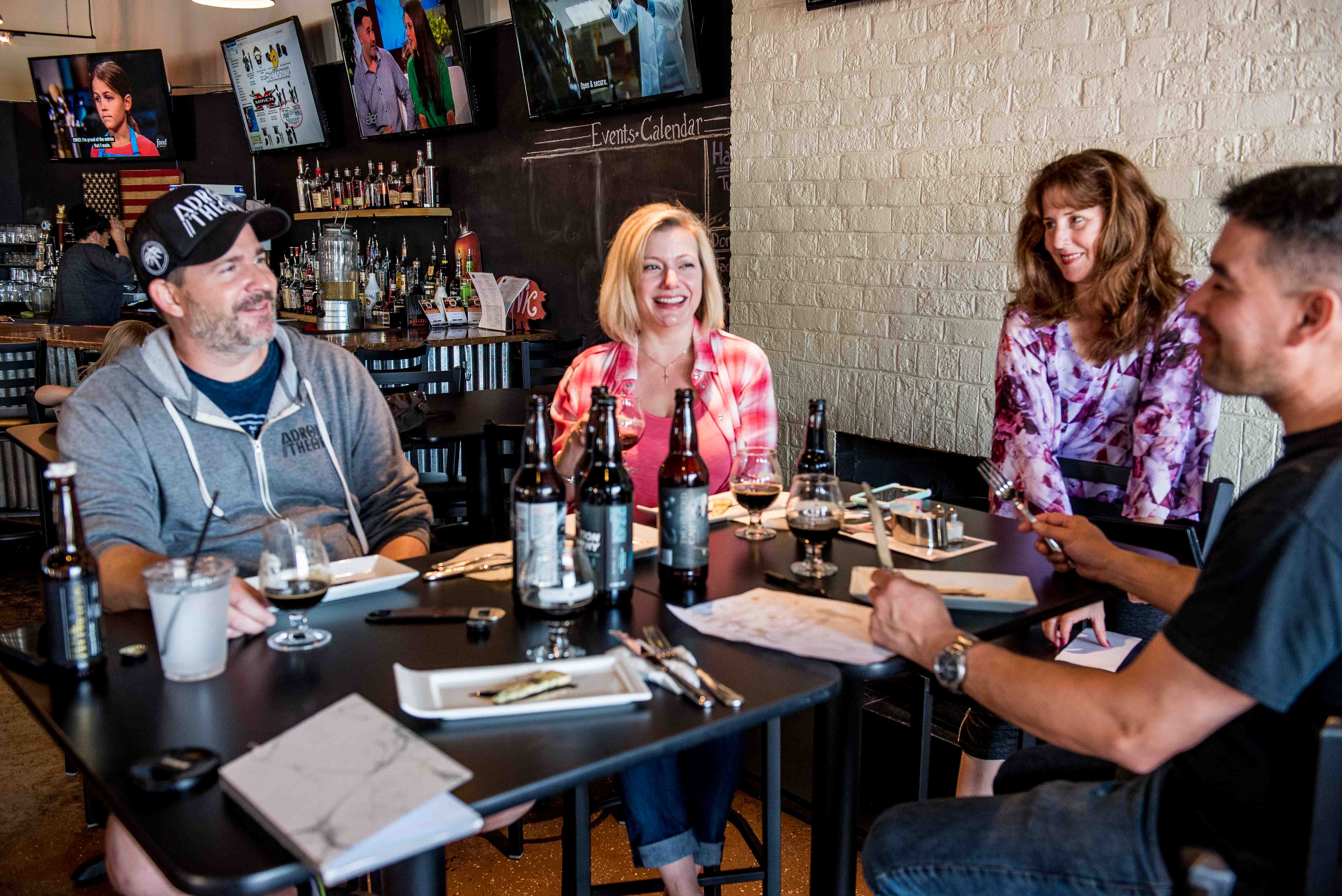 In addition to the main event, SAVOR hosts several salons — specialized workshops in a smaller setting (around 30 people) where attendees receive a personal touch from what SAVOR deems some of the "rock stars of craft brewing." Here breweries chosen to host a salon will bring some of their more coveted, hard-to-find brews for tasting, discussion and advanced food pairings. This being my first trip to SAVOR, I learned getting into these salons is not an easy feat. (Most salons were sold out before tickets were even opened up to the regular public.) So I was very thankful to be included in Adroit Theory's beer and cheese pairing trial run for their salon being hosted this Friday evening. Drink delicious beer and eat custom-paired cheeses on a weekday afternoon? Well, you don't have to ask me twice. Sign me up!
Adroit Theory Brewing out of Purcellville is one of four Virginia breweries participating in SAVOR this year. In addition to bringing two of their beers to the main event (Ortolan Bunting, a strong ale aged in brandy barrels and Triptych, their farmhouse ale), Adroit Theory will also be hosting a salon, featuring an advanced beer and cheese pairing/tasting. Last week, I had the privilege to sit down with Mark Osborne, owner of Adroit Theory, and Jim Thompson, owner of Fusions Cuisine Catering (and Yummy Pig BBQ), for the inside scoop on the beer and cheese pairing magic that will go down later this week.
Adroit's Advanced Beer and Cheese Pairing Salon will feature four of their most rare and sought after beers:
Two Headed Calf, a farmhouse saison brewed with local honey, unmalted farro and fermented with a local, Purcellville yeast,
BLVCK Celebration Imperial Porter aged in oak barrels, brewed with maple syrup, blackstrap molasses and black lava salt,
Imagine Atrophy, a caramel macchiato milk stout aged in bourbon barrels with notes of roasted espresso beans, dark chocolate and caramel, and
B/A/Y/S V3.0 Russian Imperial Stout aged three months in cabernet sauvignon barrels with hazelnut and dark cherry flavors.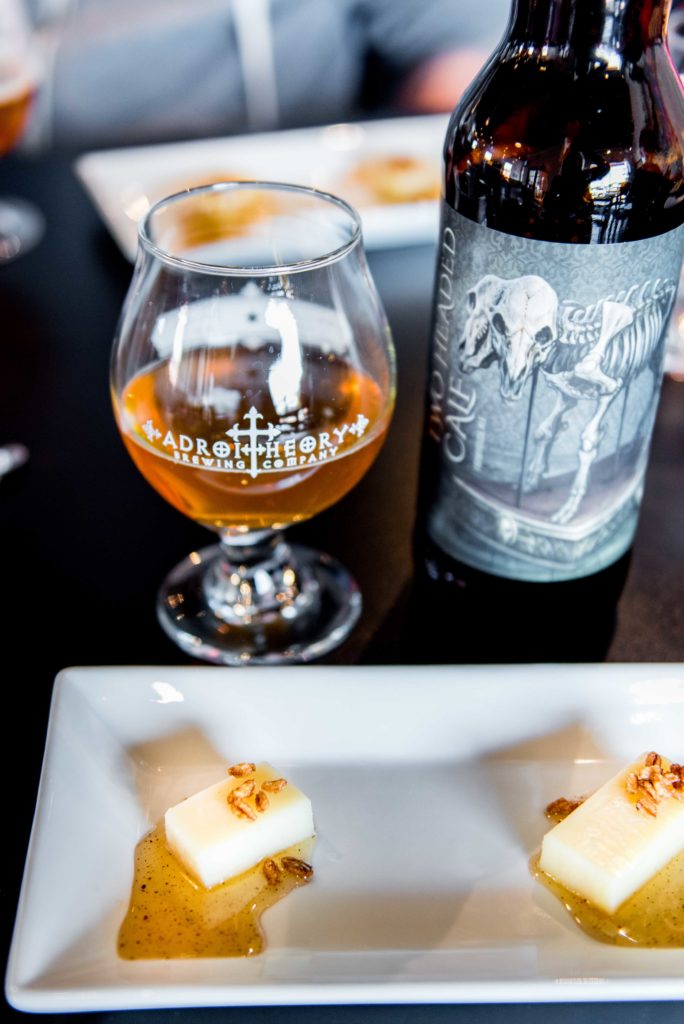 Before digging into the first pairing, Jim explained a little bit about the beer and cheese pairing process. Typically Jim will try the beers first, taking extensive notes on the mouthfeel, flavors and overall body of the beer. He'll then craft a cheese menu that complements the beer, working to ensure your palate will enjoy the flavor chemistry created. This time around, however, Mark threw at him a bit of a challenge by providing Jim the potential beer list to work off with no prior tasting of the beers until the cheese and beer trial run. Going in "blind" might make someone nervous, but Jim never broke a sweat. I can attest every bite I tasted from the cheese itself down to the fancy garnishes and trimmings was superb. And that was before adding in the deliciousness of the beers!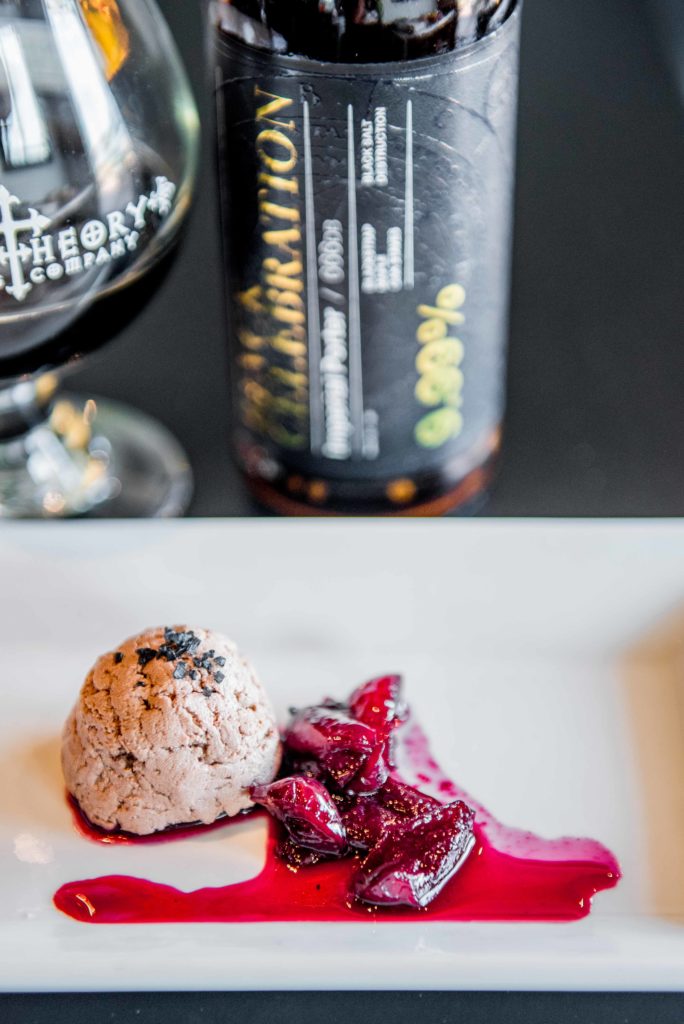 Our first pairing of the afternoon was the Two Headed Calf with two different types of aged white cheddar. Topped with a "Two Headed Calf" infused honey reduction and roasted farro, the Grafton Village Cheddar was the clear winner for pairing with the beer. Two Headed Calf has lovely grassy notes with a nice, smooth mouthfeel and a dry, sweet finish that is honey all day every day. The grassy, earthy notes in the beer were echoed in the buttery and creamy tartness of the cheese, while the farro added a roasted crispiness to the pairing.
Up next was the BLVCK Celebration Porter paired with a chocolate-infused goat cheese. Seventy percent cacao was hand-pasted into the goat cheese, forming these sweet and savory cheese balls of greatness. The cheese was then topped with a dark cherry compote and a sprinkle of black salt. The goat cheese paired beautifully with the porter, coating your tongue with its creamy, chocolatey flavor. The medium-bodied beer balanced out the richness of the cheese while its light carbonation acted as a palate cleanser between each and every bite.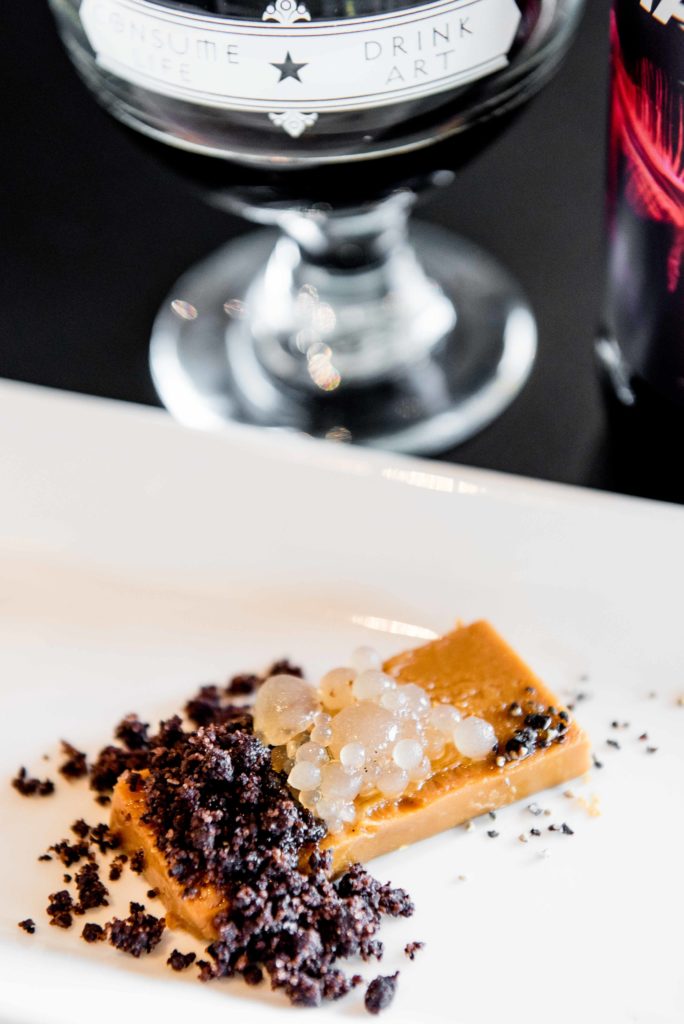 The third cheese and beer pairing was my absolute favorite, as Jim's cheese pairing with the Imagine Atrophy, Adroit's caramel macchiato milk stout aged in bourbon barrels, was perfection.   Gjetost, pronounced "Yay-toast," is a Norwegian goat cheese with sweet caramel flavors and a texture almost identical to a piece of creamy, buttery fudge. The Gjetost was topped with an espresso soil of dark chocolate, black pepper and bourbon-vanilla "caviar." If you're a fan of molecular gastronomy, this cheese creation is for you. The presentation alone was incredible, but pairing it with the milk stout aged in bourbon was quite an experience. The bourbon gels were coated with vanilla oil made from fresh vanilla beans and, surprisingly, the bourbon did not cook out, leaving a fun and extra boozy topping to the cheese!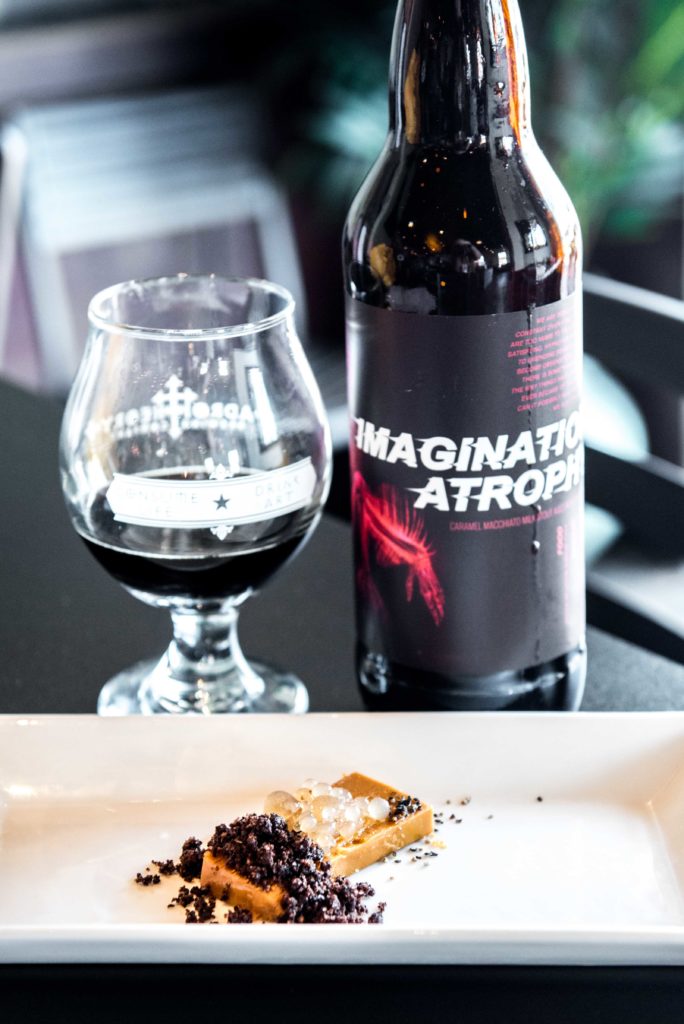 The Gjetost cut through a lot of the caramel notes in Imagine Atrophy but still left you with the boozy, warm finish of the stout. The cheese was a nice compliment to the velvety smooth mouthfeel of the beer, leaving you smacking your lips in delight. The cheese finishes with the slightest bit of acidity, reminding you that yes, you weren't actually having dessert. You were eating cheese!
The last pairing was a Stilton blue cheese paired with B/A/Y/S V3.0 Russian Imperial Stout aged for three months in cabernet sauvignon barrels. The Stilton by itself, with the chocolate and cracked black pepper for topping, was a unique and unexpected pairing, one I would highly recommend you try sometime and can't wait to recreate in my own home. There was something about the way the chocolate sauce cut through the strong flavors found in the Stilton. The cheese was, however, a bit too overpowering for the stout, leaving only flavors of the pungent blue cheese on your palate. Even though Stiltons are often recommended for pairing with stouts, discussions ensued over finding a lighter and creamier cheese for the pairing.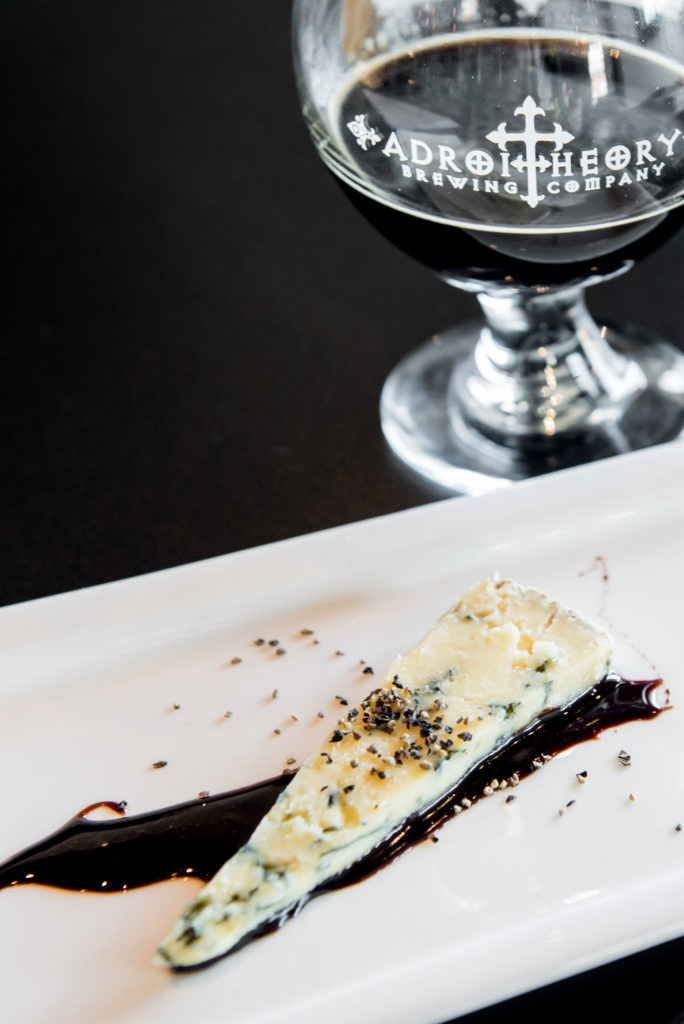 (A huge thanks to both Mark and Jim for including me in their trial run and actually letting me partake in the beer and cheese pairing! You lucky 30 individuals attending Adroit's salon are in for a treat, and I guarantee your time spent will set the night for you and may actually be the highlight. Just don't be surprised if you see some new twists and minor changes in the menu than what is described here. It's all about planning that perfect beer and cheese pairing experience.)
If you're headed to SAVOR this year, Mark also passed along a few insider tips. Don't be disappointed if the beers and/or food you had planned to try are gone by the time you get to that particular station. There have been a few instances where beer just doesn't show up on time (or at all), and the food runs out. Use this beer and food list, and plan your attack ahead of time to ensure you get to taste and eat exactly what you want at the event before it's gone. I've heard going on Friday evening does not ensure you first dibs on food and beer, so stay calm and remember, it's just beer. There's more of it to be found all over DC at these pre- and post- events open to the public!
Cheers, and happy drinking!
---