One Comment
Brewery Showcase | The Pike Brewing Co.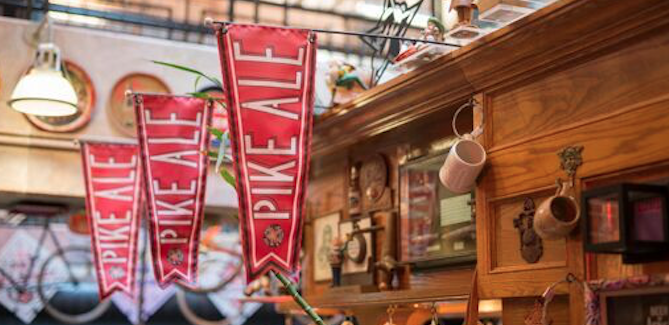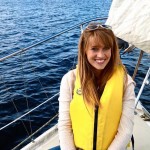 Walking into The Pike Brewing Company isn't like walking into a brew pub. It's like walking into a beer museum.
The walls of Pike are lined – floor to ceiling, and in every nook and cranny – with antique posters, miniature beer bottles, old advertisements, neon signs and antique plates and pans.  The initial instinct walking into the place isn't to grab a seat and order a pint, but to meander around the restaurant to admire the collection. Meg Bragg, who is showing me around Pike on a lovely afternoon Seattle day, seems to notice my interest.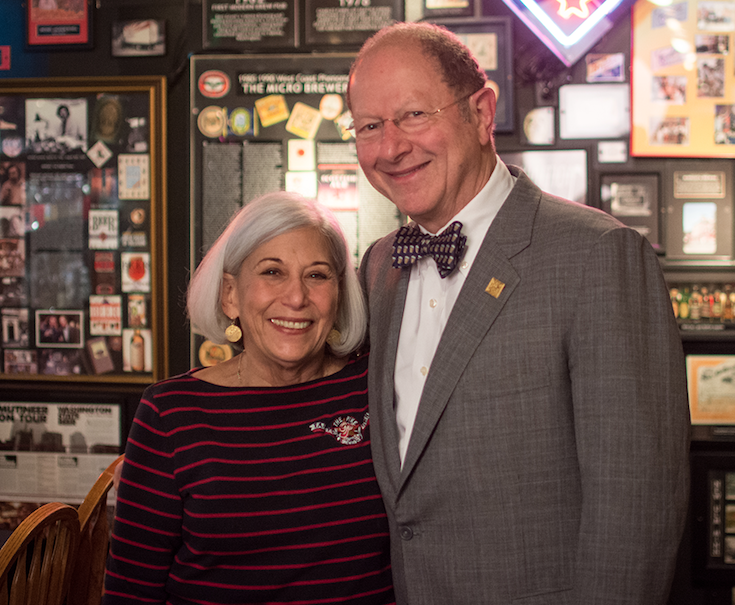 "Charles hung every single thing in here," Pike Brewing's charismatic and infectious Cellars Person says proudly. Considering that there are hundreds – perhaps thousands – of items lining Pike's halls and walls, my jaw can't help but drop. Mounting every individual item would take any given person weeks to accomplish. But considering that the collection is decades in the making, that time frame doesn't seem so long in comparison.  
That attention and deliberation that Charles Finkel has given to the appearance of Pike Brewing Company is one-in-the-same with the care that he and his wife Rose Ann Finkel, have given to the establishment and its employees over the years. What started as a tiny brewhouse in 1989 has become a tourist destination, an after work happy hour hub, a Seattle establishment, and, for its workers, a way of life. The story begins back in 1989.
After ten years of playing in the craft beer industry, the Finkels had decided that it was time to build their own brewery. The Finkels opened up Pike Brewing Company just blocks away from where it stands today.
"We were the fifth craft brewery in the state of Washington in 1989," says Rose Ann. "We would now be one of the three remaining five – with the others being sold out."
In 1996 Pike Brewing graduated to their second location – where it still stands today – right on 1st Ave in Seattle, in the heart of Pike's Place Market.  That second location soon overflowed with tourists and locals alike, and with that popularity, the Finkels saw an opportunity. They sold Pike in 1997, and coasted into retirement.
But that retirement didn't last for long. Pike Brewing began to change – both in culture and quality. Though the Finkels weren't personally affected, watching if even from afar was too much to bear. Almost ten years after they sold the brewery, they bought it back – determined to reestablish its originality and authenticity.   
"In 2006 we were able to buy Pike back, and we returned to the business," Rose Ann reflects. "We set about, really, to recreate the icon that it was when we founded it."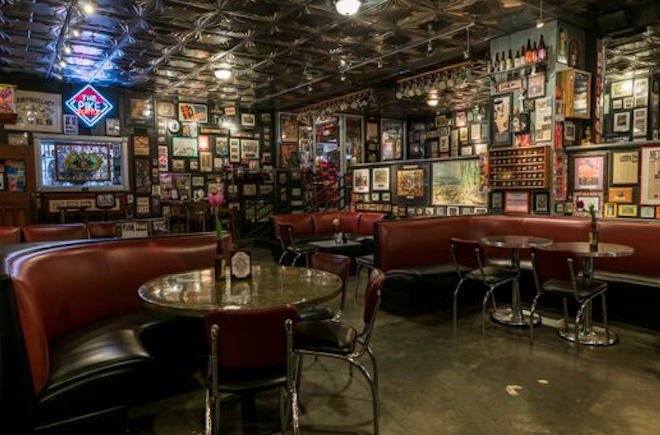 Nine years after they bought the brewery back, the Finkels are well on their way to said recreation.  They're making good beer – and lots of it – while going through a substantial renovation, emphasizing an effort on community, and building and maintaining their fiercely loyal team.
One of those employees is the spirited Bragg, who has been at Pike since 2010. Her first job was running the bottle line – a machine she lovingly calls Rhonda – though she has since worked her way up twice. She now is the Pike's Cellars Person, and it's safe to say that she is loving every minute.
"Our core group, we are awesome together. Everyone works incredibly well together," she says of the team. Not only does she mention the playful environment – citing the "inappropriateness" as a hilarious and heartfelt reason for her happiness, but she also gives credit to the Finkels. They've treated them well – with incredible benefits, room for growth, and a brewery for experimentation. And in an industry that is male dominated, the Finkel's have also been proponents of hiring, promoting encouraging women in the industry – which Bragg has not taken for granted.
"[Us women on staff] have been lucky enough to never feel slighted or treated differently in any way. It's the people I've been lucky enough to work with and for – especially here," Bragg says.  "I've never felt like I couldn't be me – outspoken. I listen to them, they listen to me. I can share my thoughts and feelings and opinions and I've never felt threatened about that."
And she's right. Other women on staff feel the same. One of those women is Bragg's longtime friend and Pike Brewing Brewer Jan Balcom.
"I know that I'm lucky – I do not take my job for granted at all," Balcom says humbly. "They treat their employees right, so we do want to stick around. I don't see myself leaving."
All Pike employees are also encouraged to pursue continued education, with Pike footing the bill for any education they would like to seek out.  It's quite the benefit when considering both the curiosity and passion of its employees, but also the Seattle beer scene – which continues to explode at a near-unfathomable rate. But Pike's not worried about that bubble bursting soon. Instead, they look forward to what's to come.
"I think [the industry] just going to continue. I don't see a ceiling any time soon," says Bragg. "You don't hear of a brewery closing. I think I know of like two in the past couple of years. Out of all the ones that have opened. Brewery is a base in a community."
And not only is Pike now a part of the Seattle community, but they're someone that gives back to it. With it's recent Women in Beer event, over Seattle Beer Week, Pike paid ode to Planned Parenthood of the Greater Northwest & Hawaiian Islands, and their PIKETOBERFEST and Chocofest benefit the Pike Place Market Foundation and Puget Soundkeeper, respectively.
"We want to give back to the community," says Rose Ann. It's that plain, and it's that simple.
But, at the end of the day, it's also about the beer. And we've got a few that you should reach for first.
Pike Vita
When I think coffee beer, I think of dark coffee stouts – with hints of fruit and chocolate. This coffee beer – which Pike brewed in collaboration with Seattle's Caffe Vita, turned me upside down. The Pike Vita is a blonde all – light in body and color, but rich in coffee notes and flavor. It's a limited release from Pike, so get it while you can.
Pike Morning After Pale
Brewed for the Women in Beer event, benefiting Planned Parenthood, this one is "near and dear" to Bragg's heart. This is a fun one to order due to the name alone, but you can also feel good about drinking this ale. Not only is the Morning After refreshing – thanks to some citra hops here and some mosaic hops there – but it's going to a great cause. This is also a limited release.
Monk's Uncle Tripel Ale
You've been warned with this one. Sitting at a high 9.0% ABV, be careful about how easy this is to sip. The Tripel has a big body to match the ABV, with fruity and zesty flavors. With this one being available on draft and in bombers year-round, snatch one anytime.
So next time you're in downtown Seattle, remember that no matter where you are, you're not far from a little beer museum – its items and staff selected with utmost care and precision. Oh – and they have beer there too. So why don't you have a few.  

Cover photo is courtesy of The Pike Brewing.
---