No Comments
Cascade Brewing | Framboise Northwest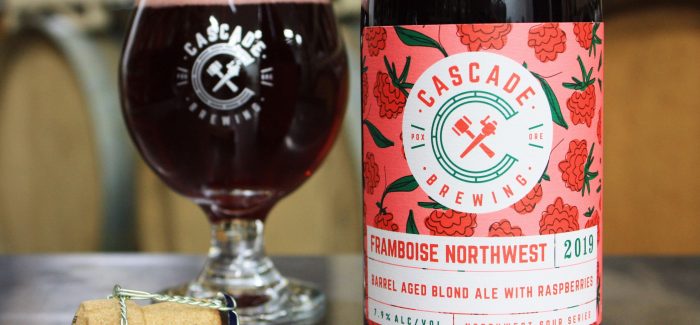 Cascade Brewing's latest Sour release — Framboise Northwest — is an ode to raspberries, incorporating 3000 pounds of red raspberries grown locally in the Northwest into their base Blonde Ale. "In this beer, just the flavor of the raspberries is so true to the fruit, it really captured the super-fresh raspberry flavor and we didn't want to manipulate it in anyway," shared Kevin Martin, Director of Brewery Operations at Cascade Brewing in Portland, Oregon.
Martin, whose background is in winemaking, drew on his blending knowledge for the Framboise Northwest, incorporating a technique called pump-overs, where the brewers recirculate the beer over the top layer of fruit to extract flavor, color and aroma. The intense raspberry flavor produced is perfect for the last few warm evenings ahead.
Tasting notes
This Sour pours a bright ruby-red hue with a tart raspberry aroma. It has well-balanced carbonation, but as with most Sours, has little head retention. The initial sip provides an upfront, acidic raspberry flavor that the palette acclimates to with subsequent sips. Over the course of the Sour, the subtleties from the Pinot Noir oak barrels and the freshness of the fruit present themselves. This beer comes in at 7.9% ABV. Martin shared that "people who enjoy sparkling rosé would really enjoy this beer."
https://www.instagram.com/p/B3TAApfDOaC/
Cascade Brewing
Cascade Brewing is a pioneer in the Sour beer movement. This brewery features fruit-forward, barrel-aged Sour Ales, paying direct homage to the sprawling orchards and vineyards of the Pacific Northwest. Their team includes semi-retired wine makers who have made a name for themselves incorporating winemaking techniques to create unique Sours.
As with the Framboise Northwest, all of the beers at Cascade are a blend. Beers are aged in oak barrels between 16 months and 2 years before the brewers add fruit. After that, they bottle beers without any carbon dioxide, and add a small amount of yeast and sugar when packaging to absorb any final oxygen in the beer. The result? "Fine champagne bubbles that lift out of the fruit," shared Martin.
What to expect at Cascade
If you're new to Sour beers and trying one at Cascade, Martin suggests, keeping "an open mind in terms of the flavors you're going to experience." For all of their Sours, the first sip is a "powerful sensory experience." After the first sip, Martin described, "the acidity starts to subside, and you start to recognize the flavors underneath. Once the glass is warmed up a little, and your palette is warmed up, you really start to appreciate the nuances and flavors we try to create." Although still an important staple of the craft beer scene, people who typically enjoy ciders or cocktails are likely to be drawn to the flavors at Cascade.
Brewery Distribution
Cascade Brewing is based in Portland, Oregon, but casts a wide net with bottle distributions throughout the United States as well as abroad. Keep an eye out for their newly-released cans, including brewery classics such as the Pistil Whipped, Sang Rouge and Honey Ginger Lime. These canned Sours will have a lower ABV and less acidity than their bottled beer, but still maintain the same delicious flavor.
Feature Image: Cascade Brewing
---