No Comments
Chicago's Urban Legend Brewing is Now Myths and Legends Brewing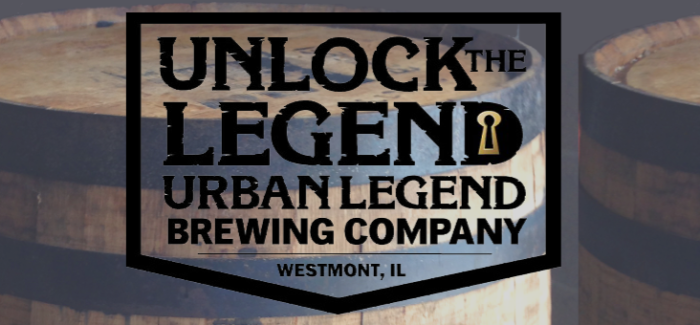 Another Chicago brewery is changing its name, and this time it's Urban Legend Brewing (Westmont, IL). And it's coming with a week-long party! On Aug. 22, Urban Legend Brewing Company will officially become Myths and Legends Brewing Company. This name change arrives on the heels of several, recent Chicago brewery name changes such as Atlas Brewing becoming Burnt City, South Loop Brewing becoming Hop Butcher for the World, and a few years ago, Mercenary Brewing becoming Maplewood.
We caught up with TJ Hagen of Urban Legend to get the details.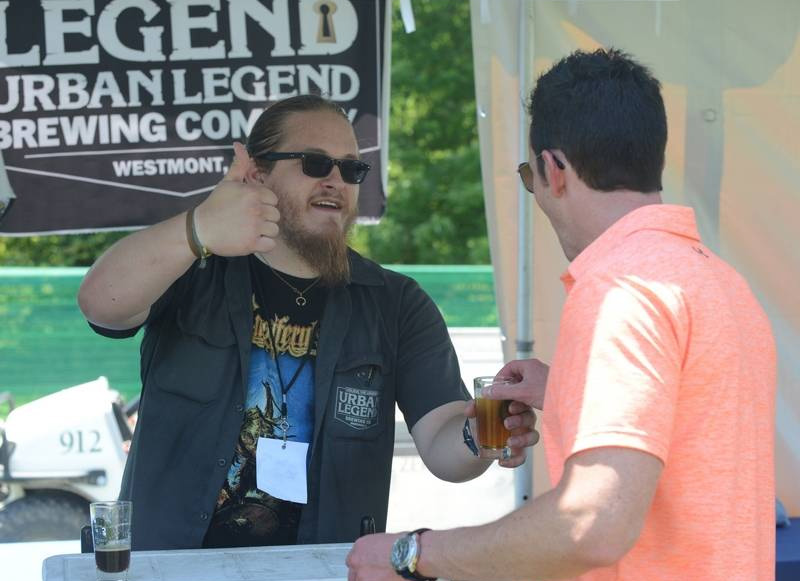 First, can you tell us about yourself, TJ?
I'm TJ Hagen, the Sales Rep for the soon-to-be-renamed Urban Legend Brewing Company. I began as a bartender in our taproom in June of 2015, where I did well enough to be offered a part-time brewing and part-time sales position in December of 2015. Once we hired a full time assistant brewer, I took on the role of sales full time and that's what I've been doing since.
What is the reason for the name change, and how did you come up with the new name?
Similar to our friends at the breweries now known as Maplewood and Burnt City, trademark is behind this rebranding. Our name, Urban Legend, was in conflict with a winery in California. Although we are not in the same market, this kind of thing is hard to avoid given the prominence of the internet in this business. After a lot of back and forth, we have decided to go ahead with this change to avoid any further conflict of interest.
We chose the name Myths and Legends because we do not want to lose what this brewery is all about: telling interesting stories with our beers.
Not only is the name similar enough to Urban Legend to help with the transition, but it allows us to further embrace the myths, legends and other stories we have loved telling so much.
When will it officially change to Myths and Legends Brewing, and will there be an event to kick off the new name?
Our name will change officially on Monday, Aug. 22. To celebrate this change, we are having a week's worth of events and specials in our taproom as well as across the Chicago area, starting off with our first Monday open, an invitation-only night to thank those that have helped us along our way. For the rest of the week we will be offering various draft specials and giveaways each day.
Outside of our taproom, we have the following events throughout the week to promote our new name, and many more to come in the following weeks.
Wednesday, Aug. 24: Mariano's Westmont – Beer and brat pairing, 6:30 to 7:30 p.m., limited space available. 
Thursday, Aug. 25: Nobel House, Geneva – Tap and Market board takeover, 7 to 9 p.m., open to the public.
Friday, Aug. 26: Chuck's, Darien – Party and mini tap takeover celebrating our new name, 6 to 8 p.m., open to the public.
Saturday, Aug. 27 and Sunday, Aug. 28: Motor Row Beer Fest, South Loop – This will be our first festival with the new name. Come grab some beer from me there!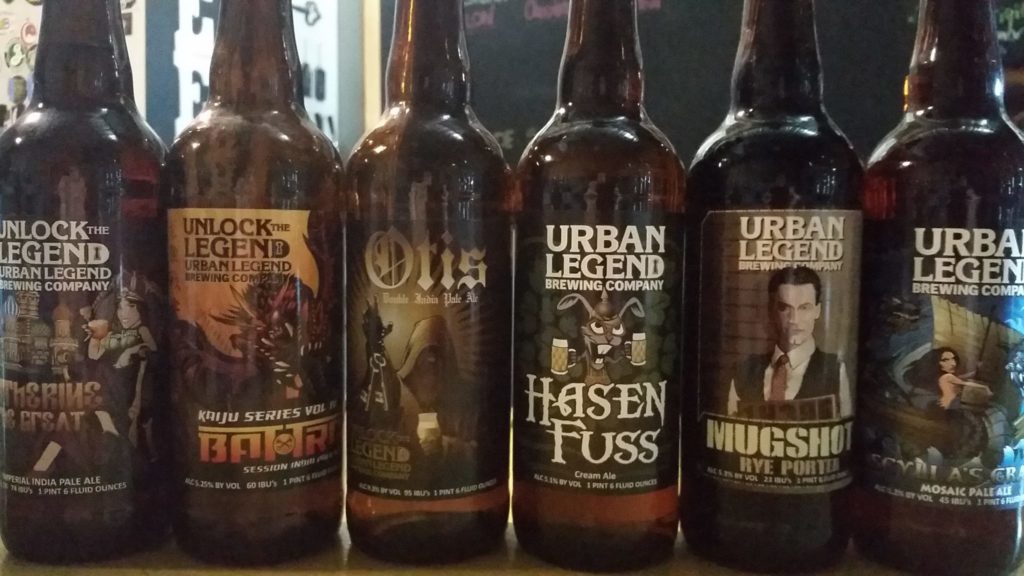 Will it come with a rebranding or new beer?
The change we are working on is only for the brewery name itself; all of our great beer names will stay the same. Although we are not releasing anything new specifically for this change, we have a lot of great new beers coming out in the near future. These include a collaboration with Ravinia Brewing Company and unique house beers for such places as Headquarters Beercade and the Tankard, new to Chicago's Wicker Park area. We will also be releasing a barrel-aged barleywine, though there is more information on that to come soon!
For those unfamiliar with our brewery, we are one of the smallest production breweries in Illinois, focusing on a wide variety of styles, all drinkable and enjoyable by everyone. Each beer of ours has a unique flavor and a unique story behind it.
You are currently distributed by Louis Glunz. Will that relationship remain intact?
We will of course continue the great relationship we have developed with Louis Glunz Beer. As a small, local brewery, Glunz has helped us to expand across the Chicago market in ways we would not otherwise have been able. They have already been of great help in spreading the word about our name change, helping us increase our reach even further. We look forward to continuing this very beneficial relationship as we continue on with our new name.
What type of beers and events are upcoming for Myths and Legends in the fall and winter?
As always, we have a lot of great things coming in the next several months. Between new bombers, such as Step On It!, our weizenbock, and King's Tree, our imperial coffee stout, and continued additions to our taproom-only Kaiju series of beers, there is no shortage of new things to look forward to from us. We will still be releasing our classics such as Cold War, as well as some new beers to come out of barrels. Although festival season is winding down in this area, we will still do our best to make it out to every one we are able, most notably Great Lakes Beer Fest in Racine, WI in mid-September. As for other happenings, we are tirelessly working to set up events across the Chicago area to celebrate and spread the word about our name change. Keep an eye out for us at your favorite local spots!
Will Myths and Legends Brewing still rely on the Creature – the van – roaming the area?
Of course we'll keep rolling the Creature out to as many events as possible in the coming weeks. This actual flagship of ours has proved invaluable in spreading the word about our brewery and our beer.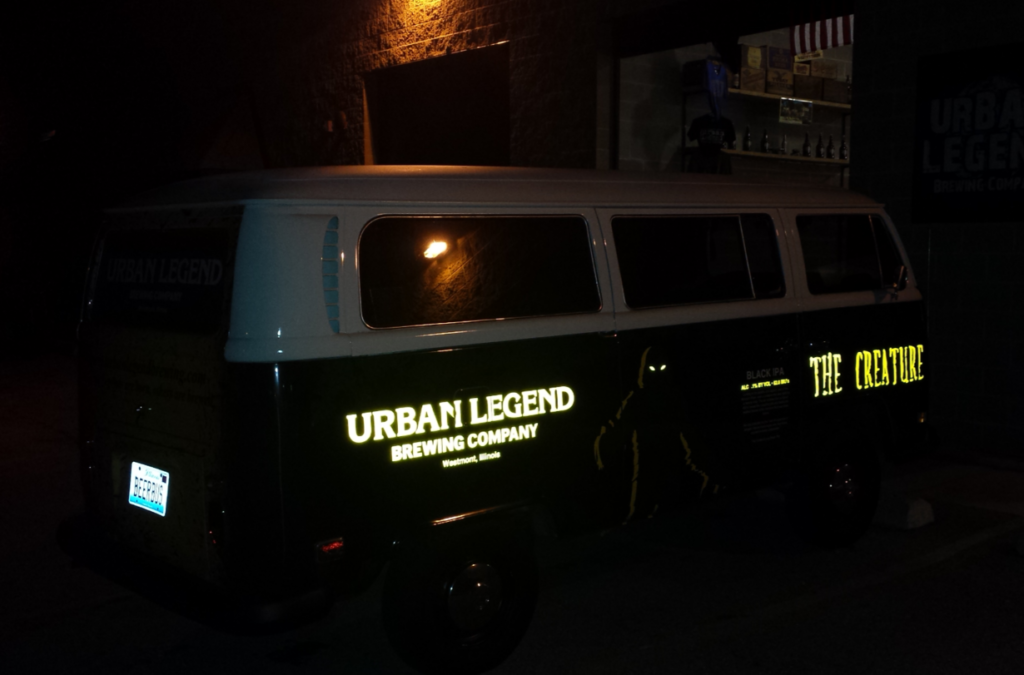 ---