No Comments
Ultimate 6er | In St. Louis This Week? We've Got Six Beers For You.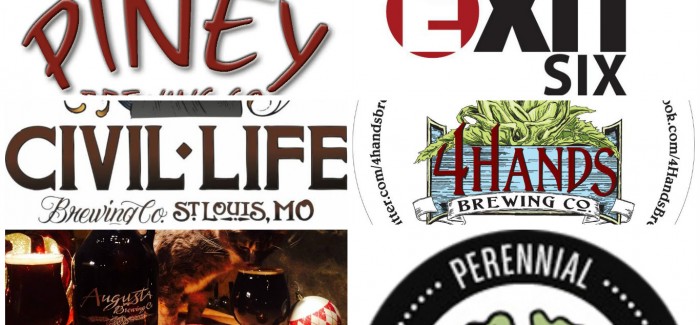 Drink 314 has joined forces with DrinkMoBeer.com to bring you a this week's special Ultimate 6er – which we'll dub Your STL 6er. It features six local or regional beers that we are recommending you try this week.  Chris, Tim and Andrew are all craft beer nuts and present an "everyone's" opinion on the beers they find and tryout.  We hope you enjoy their reviews.
Visit the guys on Facebook and follow them on Twitter.
STYLE: American Double / Imperial Stout
ABV: 10%
IBU: 80
BEER ADVOCATE RATING: 97
RATE BEER RATING: 100
BREWERY COMMENTS: An Imperial Stout brewed with ancho chili peppers, cacao nibs, vanilla beans, and cinnamon sticks. Pouring deep brown with a thick head, this beer has a complex body with a delicious lingering roastiness. Abraxas is brewed with unique ingredients intended to challenge and excite the palate. It may be enjoyed right away or allowed to age in the bottle. Vertical tastings are encouraged. Perennial Artisan Ales is a small batch craft brewery dedicated to producing unique, premium beers. Our beers are brewed with the experimental, seasoned craft beer drinker in mind.
drinkMObeer COMMENTS (Tim): As recommended I did a vertical tasting of the 2014 and 2015. What stood out to me was the slight heat from the ancho chili peppers. They paired surprisingly well with the cacao, vanilla and cinnamon. This is definitely a beer I will wait in line for.
---
STYLE: Imperial Stout
ABV: 9.2%
IBU: 40
BREWERY COMMENTS: Mokko "Port" is our port barrel aged mocha Imperial Stout. I's aged for nine months adding notes of black cherry and candied dates, balancing well with the already strong rich flavors of coffee and chocolate. It pairs well with fresh game, wild mushrooms and poetry. To be enjoyed with someone on a bearskin run in your bare skin. Results may very.
drinkMObeer COMMENTS (Andrew): Pouring black with no head and slight tan lacing this beer features slight red port highlights. A sniff reveals roasted, nutty, earthy nose with sweet stone fruit shining through followed by some acidity. A swig delivers a good dark roast coffee with deep earthy notes followed by candied ripe cherry and dates with cacao nib coming on strong towards the end. The finish is dry and slightly waxy with slight dark chocolate and coffee bitterness.
---
STYLE: Blonde Ale
ABV: 4.5%
IBU: 18
RATE BEER RATING: 48
BREWERY COMMENTS: A float trip is the quintessential Ozark experience. A canoe, kayak, raft or tube and a pristine spring-fed Missouri stream creates a lasting memory of our wild and beautiful outdoors. Our hand-crafted blonde ale is the perfect accompaniment to your day on the river or to simply bring back float trip memories.
drinkMObeer COMMENTS (Chris): Unfortunately for me I had to settle for a bar stool instead of in a canoe on the river when I enjoyed a Piney River's Float Trip Ale. One thing is for sure, next time I'm on the water there will be some Float Trip Ale in the cooler. The ale poured a hazy yellow with a bright white head. Aroma was biscuity, earthy and a little earthy. Taste was light and sweet with a mild bitter finish. When the mercury rises this summer, Float Trip Ale would be a great option to chill with. Prost!
---
STYLE: Coffee Stout
ABV: 6%
IBU: 32
BREWERY COMMENTS: A very dark, full-bodied stout with creamy notes that soften its roasted, coffee-flavored qualities.
drinkMObeer COMMENTS (Andrew): This silky black stout features a delicate tan head that quickly disappears. Dark roast coffee is evident on the nose immediately, followed by slight acidity with creaminess rounding out the robustly scented beer. The silky smooth mouthfeel holds rich coffee creaminess that furn to dark roast espresso on the finish. A tasty midweek brew at a cozy neighborhood brewpub.
---
Porano Pasta English Style Ale | Civil Life
STYLE: American Wheat Beer
ABV: 5%
IBU: 42
BREWERY COMMENTS: This little beauty was a collaboration with Porano Pasta, Gerard Craft's new fast-casual restaurant in downtown St. Louis. If you–like us–can't afford a getaway to the real Porano in central Italy, cheer up! We can all meet locally for some fantastic pasta and a pint! Rustic grassy and grainy flavours, glimmers of pine nuts, juniper berries, and coarse-ground black pepper. The bitter hops play-bite you with pink citrus rind, juicy cantaloupe, muskmelon and green grapes to round-out a light candy sweetness. Mellow and mature, but with fire in her eyes. The beer version of your favourite semi-sweet wine. Fluent in our unique Italian-American dialect.
drinkMObeer COMMENTS (Tim): During a recent trip to Porano Pasta on Washington Ave in St. Louis I came across their house beer brewed for them by Civil Life. This exceptional brew paired well with my Rice, Red Pepper Sauce pasta. The brew had a peppered taste with a rather hoppy nose. Great pasta and great beer.
---
STYLE: Imperial IPA
ABV: 8.5%
IBU: 69
BEER ADVOCATE RATING: 89
RATE BEER RATING: 94
BREWERY COMMENTS: CA$H MONY is an Imperial IPA brewed with a wasteful amount of the very best hops we could secure. An ample malt bill is paired with a huge dose of pungent hop flavor. Citrus dominates the aroma, accentuated by notes of melon, pine, and tropical fruit.
drinkMObeer COMMENTS (Tim): 4 Hands pushes the envelope with IPAs and this is no different. Lots of hops, but what caught my attention was the malty taste. Nice Tropical flavor as well.
---