No Comments
Ultimate 6er | Pour Lists from 6 New STL Brewers for Heritage Festival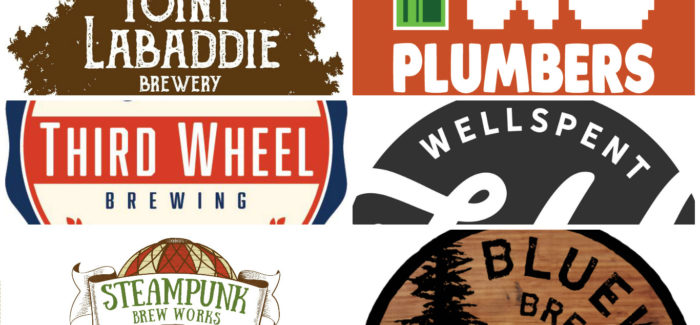 Call it experience, call it trial by fire, but I have found that the best way to maximize your beer festival participation is to have a plan.  After perusing the attending breweries, all of which I love, I found a thread for this years plan – The New Kids On The Block.
Of the 48 St. Louis Brewers Guild members pouring this year, many are new breweries who have either just opened, will be opening soon or we hope will open soon. The is year's St. Louis Brewers Guild Heritage Festival will probably be our best chance to meet these new brewers and try their art, all in one place.
As with every brewery attending this year's festival, all of these new breweries have a unique and interesting story to tell. Telling those stories is nearly as fun as drinking their beer. And speaking of beer, I reached out to a few of the 'New Kids' to find out what they are pouring at Heritage Festival. Make note of their names and the beers – you will want to try them. I'm betting they'll all be in high demand.
---
1029 Thiebes Rd.
Labadie, MO 63055
(636) 742-2861
[email protected]
Founded by brothers Andy Grimm and Rob Grimm, Point Labaddie Brewery is an independent craft brewery located on 17 acres in Labadie, Missouri.   The Brother's Grimm got their start home brewing over 13 years ago using 5 gallon pots on an electric stove burner.  It took exactly one batch for them to fall in love with brewing, and pretty soon we were fantasizing over home brews about one day making a living at it.
That became a reality for the brothers at the end of 2015, when they closed on 17 acres of pasture and woods on the south side of the community of Labadie, MO.  By September 2016, they were brewing their first batches and opened our tap room to the public with 8 guest beers on our taps.  We served the first Point Labaddie beer, our Batch 1 Saison, at the end of October 2016.
For their Heritage Festival debut the Grimms will be pouring the following:
Batch 1: Saison  (ABV: 7.1% | IBU: 27) Unfiltered Belgian Style Saison brewed with Hallertauer Mittlefrueh hops.  Brewed using only malt, hops, yeast and water, this beer has earthy, peppery and spicy notes.
Batch 8: Wee Heavy (ABV: 9.4% | IBU: 30) Unfiltered, malt forward, strong Scotch Ale with hints of roasted malt and caramel sweetness.  Full bodied, low bitterness, classic European styled beer.
Batch 9: Double IPA (ABV: 8.4% | IBU: 81) Unfiltered IPA using Azacca and Citra hops for bittering, aroma and dry hopping additions. The hops provide a tropical fruit and citrus aroma with tastes of spicy mango, grapefruit, pineapple and pine.
---
Amazingly the team at Third Wheel Brewing will be making their grand opening just 4 days after their Heritage Festival debut.  The new brew pub will open on June 7th in St. Peters, Missouri and will feature a wide range of beer styles from pilsner to crazy big stouts. They will also be offering great classes to help us all learn more about beer.Their festival pour list will include their Double IPA called Dyslexic API and Ophelia's Wit, a Belgian Wit with coriander, orange peel, and other spices.
---
287 Lamp & Lantern Village
Town and Country, Missouri 63017
636-230-8277
Until just this past week, the address housing Steampunk was a well-known homebrewers destination, St. Louis Wine & Beermaking.  Owner Dave Deaton decided it would be a cool idea to put a microbrewery inside the shop.  After some research, he applied for the Brewers Notice and after doing the proper work is now ready to pour.
Steampunk Brew Works contains a 3-barrel brew system and a tasting room with a rotating selection of six brews on tap.
For their debut at the festival, the Steampunk crew will be pouring their Kolsch, a New England IPA and a Cherry Wheat.  I've never had a New England IPA, but here is a description I found with Vine.com
They pour hazy or cloudy, which can give these brews a smooth, creamy mouthfeel – a departure from the light/dry mouthfeel you often get with West Coast IPAs – with little to no hop bitterness at the end utilizing hops that impart a tropical, juicy sweetness rather than the classic bitter, dank or citrus-y flavors West Coast IPA lovers have come to expect.
---
This is one of the new breweries we hope to see open in the near future. So while owner/brewer Kyle Kohlmorgen works to bring us another city brewery, he is bringing two of his best to show off at Heritage Festival.
"We're pouring T-Rex Macarena, our hoppy lil pale ale, and "Olivier", a traditional saison, said Kohlmorgen. Posted on the brewery's Twitter account is "REALLY happy w/ this batch of T-Rex Macarena, our hoppy lil pale ale. Come say hi @STLBEER Heritage Fest & try it!" — Wellspent Brewing Co (@WellspentBeer) May 28, 2017
---
2236 1st Capitol Dr.
St. Charles, Missouri 63301
636-224-8626
We first 'ran' into these guys, literally as they were putting the finishing touches on their brewhouse and arcade about a week before their grand opening.
Now up and running, our the St. Charles brewers are making their mark with incredible craft beer, while at the same time filling the void of no good place to play arcade and pinball games in St. Charles County.
This will mark not only Two Plumbers first time pouring at the Heritage Festival, but attending as well. So to mark the occasion, they are bringing two of their best beers with them. Chinook Man is the first of their new 'Robot Boss single hop IPA' series and Player 2 Pale Ale, an applewood smoked pale ale.
---
Address: TBD
Truthfully, I don't know much about these brewers, which makes them so intriguing.  But I can tell you that they have been busy brewers because they are coming to the Heritage Festival armed with ALL TEN beers they have been crafting.
Here is their list:
Afternoon Session:
Barrel-Aged Leviathan Blend #3 (Very Limited)
Arch City Haze – New England IPA
Sail Away – Citra IPA
Barrely Legal – Chardonnay-barrel Peach Sour
La Feux de la Rampe – Lime & Coriander Saison
Evening Session:
Barrel-Aged Leviathan Blend #3 (Very Limited)
Barrel-Aged Leviathan Blend #2
Arch City Haze – New England IPA
Subliminale – Sunflower Hefeweizen
Peach Charlie's Itch – Peach IPAWhile I have not had Leviathan Blend #3, the Bluewood note that it "may disappear before the regular entry due to the VIP session opening an hour early."  So this may be one to make sure you rush in for.
---