No Comments
4 Hands Brewing Company | Chocolate Milk Stout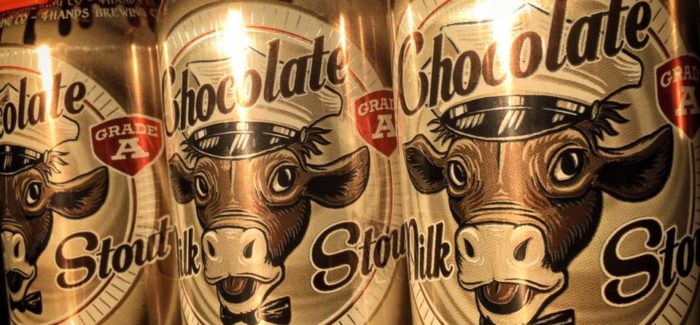 There is one craft brewery that I pass everyday on my way home from work each night. 4 Hands Brewing sits on the edge of downtown St. Louis inside a 20,000 square foot brewing facility featuring two tasting rooms and 3,000 square feet dedicated to barrel aging. They produce five year-round beers and a growing list of seasonal and barrel aged beers.
Chocolate Milk Stout, one of my favorite seasonal beers, is nearing the end of its 2016-2017 run. So before it disappears until next October, please do yourself a favor and find it where you can.
4 Hands Brewing Co. | Chocolate Milk Stout
5.5% ABV
This beer quickly became a St. Louis winter beer classic when it debuted back in 2012. To us, this beer tastes just like one would expect if you mixed a tall, creamy glass of chocolate milk with your favorite beer. It's really that simple.
There are plenty of other Chocolate Milk Stouts out there, and we have not done a vertical tasting, but judging by the fan reaction from beer drinkers outside of St. Louis, 4 Hands' version is a winner.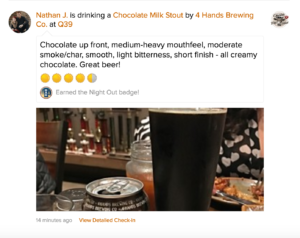 This beer pours black and smooth and quickly rewards with bursts of chocolate as you would expect. It's sweet, but not too sweet, which makes a second, third or more approachable.
That and the fact that at 5.5% ABV, your drinking session can go on pretty deep with this one. Not to be missed.
Now, we have a special add to go with this beer spotlight, because this season, 4 Hands released a new Chocolate Milk Stout variety pack.
Each variety pack comes with  a 22-oz bottle of Chocolate Milk Stout, Gingerbread Chocolate Milk Stout & S'mores Chocolate Milk Stout and a branded mason jar glass.
We loved the 2015 version of this release which featured the same 22-oz bottle of Chocolate Milk Stout, as well as (1) 22-oz bottle of Tiki CMS (chocolate, coffee, coconut), (1) 22-oz bottle of Horochata CMS & a collector's edition Tiki CMS mason jar glass.
---