No Comments
The Weekly Buzz | June 1 – 7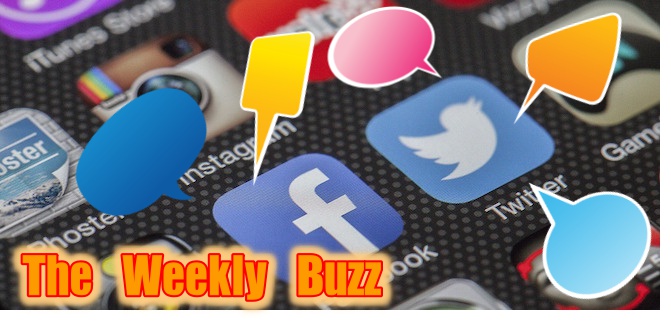 It's been a busy week. I'm working 20 hours of overtime this week, but that's not even what I'm talking about. Beer festival season is upon us, and the task of sorting through thousands of festival-related tweets and 'grams has fallen to me. In the words of the demigod Maui from the Disney animated feature "Moana," You're welcome. This is The Weekly Buzz.
I hear there were a few breweries at this one…
Wow! Thank you to everyone who joined us for the 2018 Invitational Beer Festival, what an amazing day filled with good beers, good food, good tunes & good friends. Congrats to @Garage_Project & @EurekaSLO for winning People's Choice! #FWIBF2018 pic.twitter.com/7W2aUzBWXj

— Firestone Walker (@FirestoneWalker) June 3, 2018
---
Did anyone brave The Swamp to attend SAVOR?
Pumped to be a part of this year's SAVOR event in Washington, D.C.! Holding it down with some great breweries. https://t.co/N7Oui6DvYF #SAVORcraftbeer pic.twitter.com/xmujdfp8Zz

— Rhinegeist (@rhinegeist) June 2, 2018
Beer is our specialty – selfies… well, we're gettin' there. Come see us at the #SAVORCraftBeer Meet the Brewers event tonight! pic.twitter.com/QXtpp2Sm3j

— Night Shift Brewing (@NightShiftBeer) June 1, 2018
Come see us at #savorcraftbeer fest in DC! The fun is on, right now! Thanks for havin' us!👍🏼🍻 pic.twitter.com/6vdvfdcHKE

— Marble Brewery (@MarbleBrewery) June 2, 2018
We're at #SAVORCraftBeer pouring Saison de Lis & Abraxas! pic.twitter.com/Tioc78AOpb

— Perennial Artisan Ales (@PerennialBeer) June 1, 2018
Pouring Dragons & YumYums and Mixed Media at this year's SAVOR! 🍻 #SAVORcraftbeer pic.twitter.com/jthXrOtqur

— Dogfish Head Brewery (@dogfishbeer) June 1, 2018
---
Put on your best Mummers' garb! It's Philly Beer Week!
---
Looking for a job?
---
Hoppy Birthday!
---
Get your tickets now!
---
The story continues…
"This case is not about 'verbatim copy[ing],' but Stone Brewing's struggle with its new identity as a global mega-craft beer manufacturer." –@MillerCoors

Never heard that one. Sounds official! Wait one second while we look it up… pic.twitter.com/313gpbxqEx

— Stone Brewing (@StoneBrewing) April 26, 2018
---
Calling all weirdos!
The 12nd Annual Surly Open is next Saturday up in East Bethel (or down in East Bethel if you're reading this in Cambridge). Surly MVP Jim Mott says we have a few spots left, so get to getting them: https://t.co/SVGCszboU0

— surlybrewing (@surlybrewing) June 7, 2018
---
Coming your way, New Jersey!
1 week, 24 events celebrating our arrival in #newjersey. https://t.co/98zbbNhdQd PS – beer has already begun shipping. pic.twitter.com/PvCc9bwzQV

— Bell's Brewery (@BellsBrewery) June 7, 2018
---
Will someone please show this to my kids?
#FathersDay is around the corner! Stop by the Tap House Gift Shop and pick up something for dad, grandpa or the fatherly figure in your life. Bonus: take 25% off (but only at the Middleburg Heights location)! 🍻 #FatHeadsBrewery #GiftShop pic.twitter.com/LTCR06uy6L

— Fat Head's Brewery (@FatHeadsBeer) June 7, 2018
---