No Comments
The Weekly Buzz | June 9 – 15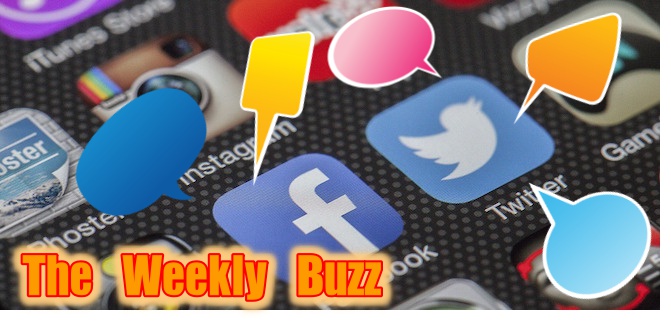 The more time I spend on Twitter, the more I think I need therapy. Luckily, I got to hide in the relative safety of my beer feed. There aren't any political posts in there. Wait… What's that? No… no, please don't! I'll do anything. Just don't retweet that… I'll be in the corner in the fetal position, and this is The Weekly Buzz.
Calling all Arnold Palmer look-alikes!
check our Instagram for details pic.twitter.com/999zDOM9F1

— Evil Twin Brewing (@EvilTwinBrewing) June 15, 2017
---
I want this beer in my face!
https://instagram.com/p/BVIp391ArD2/
---
Where are my keys?! Honey! Find my keys!
Coming to PA, MA, MD, NC and VA on Monday, and everywhere else you find Tröegs on Mon/June 19. #findthegiant pic.twitter.com/j9lR0zIONC

— Tröegs Brewing (@TroegsBeer) June 9, 2017
---
Drink great local beer, and learn about a great co-op!
Join us on Friday June 30 for our next Co-op Mixer @Weyerbacher in Easton. Free, fun event. Open to the public! pic.twitter.com/VSGrRbLxWQ

— Bethlehem Food Co-op (@BethlehemCo_op) June 9, 2017
---
New collaboration alert!
Our current pal and former neighbor, Brett from @idlehandsbeer, swung by to brew an IPL collab with us today – look out for it this summer! pic.twitter.com/v8Q2jdDOwk

— Night Shift Brewing (@NightShiftBeer) June 9, 2017
---
This is an impressive commitment to locally-sourced ingredients.
We just made a commitment to buy one million pounds of Maine-grown grain, per year, by 2021. Read about it here. https://t.co/1jTXNmWSD7… pic.twitter.com/lfEwzjTjE4

— Allagash Brewing Co (@AllagashBrewing) June 9, 2017
---
Why don't I have an adult sip cup?! MOM! I want one!
https://instagram.com/p/BVNI0BmlY58/
---
I'll just leave this right here…
https://instagram.com/p/BVKQTSpAsan/
---
Look out, Ohio!
Join us next week as the Short's team hits the road for Ohio! We can't wait to drink some #ShortsBrew & @StarcutCiders with you. pic.twitter.com/5SWy5bTHEt

— Short's Brewing (@ShortsBrewing) June 12, 2017
---
Are beer festival scalpers a thing?
Founders Fest 2017 is officially SOLD OUT! Those of you who scored tickets: we can't wait to party with you on Saturday!

— Founders Brewing Co. (@foundersbrewing) June 12, 2017
---
This sounds way cooler than my local farmer's market!
Attention Shoppers: We will be serving some of our delicious brews at the Sugar House Farmers Market every Wednesday evening! See you there! pic.twitter.com/WtruwgwJE0

— EpicBrewing (@EpicBrewing) June 12, 2017
---
This looks like my kind of party!
#Boston & #Dallas: We're bringing the #TourdeFat party to you this weekend! Get your tix today: https://t.co/H4ZU0GlY5n pic.twitter.com/hAboaVDUMG

— New Belgium Brewing (@newbelgium) June 12, 2017
---
Tickets are available now.
Summer BrewFest tickets now on sale!!! Visit https://t.co/l6aQEy23Gh to secure yours today! 🍺 #craftbeer #novabrewfest #events #vafestivals pic.twitter.com/5Hrrb1FEZM

— NOVA Brewfest (@novabrewfest) June 11, 2017
---
I love seeing great beer at the ballpark!
https://instagram.com/p/BVQ-296F-kr/
---
Beer AND hiking? Sounds like a great weekend!
Hey #DC the #DBThruHike is coming for ya! Be sure to follow @DBbeer_Shane and @DBbeer_Hannah to get the full scoop June 19-23 #DBbeer pic.twitter.com/VOqihS5JZb

— Devils Backbone (@dbbrewingco) June 14, 2017
---
IT'S THIS WEEKEND, PEOPLE!
.@BLVDia is this weekend! Don't miss out on our pop-up nation devoted to beer, food, music & beer! Grab passes now! https://t.co/Qk1XDVkQmb pic.twitter.com/lGQ6XQgXrD

— Boulevard Brewing Co (@Boulevard_Beer) June 13, 2017
---
I didn't believe it, but it's a real phone number…
There's a pretty crazy story behind Sweet Action. Call the hotline to get the whole thing.
1-844-810-2412 #ItAintSweet pic.twitter.com/RUdDUue9Ke

— Sixpoint (@sixpoint) June 13, 2017
---
Beer be with you.
And also with you.
Ireland's Good Friday Alcohol Ban to Be Lifted in 2018 🍻 https://t.co/qLouwDibyd pic.twitter.com/4VLKPxB4pE

— TheTaste.ie (@Thetaste_ie) June 14, 2017
---
Those are some beautiful berries.
Out in the fields at nearby @StritesOrchard today. We're picking strawberries for a #SplinterBeer we're working on. The juicier the better. pic.twitter.com/nkEanN2fYy

— Tröegs Brewing (@TroegsBeer) June 14, 2017
---
This beer is going to be a… pearl! Get it?!
Harborside '17 is taking shape! Watch for details about our 7/16 release of this gose-style ale brewed w/ @IslandCreek oysters & coriander. pic.twitter.com/jm741CqyWh

— Night Shift Brewing (@NightShiftBeer) June 14, 2017
---
That's some sweet, sweet art.
Rad new mural by @EronHare up at @oskarblueswnc. pic.twitter.com/ir4JBUEfgo

— Oskar Blues Brewery (@oskarblues) June 15, 2017
---
Are you heading to LA Beer Week?
There's still time to buy Tix to #LABW9 kickoff event this Sat @LABrewers @LABeerWeek https://t.co/iuhelnN2gk

— Scholb Craft Beer (@ScholbCraftBeer) June 15, 2017
Taplist of what we're pouring at @LABeerWeek Kickoff Festival Saturday pic.twitter.com/8W9eQxlCqd

— Almanac Beer Co (@AlmanacBeer) June 15, 2017
---