No Comments
Four Summer Solstice Beers to Kick Off the Official Start of Summer
Culturally speaking, summer in America starts on Memorial Day (the last Monday in May), and ends on Labor Day (the first Monday in September). Bookended by these two holiday weekends, summer in the USA has been experienced the same way for decades. Technically speaking though, summer only just began today!
The Summer Solstice, (at least in the Northern Hemisphere) is the day that the sun reaches its northernmost point in relation to the Equator. We have been experiencing the results of this northward migration for weeks. The days have been getting longer and and temperatures have been climbing. Today, all of that change reaches its apex. The exact amount of sunlight you get will vary by your latitude, but Philadelphia, for example, will see a whopping 15 hours and 34 seconds of sunlight today.

All that extra sunlight is perfect for enjoying the finest activity every devised by humankind: PorchDrinking. Whether you choose to sit on finely appointed patio furniture or relax on a creaky porch swing, here are a few beers that will make your time on the porch memorable and fun.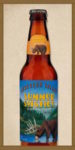 OK, so this one might seem a bit like cheating. This beer's name is Summer Solstice, after all. However, it is highly compatible with the fine art of PorchDrinking. This brew has a tinge of malty sweetness, a creamy mouthfeel, and a crisp, clean finish. Clocking in at 5% ABV, Summer Solstice is fairly sessionable and will pair well with that chicken you have on the grill. This beer is highly quaffable in hot weather, which is exactly what you will need for such a long, sunny day.
Anderson Valley Brewing Company says that this beer is like "cream soda for adults," and that sounds really great to me!
---

Tröegs Sunshine Pils is a classic Pilsner for the modern era. Brewed with Pilsner malt and Saaz hops, this is a smooth-drinking lager with just the right amount of hop bitterness at the end. This beer comes with street cred, too, having won a few medals at the Great American Beer Fest and World Beer Cup. Sessionable and inviting, Sunshine Pils is a perfect choice for your Summer Solstice activities. As an added bonus, this brew was recently upgraded from "seasonal" to "year-round," so availability will not be a problem!
Throw a couple of crabs in the pot and wash them down with Sunshine Pils. That's a pro tip from me to you.
---

There are few things more satisfying than biting into a juicy watermelon wedge on a sunny day. 21st Amendment took that experience and created a beer around it. Their summer seasonal, Hell or High Watermelon, is a straw-colored wheat beer with 100% fresh watermelon puree added during secondary fermentation. You won't believe how beautifully the watermelon flavor shines through until you taste it for yourself. Crisp and refreshing, this beer will keep you cool on the sunniest day of the year, and the relatively low 4.9% ABV will keep you from getting into too much trouble. Hell or High Watermelon is nothing less than summer in a can!
Suggested glassware be damned. This beer is perfect straight from the can!
---

The Summer Solstice is a seriously long day, and you want a beer that can go the distance with you. Founders All Day IPA is that beer. This beer has all of the hop bite and aroma that you love packed into a clean, drinkable package. At a reasonable 4.7% ABV, All Day IPA is perfect for a long session of PorchDrinking, a cookout, camping, or anything else the solstice can throw at you.
With the recently released 19.2 Fluid Ounce cans, you'll now be able to enjoy All Day IPA while making fewer trips to the cooler. You're welcome!
---