No Comments
Anderson Valley Brewing Company Sold to the McGee Family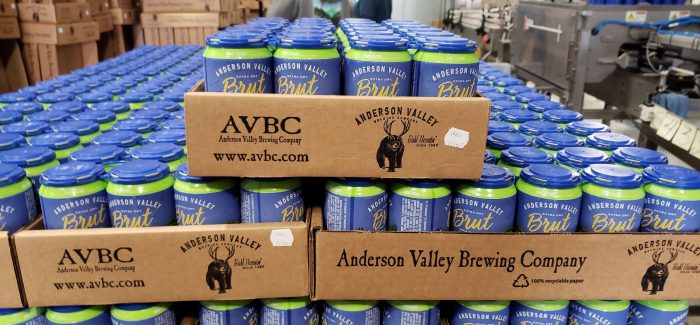 The holiday shopping season is underway, and it seems that breweries are a hot item. In a matter of weeks, we've witnessed the acquisition of New Belgium Brewing by Kirin's Lion Little World Beverages and, just yesterday, the stunning story of Kings & Convicts purchasing Ballast Point. Today, Anderson Valley Brewing Company—one of the first craft breweries to emerge in the late '80s, announced its sale to Kevin McGee, an entrepreneur with extensive experience in the craft beer and wine industries.
---
Anderson Valley Brewing Company opened its doors the day after Christmas in 1987, becoming one of the first twenty U.S. craft breweries in operation. This is the second sale of the brewery; In 2010, HMB Holdings purchased the brewery from its founder, Ken Allen. In both sales, the brewery maintained its independently-owned status, which also allows it to remain a "craft brewery" as defined by the Brewers Association.
However, while it remains independent, Kevin McGee is no stranger to the corporate game, notably in the wine business. After graduating from the Executive Program at the Stanford University Graduate School of Business and working as an attorney for two decades, he left in 2005 to work at Jackson Family Wines, owners of Kendall-Jackson and La Crema wine brands. And then, in 2014, he took over as Chief Legal Officer and COO of Terroir Capital, an investment firm that handled several leading wine brands. In 2017, he took the title of CEO at Terroir.
But, McGee also understands the idea of small-batch and craft brewing. Since 2007, McGee turned his garage into a licensed, commercial brewery called Healdsburg Beer Company (HBC).
So, it would seem then that McGee (along with his family who are also investors) possesses a unique understanding of the law and business aspects of running a bigger brewery while also understanding the culture attached to craft brewing.
In a PorchDrinking interview with brewmaster Fal Allen, he noted the importance of Anderson Valley remaining family-owned.  "Anderson Valley Brewing has always been family owned and I think that structure is a framework that works well for this brewery and its location." Allen continued, "Kevin lives in the area and I think that is important too. For me personally – remaining a family-owned business is important because I value working for a small company where the systems of operation are obvious and easily traversed."
https://www.instagram.com/p/B1Z4OZEAgA5/
"Anderson Valley Brewing Company is a very special place. For over three decades, the brewery and the people there have consistently produced world-class beer, and my family and I are very excited to be a part of its future," said Kevin McGee in a press release. "The pioneering and innovative spirit is a critical part of what makes Anderson so special, and we'll focus on amplifying that spirit rather than changing anything. There's a nearly limitless appreciation for delicious beer, and despite huge growth in the craft category, it still only represents 14% of the overall beer market. With its tremendous product and culture, Anderson Valley and small independent breweries like it are very well positioned now and moving forward."
McGee and his family take over a craft brewery that ranks as one of the 75 largest U.S. craft breweries with distribution to 30 states. Anderson Valley has an extensive brewing portfolio, with its series of Gose-style beers having grown into one of its most recognizable beers.
Allen also spoke to McGee and his family's background and what it brings to Anderson Valley moving forward. "They bring with them a solid knowledge of business and of beer. Kevin has been involved in running several businesses as well as in running his own brewery for many years," said Allen. "And, maybe most importantly he also brings with him a lot of enthusiasm. He has said that he is taking a multigenerational approach to the business and that he is very excited to build something for the long term."
*Sources for this piece include Anderson Valley Brewing, Globenewswire,Yahoo Business, San Francisco Chronicle and WineBusiness.com.
Feature image courtesy of Anderson Valley Brewing's Facebook page.