No Comments
The Weekly Buzz | September 8 – 14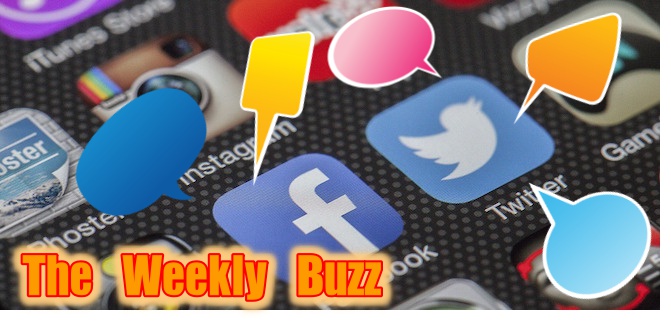 This week was a bummer in a lot of ways. Houston is still reeling from Harvey, Florida got beat up by Irma and we remembered the anniversary of a devastating terrorist attack. You know what, though? We got through it. We'll continue to get through it. Even though at times it may seem like we are kicking ourselves in the ass, we'll find a way to make it right. Until that day, we will have America's greatest coping mechanism at our disposal–beer. Crack open a fresh one, and get ready for The Weekly Buzz.

A lovely sentiment.
Cheers to our recovering craft friends in #TX and #FL – you're thought of with every raised pint glass. pic.twitter.com/R8OdeMysO5

— Foothills Brewing (@FoothillsBeer) September 12, 2017
---
If it's free, it's for me!
Making your weekend beer run? Do not forget to nab your free SurlyFest poster (pictured), featuring Keith or Klaus shredding on air rake. pic.twitter.com/BWZXw2IWAO

— surlybrewing (@surlybrewing) September 8, 2017
---
Trying to make Irma evacuees feel at home.
Floridians in ATL to dodge Irma, your first beer at the brewery is on ushttps://t.co/mPUlxi7dQ4

— SweetWater Brewery (@sweetwaterbrew) September 8, 2017
---
Get your tickets now!
#Washington join us at the 1st Annual Sedro-Woolley Brewfest! Get tickets here! 9/23 2:00 PM https://t.co/e9R4WBSb0u pic.twitter.com/dprS6qANJz

— Ninkasi Brewing (@NinkasiBrewing) September 8, 2017
---
Wait… Did they brew a beer with T-shirts?
https://instagram.com/p/BYyPuDmj0jo/
---
Just in case you're getting tired of ales.
https://instagram.com/p/BYytiYFhuMH/
---
Breweries are helping with hurricane relief again. Great job!
As #HurricaneIrma barrels towards FL, we're shipping 163,200 cans of water to @CigarCityBeer. Support relief efforts https://t.co/aybEBM5yxG pic.twitter.com/QlMdxoC5ig

— CAN'd Aid Foundation (@CANdAid) September 8, 2017
If you bought a can of Rising North in the Beer Garden, you helped us and @MNUFC raise $5000 for @MATTER_ngo and Hurricane Harvey relief. pic.twitter.com/CBQ9mfARAy

— surlybrewing (@surlybrewing) September 10, 2017
9/23 @NCBCBeer raising funds for hurricane relief with donated local beer! ALL proceeds go to relief efforts. #YARDS #BrewUntoOthers pic.twitter.com/LFmV9FY4hO

— Yards Brewing Co. (@yardsbrew) September 13, 2017
---
It's wet hop season! Hey everybody! IT'S WET HOP SEASON!
#FreshHops will be making their way to the brewery next week for #HopTrip & #ChasinFreshiesIPA! Stay tuned… pic.twitter.com/QOEYZrOwqY

— Deschutes Brewery (@DeschutesBeer) September 10, 2017
---
It's also football season, and my fantasy team is just awful.
Sundays are for a craft beer and football! #SundayFunday #drinkstable12 #barntobrewery #Footballseason #beerwithakick pic.twitter.com/P8QZmTCqtb

— Stable 12 Brewing Co (@Stable12Brewing) September 10, 2017
---
Pretty much everyone in the NFC East agrees…
https://instagram.com/p/BYzJbOkg3HC/
---
Great music. Better beer.
https://instagram.com/p/BY3sXbgFH71/
---
Happy Birthday, Fat Heads!
Brunch is on! Anyone check out the @PittsburghPG this morning? pic.twitter.com/aYIF1QebPn

— Fat Heads Pittsburgh (@FatHeadsPGH) September 10, 2017
---
Great beer has arrived in NM!
Hello New Mexico! #Bellsbeer has officially landed and we are celebrating all week! Events: https://t.co/8p7QQ6ITNb pic.twitter.com/JYI4MbqM4b

— Bell's Brewery (@BellsBrewery) September 11, 2017
---
Mark your calendars!
The 2017 Sly Fox Can Jam Music Festival is coming! pic.twitter.com/ItYn6eH6TC

— Sly Fox Brewing Co (@SlyFoxBeer) September 11, 2017
---
Never forget.
Never forget 9/11. Our thoughts and prayers are with everyone who has been impacted by this tragic day! #neverforget #911memorial pic.twitter.com/5T8VLs8rBT

— River Rat Brewery (@RiverRatBrewery) September 11, 2017
---
Something juicy and hoppy. Do you deliver?
We hope everyone is safe out there today! We've got a little something that will brighten your day…but what should we fill these w/ 1st… pic.twitter.com/cMOQVkhSuv

— Creature Comforts (@creaturebeer) September 11, 2017
---
Honey! Get the kids in the car! We're heading to Maine!
Today we released Post Ride Snack for the first time in bottles. It's also our first label to feature the @BrewersAssoc Craft Seal pic.twitter.com/ImpFcuNdoY

— Maine Beer Company (@mainebeerco) September 12, 2017
---
Start checking your shelves, Delaware!
Delaware, we're here! #FirstState Come celebrate with us, tap takeovers, tastings and more. https://t.co/8cbKpI6SIe #Delaware #CraftBeer pic.twitter.com/J74q9XdG4z

— Left Hand Brewing Co (@LeftHandBrewing) September 12, 2017
---
This is ridiculous in all the best ways!
Despite 'beer' being in the address, we get these multiple times a week. If anyone needs a dance catalog, you know where to find me. pic.twitter.com/sAMYju7WEO

— Dancing Gnome Beer (@DG_Beer) September 12, 2017
---
Hmm. I'll have to try this one.
https://instagram.com/p/BY8sXduHg40/
---
This man is my hero. Period.
https://instagram.com/p/BY-9rUUFe_I/
---
Get tickets while they last!
https://www.instagram.com/p/BZAD7qQA_S6/
---
Happy Anniversary!
https://www.instagram.com/p/BY_4-V4jjnt/
---