3 Comments
Dovetail | Bamberger Dunkel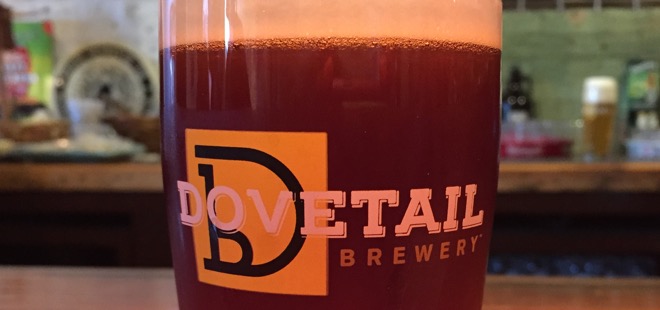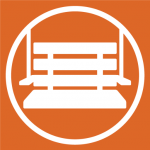 Fans of Bavarian-style beers will want to check out Dovetail's new beer, Bamberger Dunkel. It's released just in time for Oktoberfest celebrations in the city of Chicago or just kicking off the fall season. This beer will make you feel warm with the windy city chill. It is medium bodied, so the drinker will not feel too full after a glass, thus leaving room for plenty of German sausage. If you forgot to BYOS (bring your own sausage) to Dovetail, don't worry. They will have plenty of Landjäger for sale.
On the Standard Reference Method (SRM), dunkel beers (which means "dark" in German) tend to be on the dark color spectrum. The Bamberger Dunkel is a mahogany color, which looks like brewed iced tea. This is attributed to the Bamberger and Weyermann malts. Unlike a clear glass of tea, this beer is slightly hazy. When it was poured, a thick head formed. The bubbles in the beer float effortlessly to the top of the glass. You might think it resembles a caramel-flavored whipped cream topping.
ABV: 5.1% | IBU: 30
https://www.instagram.com/p/BY9UeZThnAs/?taken-by=dovetailbrewery
The alcohol is noticeable and warm. The first sip is filled with strong carbonation and a medium bodied beer. It's a little malty, more nutty-sweet to begin with. There is some alcohol warmth that fades into a dry experience. The hoppy bitterness is not strong at all with this beer. It's a pleasant balance so you can taste the other flavors. It's a surprise that the IBU is at 30 for this one. The flavors coat your mouth and linger at an acceptable length, such that your snack or meal would be affected by the beer's flavors. On the nose, the Bamberger smells sweet in the way of chocolate and bread. The earthiness and floral aroma can be attributed to the Tettnanger hops.
When drinking the Bamberger Dunkel, it may be a good idea to sit by a window and look for the changing leaves of fall. It is a solid beer to start the fall season with. It's not light like a summer beer, but not quite filling as a winter stout. If you decided to be an Oktoberfest participant in the northern neighborhoods of Chicago, then you will feel very German with a glass of the dunkel without needing to wear your dirndl or lederhosen.
---