No Comments
Brewery Showcase | DSSOLVR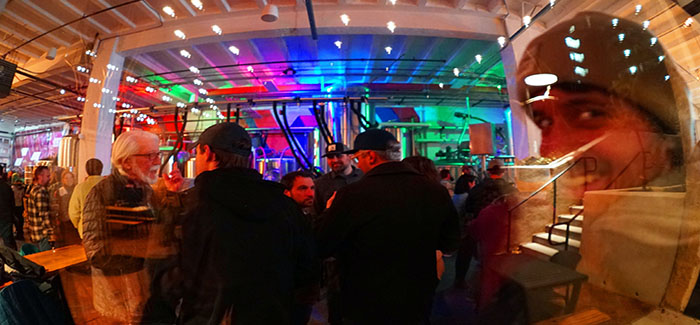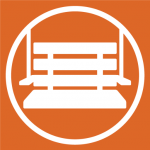 DSSOLVR (pronounced "dissolver") is not a brewery, it is a brand. That brand was built by co-founders, Mike Semenec and Vince Tursi who joined the ranks of Asheville, NC beverage makers in December of 2019. With their eclectic portfolio of genre-bending beers, seltzers and mixed culture ferments, they have made a splash in "Beer City USA" by embracing their tagline, "Brewed until Surreal".
As Semenec said in an interview for this story, "The DSSOLVR aesthetic is a blend of Surrealism, Absurdism, with a blast of postmodern internet meme vibes, but in reality, it ends up being a bunch of eyeballs, skulls, aliens, and photoshopped images of our staff."
The liquid and the look of DSSOLVR are maximalist and art-forward. The brand combines Tursi's brewing skills and industry experience with Semenec's strength as a designer, videographer and marketing creative. 
As Semenec put it, "Vince guides the creation of all our amazing beer and I make sure that the branding and marketing reflect the surreal suds inside of each can or bottle."
Those surreal suds and their unique brand aesthetic have helped the brand to find its place within the saturated landscape of Asheville craft beer.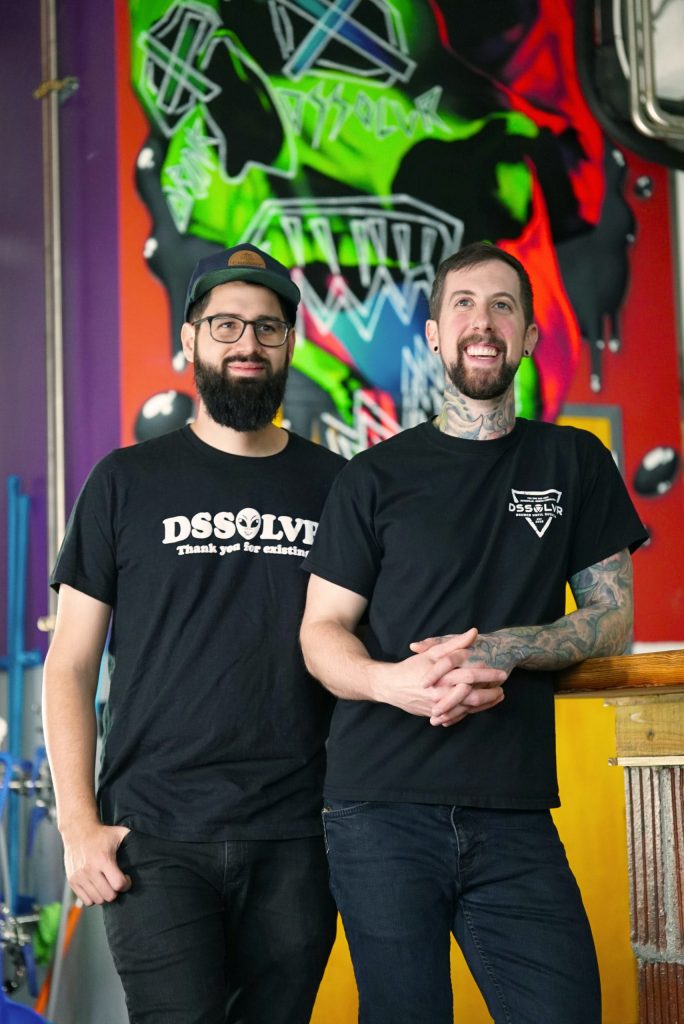 With regards to the connection between their beer and brand, Semenec said, "The connection between the label and brew is vital for the success of each of our brands. It's imperative that we get both right for every release. It may sound weird for how silly and tongue and cheek our labels can be, but we have put a ton of time into how we are marketing ourselves."
That time and attention given to building the brand have paid off. DSSOLVR has garnered numerous national accolades including USA Today's Top 10 New Breweries and a number of Hop Culture Magazine's Best of 2020 mentions including Best Brewery Website and Best Label Design.
Semenec continued, "Our tagline is "Brewed Until Surreal" and it has become our motto to keep developing and redeveloping everything we do, our work is never complete and we will always keep evolving. So we will continue to find new looks and feels to incorporate into the overall aesthetic." 
That emphasis on evolution is noteworthy. Two months after opening, the COVID-19 pandemic thrust DSSOLVR into a new reality that they have embraced in order to survive and grow their brand. Despite the challenges of running a business in a pandemic like local stay-at-home orders, occupancy limits, mask mandates and changes in the way people enjoy beers, DSSOLVR's strong online presence and creative social content have kept fans engaged. 
DSSOLVR has also become prolific in its beer releases and collaborations that began even before they opened their taproom.
Semenec said, "With about two new brews a week we have released an immense amount of new brands in our two years of operation, as of today, we have 211 brands on our Untappd account."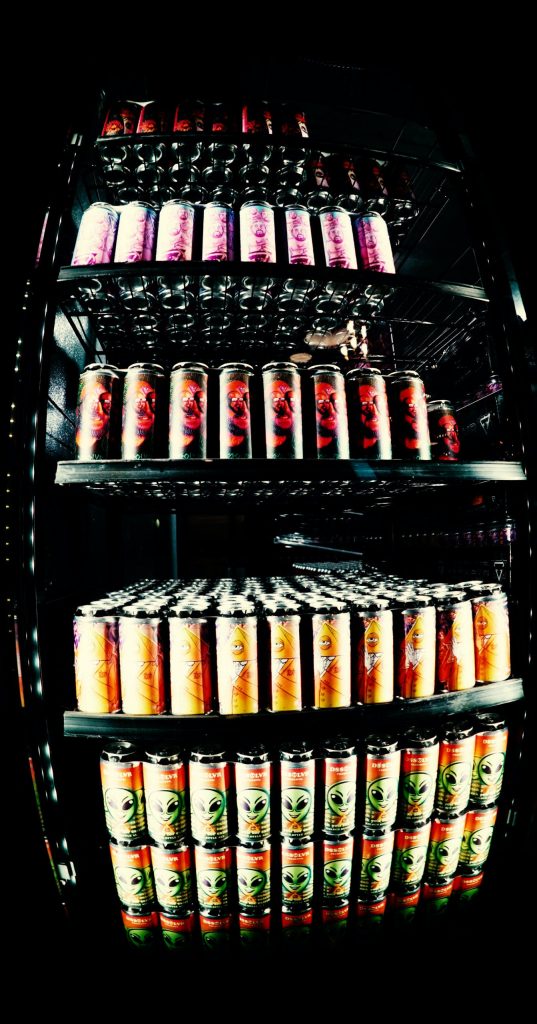 As they approach their second anniversary, Semenec reflected on the journey.
"We are going to take our learnings from the last two years to help guide us for what we have next," said Semenec.
He continued, "We will continue to steadily grow our in-state presence, we are now locking in a few more of our fan-favorite brands to be consistent core offerings and we are adding more in and out of taproom events to our calendar for 2022!"
In the last two years, we have all had a taste of a new reality. Perhaps a brewery founded on irreverently celebrating the surreal and forged by this bizarre moment in global history is just what we need as we all evolve into a post-pandemic world.
Featured image courtesy of DSSOLVR
---