No Comments
2016 GABF Awards Result in Error, The Rise of New Breweries and More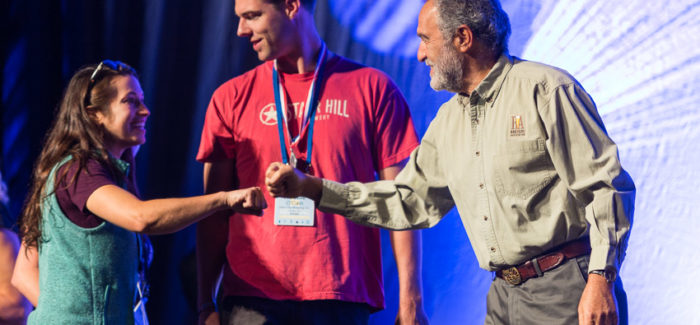 This year's 2016 Great American Beer Festival Awards Ceremony was anything but dull. To celebrate the 35th Anniversary of the Festival, the Brewers Association, the trade organization that puts on the event, assembled a much more polished performance in recognizing the industry's best.
Among the highlights, a video montage which took a look back at past milestones throughout the event's history, as well as an epic soundtrack during the first half of the show, which sounded as if it was scored by composer Hans Zimmer. Saturday's awards ceremony also included a surprise appearance by Colorado Governor John Hickenlooper who honored, former Brewers Association President, and GABF Founder, Charlie Papazian with his very own gold medal. That led to the most amazing moment of the weekend, when Charlie proceeded to give himself a trademark fist bump. That moment was only rivaled by Charlie fist bumping Baere Brewing co-founder Ryan Skeels' baby after Baere earned a Bronze medal for their Saison. Aside from all that not much else happened. Nope nothing at all, oh wait, no there was something else that happened… that's right… Fat Head's fell victim to its own Miss Universe moment, when the title of Mid-Size Brewing Company and Brewer of the year was stripped away moments after they were announced to earn that distinction.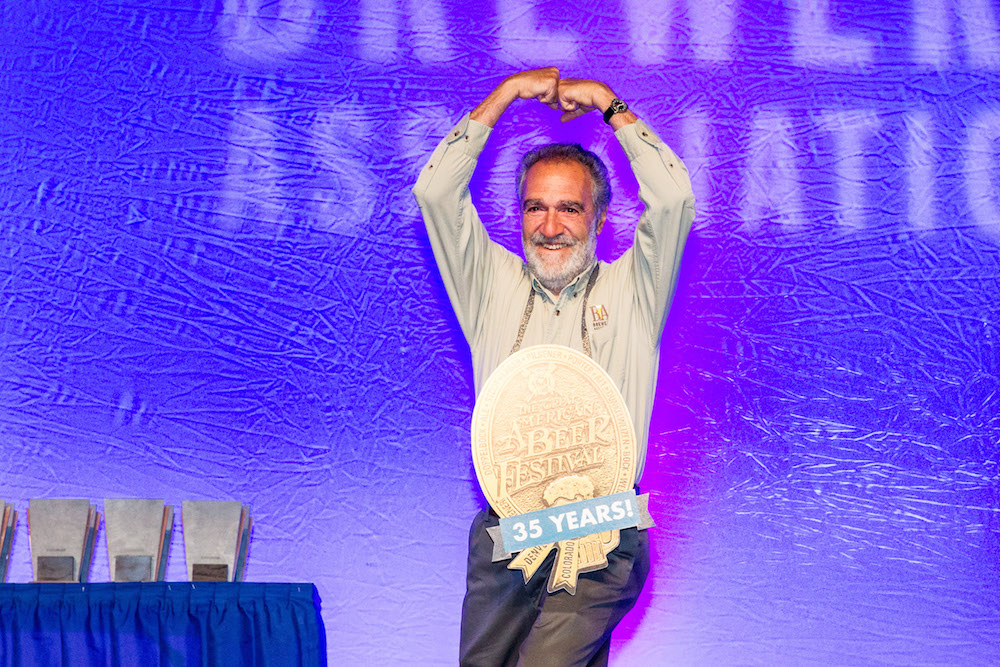 During the ceremony, Karl Strauss Brewing Co. – San Diego was originally announced as the Mid-Size Brewpub of the Year and Fat Head's Brewery & Saloon as the Mid-Size Brewing Company of the Year. However the Brewers Association quickly realized that Karl Strauss inaccurately self-identified themselves as a brewpub, which while many Karl Strauss locations are indeed a brewpub, the BA recognizes Karl Strauss Brewing as a production facility.
The change does not affect any of the five medals Fat Head's earned at the annual competition. Fat Head's won a gold, two silvers and two bronze medals. The change does bring up some very interesting questions about what entry into the competition may look like in the future and what education will need to go into motion to help ensure this mistake remedied before awards time.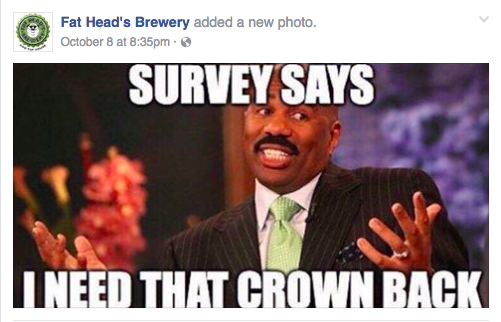 Here is an update to those results:
Mid-Size Brewpub of the Year
Boxing Bear Brewing Co., Albuquerque, NM
Justin Hamilton and Dylan Davis
Mid-Size Brewing Company of the Year
Karl Strauss Brewing Co. – San Diego, San Diego, CA
Team Karl Strauss
The Brewers Association issued the following statement regarding the change:
"During competition registration, Karl Strauss Brewing Co. self-identified their San Diego location as a Mid-Size Brewpub. After the award ceremony, GABF competition staff realized that this was inaccurate: this location is, in fact, a Mid-Size Brewing Company. Karl Strauss, while it operates brewpubs, is classified as a production facility by GABF competition guidelines.

After reassigning Karl Strauss to the Mid-Size Brewing Company category, and recalculating the Brewery of the Year results, it resulted that Karl Strauss was the winner of the Mid-Size Brewing Company of the Year category. In addition, Boxing Bear Brewing Co. is the resulting winner of the Mid-Size Brewpub of the Year category.

All of us with the Great American Beer Festival and the Brewers Association deeply regret this error. Fat Head's Brewery & Saloon, which had originally been identified as the Mid-Size Brewing Company of the Year, had a very strong performance in the competition, winning a gold medal in the German-Style Wheat Ale category, a silver medal in Other Strong Beer, and a bronze medal in Fresh or Wet Hop Ale. They were among the top medal-winning breweries in the 2016 competition.

Congratulations to all of the winners in the most-entered Great American Beer Festival competition ever."
An amended copy of the original release can be found on BrewersAssociation.org.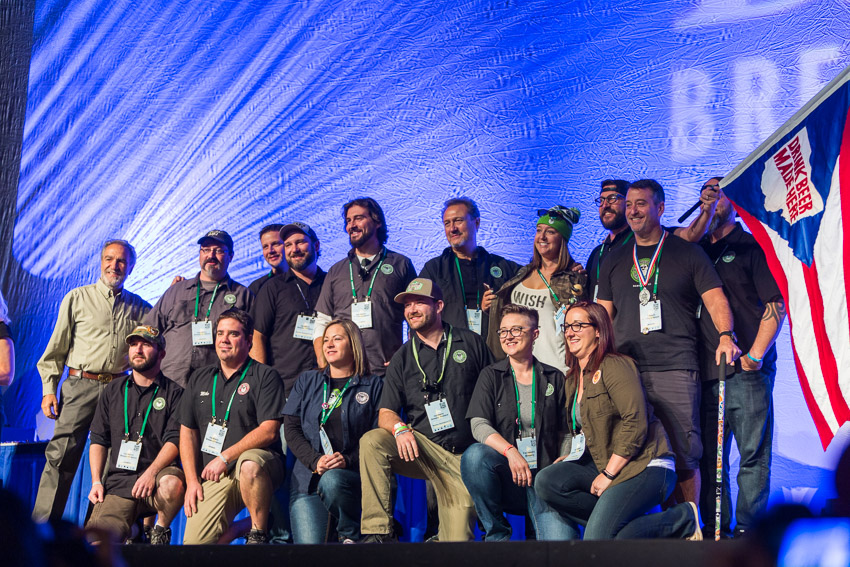 Other Trends and Takeaways from the 2016 GABF Awards Ceremony
How come my favorite brewery didn't win? Didn't win as much?
Left coast stalwarts perennial medalists Pizza Port only walked out of the hall with one award; last year they had five. 

Firestone Walker only took home one award; last year they scored five. 

Breakside Brewery who didn't medal in 2015, earned 3 medals in 2016

Cannonball Creek (a CO favorite) saw gold twice this year first for their aptly named "Solid Gold" as well as their session IPA called TRUMP HANDS, which probably stole best beer name of the fest.

The Figueroa Mountain team earned another 4 medals, which totals 17 medals in just five years, if anyone is counting.

Montana's 

Überbrew showed up in a big way with two golds, a silver and a bronze (breweries are only allowed to enter 4 beers for competition, meaning Überbrew medaled for every beer they entered)
Overall Competition Highlight
Who won the Most medals?
Four (4) medals were won by Überbrew, Billings, Mont. (2 gold, 1 silver, 1 bronze)
Three (3) medals were won by each of the following breweries:
o   Karl Strauss Brewing Co. – San Diego, San Diego, Calif. (2 golds, 1 bronze)
o   Brown Truck Brewery, High Point, N.C. (1 gold, 2 silver)
o   Fat Head's Brewery & Saloon, North Olmsted, Ohio (1 gold, 1 silver, 1 bronze)
How many new breweries entered the judging this year? How many of them brought home a medal?
First-time GABF competition entrants (self-identified during the registration process) numbered 464. Of those first-time entering breweries, 41 won medals. Clearly new and emerging breweries have begun stepping up their quality in a big way.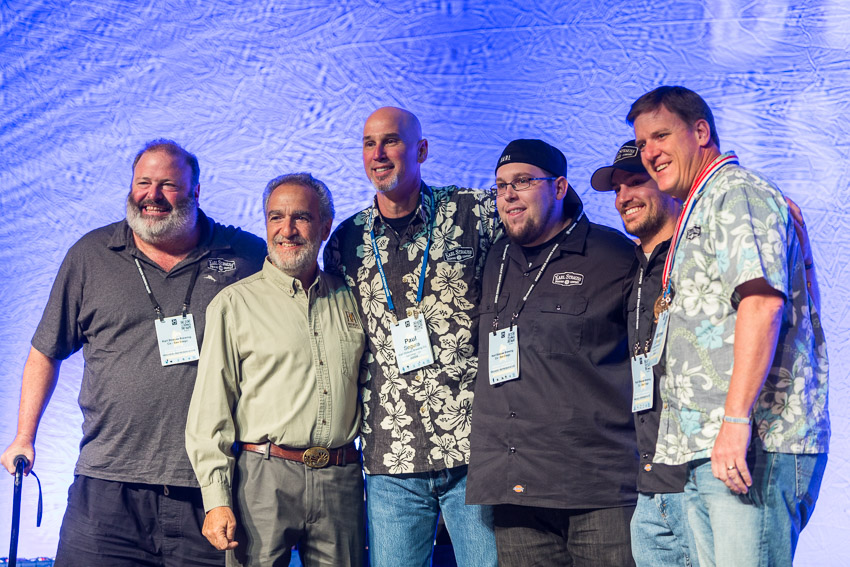 Style Categories
Since 2002, the most-entered category has been American-Style India Pale Ale (IPA), which saw 312 entries in 2016 compared to 336 entries in 2015.
In 2015, the top-five entered style categories included Session India Pale Ale and American-Style Pale Ale, which did not make the top five this year. New in the top five in 2016 compared to last year are American-Style Strong Pale Ale and Coffee Beer.
THE DEATH OF THE IPA?! Not even close. Look at the number of entries again. 100+ more than the next category. Which is another category showcasing the hop. #hipHOPShooray
The average number of competition beers entered in each category was 75—up from 72 in 2015— making the 2016 Great American Beer Festival competition the most competitive ever. 
This year's GABF competition saw seven new style categories
o   Pumpkin /Squash Beer (category 6)
o   Four new historical beer categories were added: Finnish Sahti, Swedish Gotlandsricke, and Pale and Dark Breslau Schoeps (categories 21e, 21f, 21g, 21h)
o   German Leichtbier (category 36c)
o   Specialty Saison (category 79)
In Conclusion
We saw a handful of new categories this year. Will we see more next year? What will they be? This is really tough to predict as we see the NE IPA and fruited IPA taking a hold of the hype train and pulling the horn on the hop train to a fruitier, less hoppy whistle. We've see hella goses hit the market and now they are taking over the German-style Sour Ale category. Will we see a Gose-only category soon? Anyone else stoked for this many coffee beers hitting the competition table? I know I am stoked to see what comes next. What do you think will come next?
We all know that brewing good beer doesn't always relate to winning medals for making beer. We know that beer made to style is not the end result for a lot of breweries. GABF is competitive AF. We appreciate the grandiose efforts and money put into this festival to help push craftbeer to new echelons. Our hope, is that breweries will continue to make beer to style for the floor and judging, while also pushing the boundaries of their pilot systems and special releases. So, whether you made it on stage to give knucks to Charlie P or not, we still love you. Keeping brewing great, quality beer. We'll keep drinking it.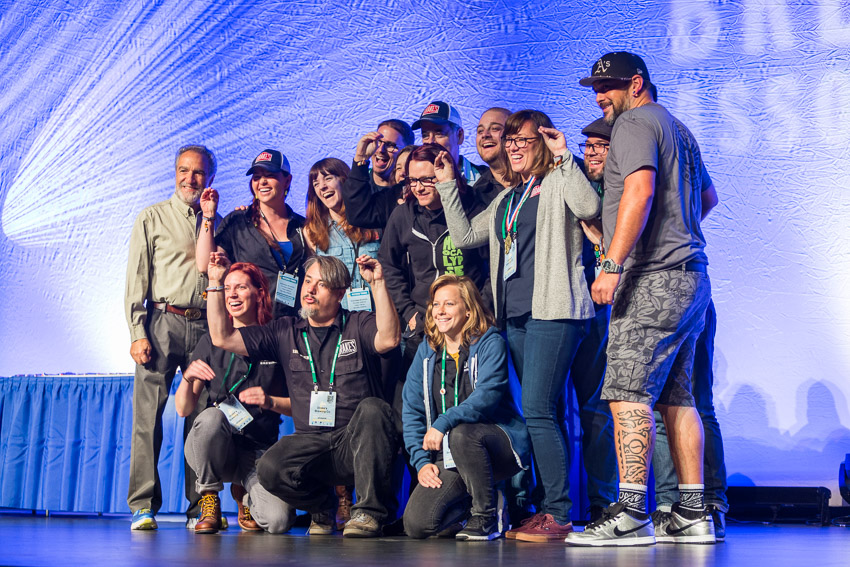 GABF Awards Results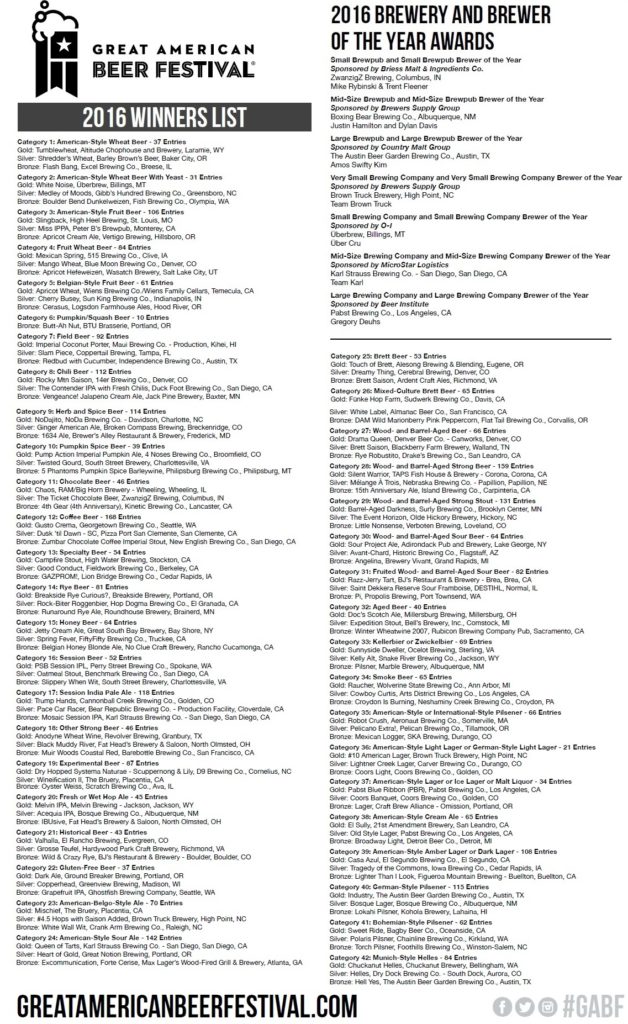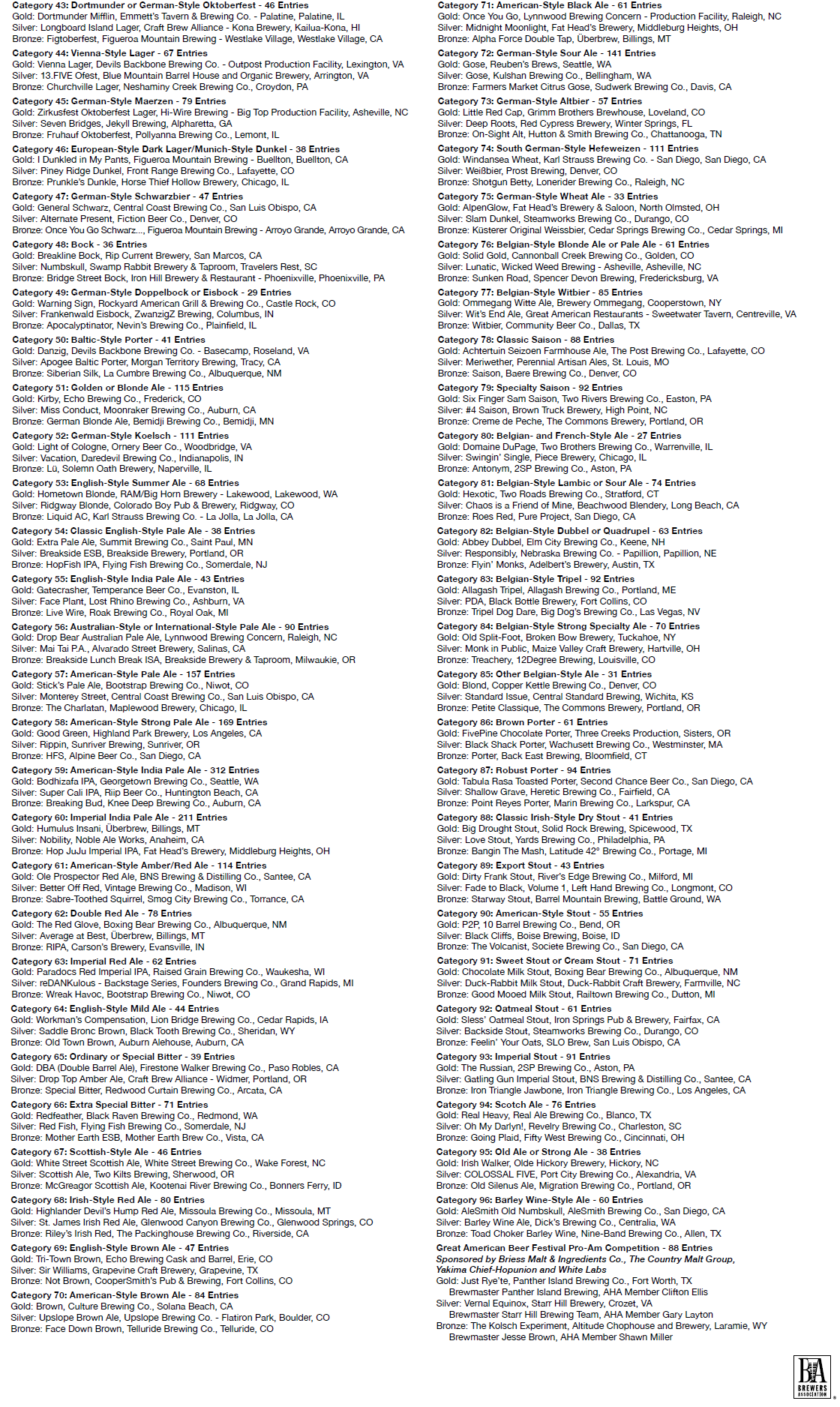 ---