No Comments
Mockery Brewing | Party at the Moontower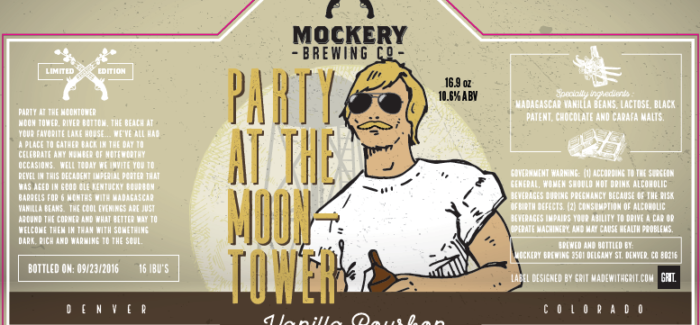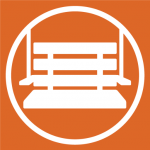 ABV: 10.6% | IBU: 16
Winter may be coming, but fall is here and that can only mean one thing: Porter season. Cold weather and dark beers go hand-in-hand like peanut butter and jelly. As the fall colors quickly fade and trees begin to wilt their leaves I think back to my childhood – begrudgingly raking up leaves only to have my little brother jump in the pile and force me to rake them all up again. Needless to say, I live in the city now and raking up leaves is a thing of the past. My fall days now comprise of fall hikes to view the vibrant aspens billowing in the wind, jeering at the pumpkin spice Pringles at the grocery store, and enjoying a tasty porter while I wait for my beard to grow in my flannel shirt and knit cap. Yeah, I'm that guy.

Mockery Brewing Co has made this fall even better with their Kentucky bourbon barreled vanilla porter, Party at the Moontower. An homage to one of my favorite movies and my favorite adjunct in a porter – "Alright, alright, alright." Mockery prides themselves in making delicious and unique beers while not restricting themselves to guidelines and rules, and just brew for the love of the craft. I'd like to think if David Wooderson were a real person, he would love the way the Mockery team is just livin', L-I-V-I-N.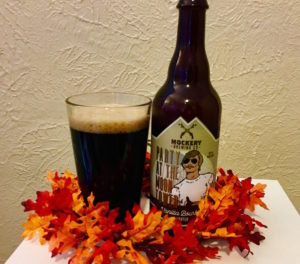 Party at the Moontower is brewed with carafe malts, lactose, black patent, chocolate, and aged in Kentucky bourbon barrels for six months with Madagascar vanilla beans. The porter pours out into a glass with a dark brown, almost black color with a lace-like pattern left by the foam on the side of the glass. The aromas include strong vanilla notes and a warming smell of bourbon. The mouth feel is medium bodied with mild carbonation. The taste is smooth with an upfront vanilla sweetness and a warming chocolate and bourbon crisp finish. Party at the Moontower is a delicious beer that stands up on its own for the cool evenings ahead, as well as a great pairing with your favorite dark chocolate.
Mockery's Party at the Moontower is sold onsite for a limited time in 16.9oz bottles as well as on tap. Winter is coming, but fall is here, so get on down to Mockery and pick up a few bottles. To quote Dazed and Confused, "It'd be a lot cooler if you did."
---