No Comments
The Weekly Buzz | December 2 – 8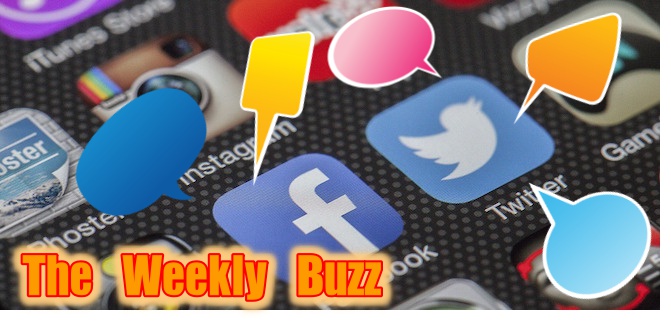 It's dark when I go to work in the morning. It's dark when I come home. Rather than sit next to a sun lamp, it's much more fun to crack open a few craft brews. It's my prescription for enduring the darkness. Also, on an unrelated note, I am not a medical professional. Pop the lid off the bottle, start taking your dose, and enjoy this week's edition of The Weekly Buzz!
It's mesmerizing…
The workhorse of our bottling line – forming, filling and sealing 1250 cases an hour. We could stare at this all day… pic.twitter.com/JYil0mPGzv

— Founders Brewing Co. (@foundersbrewing) December 2, 2016
---
Good thing I don't live in Florida!
'Tis true. We're parting ways with Florida, but this only means good things for the consumers in our heartland. #fresh #local #craftbeer https://t.co/oPoMc6mxdY

— Fat Head's Brewery (@FatHeadsBeer) December 2, 2016
---
I'm not much for crafts, but I know my way around a craft beer!
Anchor & @workshopsf bring you Handmade & Handpours; make crafts, shop handmade goods & drink craft beers! #SF https://t.co/CtoSxFOBlq pic.twitter.com/60yulyRfoV

— Anchor Brewing (@AnchorBrewing) December 2, 2016
---
Those 1st graders are going to be STOKED!
?? Austin! Thanks for helping us build 67 bikes for 1st graders @ElementaryMcbee. pic.twitter.com/y0DkVWiT60

— CAN'd Aid Foundation (@CANdAid) December 2, 2016
---
I approve this message.
Stomping Grounds @AllagashBrewing Every craft fair should start with great beer. #CraftBeer #buylocal pic.twitter.com/56GOGfah0I

— Weekends in Maine (@WeekendsInMaine) December 3, 2016
---
Brewery expansion is always exciting!
Christmas came early 🙂 #kcmo #CraftBeer #drinklocal pic.twitter.com/TeSClmzfHZ

— Cinder Block Brewery (@cinderblockbrew) December 2, 2016
---
Discounts?! I'm in!
Free App Features Powerful Brewery Locator (plus discounts!) – https://t.co/tYkwMXWNjw

— Brewers Association (@BrewersAssoc) December 3, 2016
---
My new favorite craft beer movie reference!
Release is this Saturday @noon with @trvebrewing @WokkerTxRanger and live music from the journey Agents and Mr Plow. pic.twitter.com/FNpEvZnPlm

— Brash (@brashbeer) December 5, 2016
---
83 years ago, prohibition was repealed.
Happy #RepealDay! #FU18thAmendment pic.twitter.com/sHUdkemj2Y

— Oskar Blues Brewery (@oskarblues) December 5, 2016
---
5,005 breweries in the US. Five. Thousand. Five.
2016 Craft Beer Year in Review from the Brewers Association – https://t.co/GMID1dXe3E pic.twitter.com/1fdHkdGKXo

— Brewers Association (@BrewersAssoc) December 5, 2016
---
Job opportunities!
So many #offcentered career opportunities at DFH, from Paralegals to Distillers! Won't you come join the journey?! https://t.co/2fUzRGdY5G pic.twitter.com/LFBHG58JQd

— Dogfish Head Brewery (@dogfishbeer) December 5, 2016
---
Want to learn a little about hops?
Let's talk about hops! Brewer Quinn discusses Amarillo hops we use to brew a number of our beers including Sofie, our Belgian style saison! pic.twitter.com/S17i3aw7th

— Goose Island Beer Co (@GooseIsland) December 5, 2016
---
Mine, too.
#BeerIn4Words it is our breakfast

— Avery Brewing Co (@AveryBrewingCo) December 5, 2016
---
This looks like a great St. Nicholas Day!
Any Catholics out there? Hope you left your shoes out last night. #StNicholasDay #WeirdHolidayTraditions #BrewUntoOthers pic.twitter.com/VhlqkMj81l

— Yards Brewing Co. (@yardsbrew) December 6, 2016
---
New beer alert!
Red. Oak aged, Flemish-Style Sour Red Ale. Our newest brewpub-exclusive specialty bottle. #HotDamn https://t.co/UUiTT4zl5d pic.twitter.com/uJgpx11zS4

— Victory Brewing Co. (@VictoryBeer) December 7, 2016
---
Wait… Did they marry that beer?
When your new initials happen to be a #deliciousbeer by @foundersbrewing #KBS #mrandmrsStone @KellyCulinarian pic.twitter.com/Ue5tqpQqcE

— brent (@pan_pam_thing) December 6, 2016
---
A day which will live in infamy.
Sending a heart felt toast of thanks to all who serve on this Day of Remembrance.

— DuClaw Brewing Co. (@DuClawBrewing) December 7, 2016
---
That explains the ominous darkness on the horizon.
ICYMI…The Abyss will be released at our Pubs & Tasting Room on December 16th. See you then! #MerryAbyssmas pic.twitter.com/VcN6lB2C1U

— Deschutes Brewery (@DeschutesBeer) December 7, 2016
---