No Comments
The Weekly Buzz | April 28 – May 4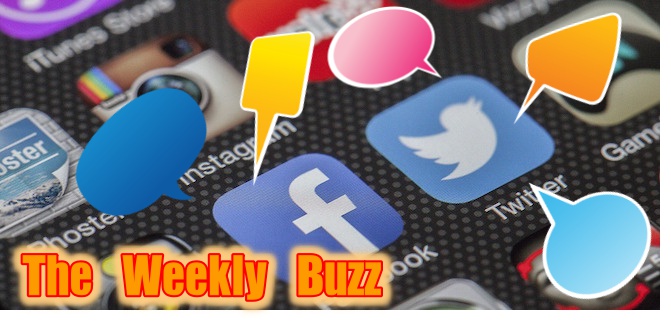 If there was one thing that helped me get through a rough week at work, it is knowing that the social media coordinator at Wicked Weed Brewing has a much harder job. Any time a craft brewer is bought out by big beer, you can be 100% certain that a twitterstorm of epic proportions is on the horizon. It's a meteorological fact. Ask any scientist. I can't even get Wicked Weed in my state, and it's still a sad turn of events. My hatred of ABInBev burns with the intensity of a thousand suns. They'll probably merge with Walmart next, forming the Buy-N-Large corporation, which will eventually force us from this planet to aimlessly roam the galaxy (a la the Disney/Pixar film Wall-E).
Anyway… I filled this week's Weekly Buzz with a lot of extra shenanigans to offset the depressing nature of another AB-Inbev acquisition.
It's almost like getting a golden ticket!
Big announcement: we are expanding our tour hours starting NEXT WEEK!
Tuesday-Thursday: 5PM-9PM
Sunday: 1-6PM
Cheers! pic.twitter.com/zPrHvfgAnp

— Creature Comforts (@creaturebeer) April 28, 2017
---
You had me at "free beer!"
Get out to @PatagoniaMaine for the No Man's Land Film Fest Sat. 4/29, 6-9PM. Bonus: there'll be free #Allagash beer! Gonna be awesome. pic.twitter.com/QS26tnydjW

— Allagash Brewing Co (@AllagashBrewing) April 28, 2017
---
Bacon? Beer?! Take my money!
You had us at #Bacon. https://t.co/jkTSKJKdVU pic.twitter.com/Cqa78KmazZ

— Flying Dog Brewery (@FlyingDog) April 28, 2017
---
Is it Philly Beer Week yet?
https://instagram.com/p/BTaBsyll5IT/
---
Follow that van!
https://instagram.com/p/BTanRmWAbk7/
---
The logic is airtight!
https://instagram.com/p/BTai_02AUcq/
---
It's so beautiful… I think I'm going to cry!
https://instagram.com/p/BTcDrVzDnbU/
---
Need a new beer cocktail recipe?
Total Domination 🍊 Grapefruit Cocktail! 🍺 YES PLS. #Cheers
💿: @Sapientkills pic.twitter.com/bSE9kQVvi7

— Ninkasi Brewing (@NinkasiBrewing) April 30, 2017
---
Did you make it to Harrisburg Beer Week?
What an amazing week is has been! THANK YOU to everyone who participated from our sponsors to the beer loving peop… https://t.co/KcgOSWyLuA pic.twitter.com/NvKOcCYzfF

— Harrisburg Beer Week (@HBGBeerWeek) April 30, 2017
---
Bake this for me, please!
BAKING w/ BEER! This Black Butte Porter German Chocolate Cake recipe by @incomparablemrsboyd, is incredible! https://t.co/o6Qt36QtbV pic.twitter.com/pfwnz5gU9k

— Deschutes Brewery (@DeschutesBeer) April 30, 2017
---
How did they do that?!
https://instagram.com/p/BTfD2NileeG/
---
It's a jungle out there!
This gorgeous little fella was curled up in one of the hop crowns. #hopyard #wildlife pic.twitter.com/svI2kcCDtY

— All Grain Beer (@AllGrainBeer) May 1, 2017
---
How are you celebrating Mexican independence?
Come celebrate Cinco de Mayo with the #bottlerelease of Lemador – an indigenous wild ale aged in tequila barrels with 🍋. Details on website pic.twitter.com/AargXDpc87

— Draai Laag Brewing (@draailaag) May 1, 2017
---
Look out, Illinois!
Downstate Illinois: Starting today, #GetSurly everywhere. https://t.co/Zkxn17VunK pic.twitter.com/gzL1EjHIC5

— surlybrewing (@surlybrewing) May 1, 2017
---
Enter to win!
Win your dream summer road trip to the Tröegs brewery in Hershey, PA. https://t.co/aNq1okct3j #troegsway pic.twitter.com/qjR9tPEe7U

— Tröegs Brewing (@TroegsBeer) May 1, 2017
---
Try to win this one, too!
Win a choose-your-own-adventure style trip! To win: tag All Day IPA Instagram pics w/ #alldaygetawaycontest or see https://t.co/TSEOiZb1GX pic.twitter.com/DoYRN5LaJE

— Founders Brewing Co. (@foundersbrewing) May 1, 2017
---
The clock is ticking!
Our brand new production brewery and beer hall opens May 27th! Reserve your brewery tour now: https://t.co/sK2uXX1E0W pic.twitter.com/dmPr2zf9DR

— DESTIHL Brewery (@DESTIHLbrewery) May 1, 2017
---
Any takers?
.@VictoryBeer's Summer Love is the greatest beer ever made and I will fight anyone who disagrees.

— JAE (@___j0nathan) May 1, 2017
---
Congratulations, Sam!
The winner of the Outstanding Wine, Beer, or Spirits Professional award: Sam Calagione of @dogfishbeer in Milton, DE #jbfa

— Beard Foundation (@beardfoundation) May 1, 2017
---
Beer and music by the beach? I'm in!
Come spend the day with us @SeacretsUSA on Sunday, May 13 for '12 Pack of Local!' Tickets are on sale now! https://t.co/KOllyUVHxw #OCMD pic.twitter.com/dXJYlnlmxI

— Dogfish Head Brewery (@dogfishbeer) May 2, 2017
---
Think you can drink 60 IPAs?
Announcing Brewer Lineup for IPA #JamBEERee on 5/6, VA's largest beer fest celebrating local IPAs w/60+ IPAs: https://t.co/ZA6pAbOAEh pic.twitter.com/8itp7phOmg

— Starr Hill Brewery (@StarrHill) March 2, 2017
---
Longer hours means more craft beer enjoyment!
Starting this week we will be open every Sunday from 12-6pm all summer long! pic.twitter.com/g0mZvanA3B

— Draai Laag Brewing (@draailaag) May 3, 2017
---
Another great way to celebrate Cinco de Mayo!
https://instagram.com/p/BTmPchchtmV/
---
Shh… Don't tell mall management… Be cool, bro…
We will have over 1,000 parking spots available at the Coventry Mall for Bock Fest! https://t.co/Fu3hVzjTBM pic.twitter.com/8G88Zk4COC

— Sly Fox Brewing Co (@SlyFoxBeer) May 3, 2017
---
Bring your helmet!
Show us your bike helmet from 4-7PM after biking to work on Friday 5/19 for a $1-draught beer at UCBC Grove 🚲🍺 https://t.co/3mMtG2jYju pic.twitter.com/OH4dlw3Jng

— UrbanChestnutBrewing (@urbanchestnut) May 3, 2017
---
Creature Comforts is putting out an APB for this woman.
Anyone know this woman? We'd like to give her a free tour. https://t.co/LejuZHZvg2

— Creature Comforts (@creaturebeer) May 3, 2017
---
Did I miss anything exciting this week?
https://instagram.com/p/BTohCi2BEHU/
---
The reactions were swift and decisive.
Wish WickedWeed the best, but we will be pulling out of the Funkatorium Invitational. We do not stand by the unethical ABInBev bis practices

— Wooden Robot Brewery (@WoodenRobotAle) May 4, 2017
https://instagram.com/p/BTpqAryguQx/
https://instagram.com/p/BTo8Wnjl4Zs/
https://www.instagram.com/p/BTrTutLgLvN/
On our decision to pull out of the #WickedWeed Funkatorium…https://t.co/4UTiKM8q4L pic.twitter.com/aLraZnF284

— Springdale Beer (@springdalebeer) May 4, 2017
We have pulled out of Wicked Weed's Funkatorium Invitational event.

— Almanac Beer Co (@AlmanacBeer) May 4, 2017
Best wishes to our friends at @wickedweedbeer & grateful for all they've done for #NCbeer Full statement on sale: https://t.co/bxN5Iq2Nue

— NC Craft Brewers (@ncbeer) May 3, 2017
---
#MayThe4thBeWithYou
May The Force Be With You @HiWireBrewing #bigtop #StarWarsDay pic.twitter.com/pPaoIsp43w

— Hi-Wire Events (@HiWireEvents) May 4, 2017
"Do or do not (drink beer). There is no try." — Yoda (not NoDa) #MayTheFourthBeerWithYou #NCBeer

— NC Craft Brewers (@ncbeer) May 4, 2017
---