No Comments
The Weekly Buzz | Post GABF 2017 Edition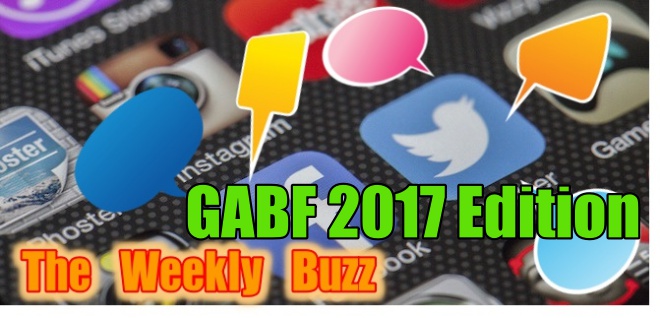 I know I said that I wasn't going to write about the Great American Beer Festival, but I am setting my grudge aside for the good of my dear readers! GABF 2017 wrapped up on Saturday night, and even though I was on the outside looking in, it seemed like a blast. We've collected tons of fun posts from this year's festival, so prepare to live vicariously through your fellow beer nerds! This is The Weekly Buzz: GABF 2017 Edition!

A modest beer selection.
---
Livin' that booth life!
Who's coming out to #GABF2017? Make sure you stop at our tiki-ski hut if so… yes, a tiki ski hut… photo proof attached pic.twitter.com/AD5speEcYA

— Short's Brewing (@ShortsBrewing) October 5, 2017
Headed to @GABF this weekend? Stop by Booth P20 to sample four NSB beers – then hit the merch table for our exclusive #GABF2017 t-shirt! pic.twitter.com/fIE35Q2rCl

— Night Shift Brewing (@NightShiftBeer) October 5, 2017
We're ready for you #GABF2017! Come by the Blue Owl booth for all the sours your heart desires. #sours pic.twitter.com/UdRuJy7dIR

— Blue Owl Brewing (@BlueOwlBrewing) October 5, 2017
It's almost time for @GABF! If you're attending, come see us at Booth E10. Cheers and have a blast! 🤙🍻 #GABF2017 #GABF #mnbeer pic.twitter.com/pHIqKHD9jI

— Insight Brewing (@InsightBrewing) October 5, 2017
Excited to be back in #Denver 4 #GABF. Come say 👋🏻! You can try all of these 👇🏻. Give us a tag + be entered to win a Schlafly swag pack! pic.twitter.com/8Se03DuIt3

— Schlafly Beer (@Schlafly) October 5, 2017
---
Droppin' straight fire!
---
An interesting breakdown of GABF breweries by state.
% of each state's total breweries pouring at #GABF: pic.twitter.com/h0UXMWmJyV

— Carla Jean Lauter (@beerbabe) October 5, 2017
---
Did this happen to you?
Already had my first "Tweeted a personal thing from the work account" fuck up of #gabf2017 so at least that's out of the way.

— Kate Bernot (@kbernot) October 5, 2017
---
It's like looking into the water glass in Jurassic Park.
The calm before the #GABF2017 fart storm! pic.twitter.com/2iKIbhGNRr

— Annie Johnson (@Buffalowing) October 5, 2017
---
Let the sessions begin!
Great crowds at #GABF2017 #IroncladBrewery is so happy to be pouring. pic.twitter.com/rg3IOVY8M5

— Ironclad Brewery (@ironcladbrewery) October 6, 2017
GABF Session 1 complete. Only 3 more to go. #denver #gabf2017 #madbrew #bluebear https://t.co/SGEUBg1pNG pic.twitter.com/bl7kBEJLNB

— MerchantofMadBrew (@TheEmptySnifter) October 6, 2017
---
My necklace would have been made out of buffalo wings.
My pretzel necklace for #GABF2017 is complete! pic.twitter.com/LXXaVqFWft

— Kenny Miles (@TheKennyMiles) October 4, 2017
---
A little look at the action
#GABF MADNESS. @GABF pic.twitter.com/OJ0oOOKKj4

— Ballast Point Beer (@BallastPoint) October 7, 2017
Hey, #GABF! Have you stopped by for a Virginia beer and smiles that won't quit? Here's how to get to #StarrChill: pic.twitter.com/nh7iLwM4K0

— Starr Hill Brewery (@StarrHill) October 7, 2017
---
The GABF Awards Ceremony is about to begin!
---
Here are just a few of the medal winners!
GOLD MEDAL WINNER AT THE GABF 2017 FOR OUR CHERRY WHEAT 🍒🍒🍒🍒🍒🍒🍒🍺 – SHOW SOME LOVE PEOPLE😀 pic.twitter.com/6tE0q8eZiY

— Sierra Blanca Brew (@SBBCBrew) October 7, 2017
Congratulations to our extremely hardworking crew for medalling again at this year's Great American Beer Festival. pic.twitter.com/iSsRV9wSB4

— Fat Head's Brewery (@FatHeadsBeer) October 7, 2017
---
She said YES!!
---
One more session to go!
---
But did their necklaces have Buffalo wings on them?!
Hey, look! It's the winners of the @Amtrak #beerrailtrail pretzel necklace contest! 👋 pic.twitter.com/wqljgRnQjM

— GABF (@GABF) October 7, 2017
---
A few thoughts as GABF wrapped up
We are saying goodbye to #GABF with bocce and beer at @rheinhausdenver Come join us until 12 am #FarewellParty pic.twitter.com/LBovVMGRO3

— Left Hand Brewing Co (@LeftHandBrewing) October 8, 2017
---
Looks like it's time to get out of Denver!
---