No Comments
Urban Chestnut Brewing Co. | Oachkatzlschwoaf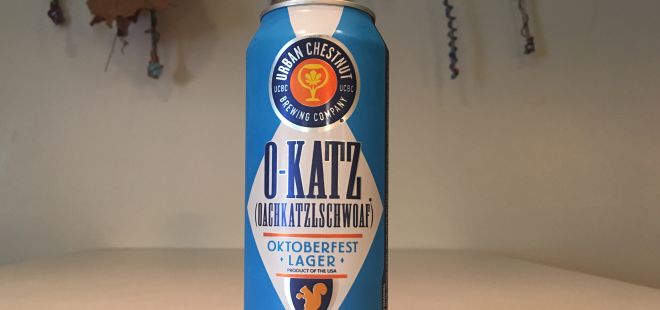 Sorry Smuckers, but this beer's name has got you beat, and because of the name, I have to say—with a name like Oachkatzlschwoaf, it's got to be good.
This Urban Chestnut Beer Co. brew is pronounced "oh-khut-zel-schvoaf" but you can call it "O-Katz." The translation means "tail of a squirrel"… a little Bavarian humor, if you will. This malty yet well-balanced Märzen (Oktoberfest Lager) is easy to drink but difficult to pronounce.

So whatever you want to call it, this is the beer to seek out as the weather turns crisp during the month of October. But don't think you need a literal Okboterfest celebration to enjoy it. O-Katz will make for a great fall beer, perfect after a round of leaf raking or an early evening campfire.
O-Katz pours pretty clear with a golden amber in color. I got a nice frothy head on top. On the nose, you'll get some nice malt, roasted and sweet as advertised, but not overly sweet. I'm not getting the floral as much as I was told, but maybe you will. On the palate, it is nicely carbonated, medium-to-full body in the mouth and a smooth. Kind of creamy.
ABV: 5.4%
https://www.instagram.com/p/BX8byUpB9Ts/?taken-by=urbanchestnut
It's a flavorful beer for sure. It has subtle toasty, caramel notes but a dry, clean finish. It pays homage to the traditional Marzen styles dating back hundreds of years. And the recipe was developed by a Bavarian, Urban Chestnut's Brewmaster Florian Kuplent, who brings nearly two decades of artisan brewing experience to every beer.
For those new to Marzen styles, this beer represents.
Originally brewed for the annual 2016 Oktoberfest celebration. It's malty yet well balanced like the bier traditionally served at Oktoberfest in Munich.
---