No Comments
12 Beers of Christmas | Baderbräu Christmas Bliss Baltic Porter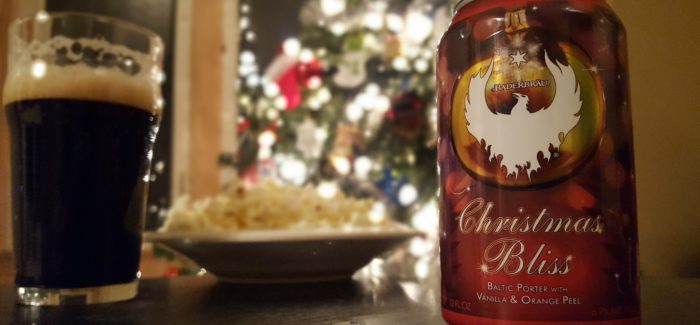 French hens, ladies dancing, swans swimming and, of course, a porter in a beer tree. These are necessary components for a successful 12 days of Christmas. For this writer, the beer found under the tree is Baderbräu Christmas Bliss Baltic Porter with vanilla and orange peel. Because, in Chicago, Jack Frost does more than nip our noses, it darn near renders them red enough to qualify us to guide Santa's sleigh. Hence, any porter good enough for those traversing the frigid waters of the Baltic Sea is good enough for us living on the ice-covered shores of Lake Michigan.
ABV: 6.7%
Baltic Porters, for reference, are a lager and a bit more robust than standard porters (ales), but not quite as hardy as Russian Imperial Stouts. It's part Charles Dickens London Christmas, part Nordic Midwinter Solstice, part Marché de Noël, and it's delicious. Instead of roasting chestnuts, let Christmas Bliss satisfy your palate with roasted malt on the nose, followed by sweet vanilla and a smidge of orange sour, as well as something similar to cocoa and bitter coffee notes that accompany a surprisingly dry finish – sublime. The Baderbräu Christmas Bliss Baltic Porter honors the traditions that date back to the late Middle Ages. Yet, the delicate balance of flavors speaks to the skilled artisanship that's propelled the modern craft-beer movement from a 1980s fad into an unstoppable machine in 2016.
https://www.instagram.com/p/BNIWx3zjlr3/?taken-by=baderbrau
In truth, the Baderbräu name has existed throughout the most of that craft-beer growth. The name refers to a Czech-style pilsner beer that was brewed in Chicago from the late 1980s through 1997. The beer was successful, but not the original brewer. The recipe changed hands several times until 2010 when the Baderbräu name and brewery became one in the same. Today, Christmas Bliss is one of the many lagers, wheat and seasonal brews emerging from its new, cool, art-laden 25,000 square foot southside Chicago taproom.
There are many choices to drink during the Christmas Season — I noted a few of them, such as Anchor Brewing's traditional Christmas Ale, in a recent article. But for me, Christmas is more than just a holiday, it's a reminder that we are gathering together for a celebration that crosses political and cultural boundaries. Whether one is in Czechoslovakia, Germany, the Baltic region, Chicago, or even the North Pole – there's nothing like meeting with friends and family, enjoying a well-made drink, and toasting to the holiday. The history, diversity and seasonal traditions are all found in one pour of Baderbrau Christmas Bliss. More importantly, the beer is delicious.
---