No Comments
Begyle Brewing 2020 Barrel-Aged Imperial Pajamas Preview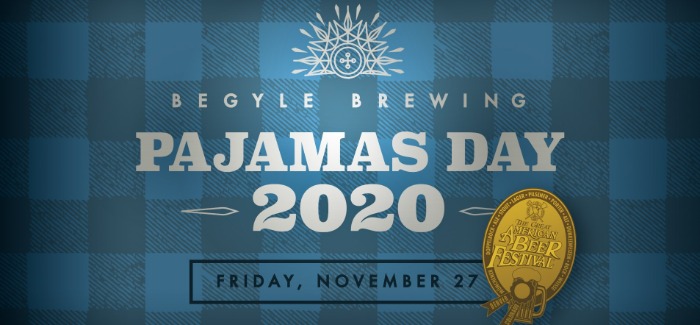 The 2019 GABF Gold Medal for Chicago's Begyle Brewing Barrel-Aged Imperial Pajamas gave credence to those who boasted of its excellence, and the award did wonders for its popularity. However, medals only go so far; Chicago's beer crowd can be downright snobby about BBAs. The annual Imperial Pajamas release enjoys increasing fanfare because of its consistency, quality and a taproom party consisting of hour-by-hour variant tappings. Sadly, the global pandemic prevented Begyle from throwing its annual gathering. Nevertheless, the three packaged Pajamas stand as exemplary BBAs and evidence of why the program now hangs with the big boys and girls of the strong barrel-aging beer world.
This year's three Imperial Pajamas release consists of the classic in Heaven Hill barrels, a vanilla variant and a special version aged in Booker Bourbon barrels. "We've had a lot of fun with release day variants, the way we handled those hourly releases allowed us to explore many different flavor combinations over the years. With our first foray into canning a barrel aged variant we chose vanilla as it is one of the most versatile ingredients we use in several of the variant combos we have done in the past. From the feedback we've gotten vanilla was always the most popular flavor, whether it was just vanilla, or vanilla combined with other ingredients," said Kevin Cary, Begyle co-founder.
Ordering & Picking Up 2020 Begyle Barrel-Aged Imperial Pajamas
From Begyle: Pre-orders can be placed via our online ordering portal starting Wednesday, November 25 at 8pm. Upon placing your order you will be able to schedule your contactless pick-up (starting Friday, November 27).
The Classic: 2020 Barrel-Aged Imperial Pajamas
ABV: 13.1%
Beer: Oatmeal Stout
Barrel: Heaven Hill, aged for six months.
Available: 22oz bottles ($18 / bottle) and 12oz cans ($36 / 4-pack)
What's different this year? Per Kevin Cary, Begyle co-founder, the Heaven Hill barrels normally used are 10- and 13-year barrels. This year, they received from Heaven Hill seven-year-old, twice-used barrels.
The oak and bourbon characteristics — chocolate, vanilla and caramel — are prevalent in Imperial PJs. To wit: the bourbon barrel did its work here, and it did it exceptionally well. The chocolate notes stand out; it's an elegant and refined flavor profile. The body feels just a tad thinner than previous years, but the mouthfeel remains proper by most standards, including this writer. As per the norm, it's the Goldilocks of bourbon-booziness, not hot by any means and not hidden. Indeed, one can enjoy the bourbon, but the burn remains at bay. The oak offers a bit of dryness to it that balances out the chocolate and vanilla notes.
Fans of the series will remain pleased, and newcomers will, I predict, find it to be worthy of the price they paid. It's an increasingly solid, consistent, well-crafted and tasty BBA.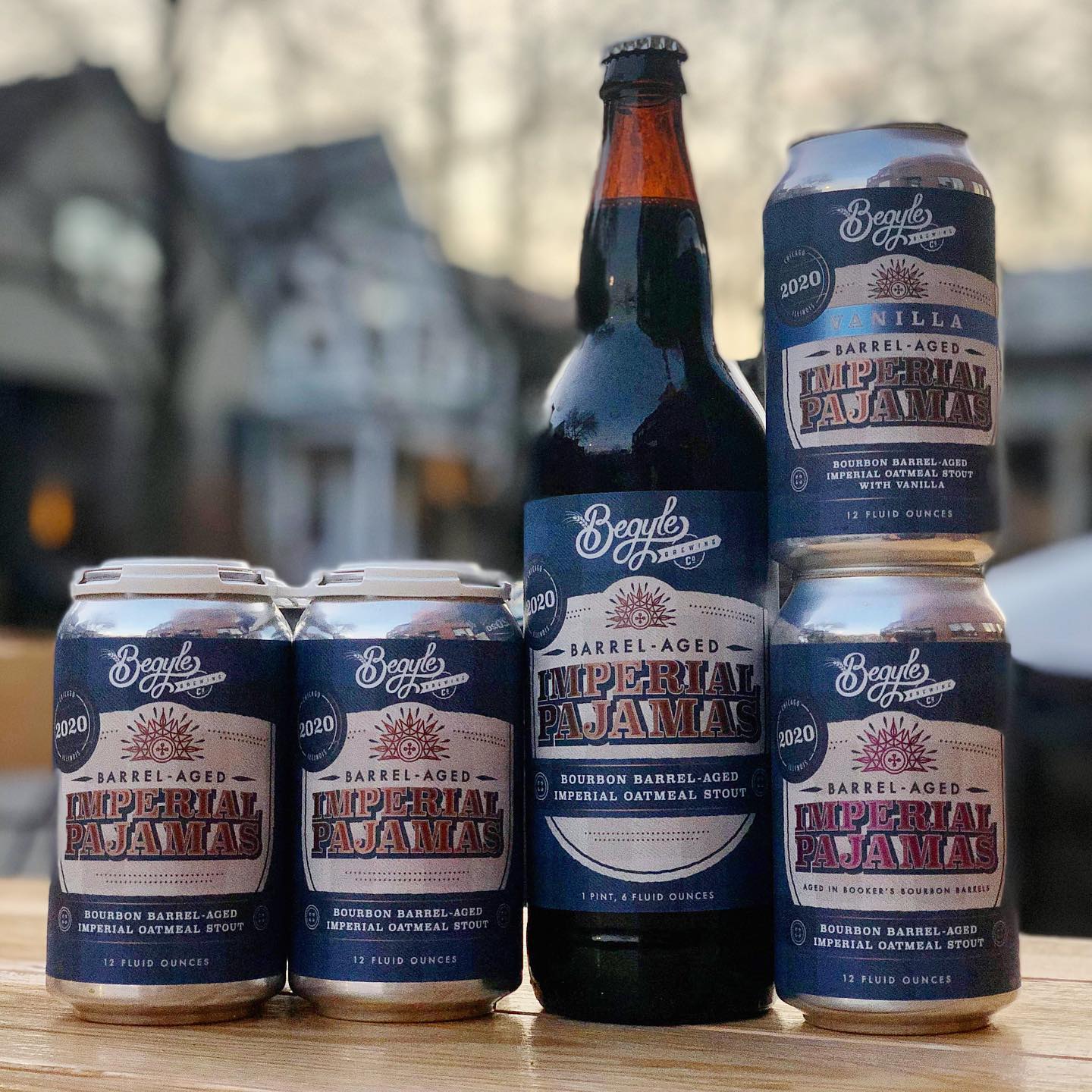 2020 BOOKER'S Barrel-Aged Imperial Pajamas
ABV: 13.1%
Beer: Oatmeal Stout
Booker's Bourbon Batch: "Granny's Batch, 2020-01."
Available: 12oz cans ($36 / 4-pack OR $10 / can)
Why Booker's? Cary explained: "When we were selecting barrels for this year's batch our barrel broker presented the Booker's barrels as an option, when we read up on the history of Booker's bourbon and the particular batch the barrels came from we thought it would be a fun experiment."
Not enough is written about how barrels from different spirits yield disparate barrel-aged beers. Spirits are a product of terroir, recipes, aging nuances, distillation processes and sometimes blending. The side-by-side comparison of the Booker's barrel to the Heaven Hill barrel offers some demonstration to that idea (although there are other variables in play, in this case.) Both presents as a terrific BBA, but the distinctions are clear, and it makes for two beautiful versions of the same beer.
The bourbon's (Granny's Batch) natural vanilla notes come out nicely in this beer, described by the Master Distiller, Booker Noe. He says, "I thoroughly enjoy the nose of Granny's Batch with spice and hints of vanilla coming through. The taste fills your mouth with flavor and warmth that spreads across your palate, and it has a sweet, lingering finish."
For this writer, the chocolate notes did not emerge as prevalent as in the classic Heaven Hill barrelled beer, mainly because the vanilla and overall bourbon served as more prominent players in the Booker's version. But, the chocolate didn't disappear, either. The dryer finish on this one is appreciated, too. For spirits lovers, notably whiskey devotees, this beer should bring you joy — it's superbly balanced and sophisticated.
2020 VANILLA Barrel-Aged Imperial Pajamas
ABV: 13.3%
Beer: Oatmeal Stout
Adjunct: Madagascar vanilla beans.
Available: 12oz cans ($12 / can)
Why vanilla? "The vanilla variant rose out of the realization that we were not going to be able to host the public for a release on site this year," said Cary. "The number one question we received at each release was: When will you can a variant?  This year just worked out, with the volume that we would normally dedicate to variants, we steered it all to one canned variant." (Writer's note: I love the cinnamon variant each year, and I'm hoping Begyle fans rise up and demand that next year [smile].)
For this writer, this variant is a home run. Now, If one is looking for a grand, sugary vanilla punch this might disappoint. Indeed, I can imagine a few might clamor for a bit more vanilla flavor and aroma. In contrast, for those that enjoy a thoughtfully-crafted BBA with an adjunct that merely accentuates the flavor — akin to a solid cocktail or well-composed dish, this is the beer for you.
Of the three, the Imperial Pajamas with vanilla presents as the sweetest. Still, the oak, the bourbon, and the chocolate notes all play nicely together with the adjunct.
Final Thoughts
The beauty of the 2020 release lies in the balance and barrel character, which remains noticeable in each version. Though there no lack of flavor, to be sure, one can imagine some might miss a powerful, robust adjunct-laden BBA. Nevertheless, most BBA fans (or imbibe fans, in general) will enjoy the naturalness of Imperial Pajamas, not to mention its exquisite balance. The classic offers some bolder chocolate notes, the Booker's provides some elegant subtleties and a bit more vanilla, and the vanilla variant is the sweetest. All of them enjoy complex flavor and aroma profiles. Drinking all three and exploring the differences and similarities is a treat, but each one is worthy of full-pour enjoyment. If it's possible, one could argue that this year's version is just as good, if not better, than the year it won Gold.
Psst, there's a couple of extra goodies you can purchase, too, if you are headed to Begyle.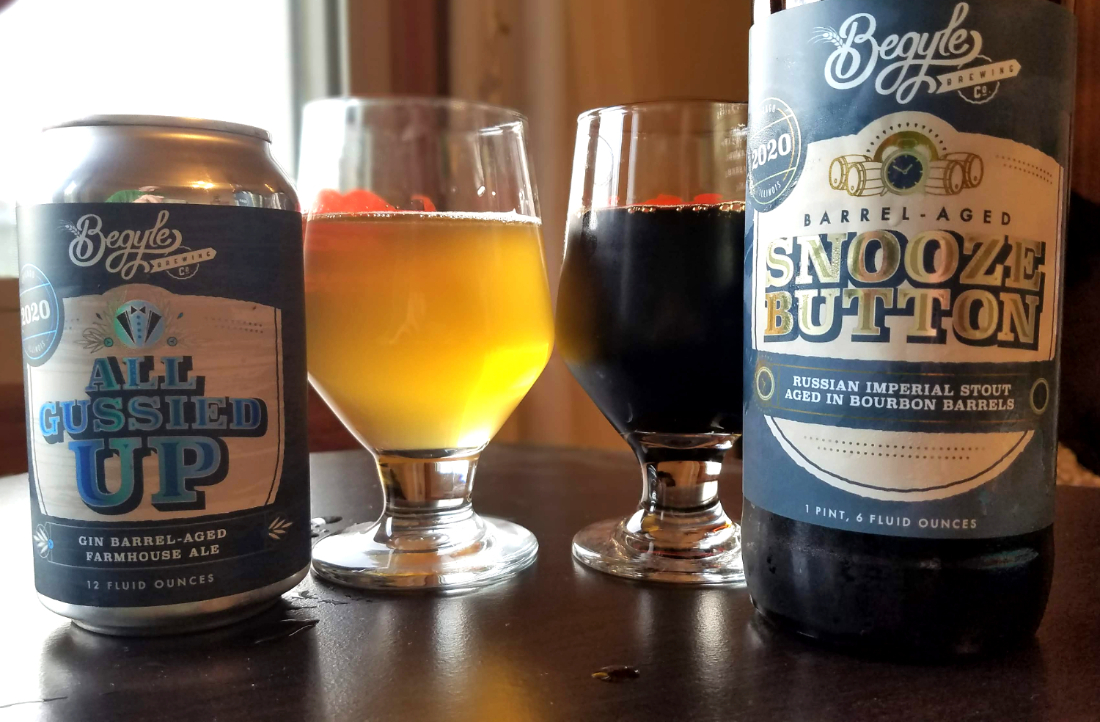 ---