No Comments
Two Brothers Brewing | The Craftsman: Tavern, Cafe, Dining and More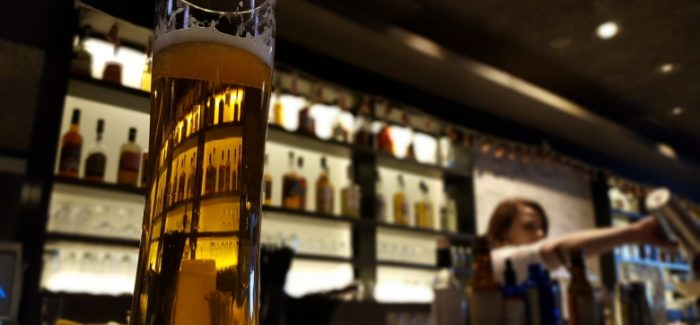 Two Brothers Brewing champions family, community, and craft culture and The Craftsman location exemplifies that philosophy. Jason and Jim Ebel — the brothers behind the name — recently opened their new tri-level establishment in the Chicago suburb of Naperville. At every turn, one can find examples of artisanship and skill — two indispensable facets of craft culture. Two Brothers repurposed and transformed a historic building that now provides its multi-award winning beer along with its own brand of coffee, made-from-scratch pastries, bread, dinner and brunch, wine, mixology and crafted distilling.
As if putting "Two Brothers" on every product didn't provide enough evidence of the importance of family, Jason noted, "Our grandfather's headstone has 'A Craftsman' engraved on it; he was a woodworker. So the Craftsman name is kind of an homage to him." In that spirit, Jason added, "Everyone here is a craftsman in their own right. The baker, baristas, mixologists, and our brewers — they are all masters of their craft." In fact, the original name was intended to be The Collective because it encompassed everything the brothers wanted to do, from food and coffee to beer and cocktails. In a sense, patrons are invited to Jason and Jim's Naperville home – break bread, have a drink, and relax.
Floor 1: Market Cafe
A waft of fresh coffee and baked bread aroma meets one's nose the moment the door opens. And why not? This building first existed as a bakery in 1910. Along with the bread, The Craftsman Market Cafe offers pastries, sandwiches, charcuterie from the Himalayan salt aging-room, breakfast bowls, egg sandwiches, parfaits and fresh-squeezed juices or smoothies. And of course, beer (and wine!).
Hours
Monday–Thursday: 7:00 AM–10:00 PM
Friday: 7:00 AM–11:00 PM
Saturday: 7:00 AM – 11:00 PM
Sunday: 7:00 AM-10:00 PM
https://www.instagram.com/p/BMw09ZzhTW5/?taken-at=1108214765899759&hl=en
Floor 2: Modern Tavern
Staffed by an executive chef and in-house butcher, The Craftsman Modern Tavern offers gourmet, made-from-scratch entrees such as beer braised oxtail ravioli, house made bacon & shallot pork sausage with bourbon stout bbq sauce, bison burgers, brunch, and dessert. The menu changes frequently, so there's always something new to try. When possible, Two Brothers obtains ingredients from local sources no more than 200 miles from Naperville.
Hours
Monday–Thursday: 5:00 PM–9:00 PM
Friday: 5:00 PM–10:00 PM
Saturday Brunch: 10:00 AM–2:00 PM
Saturday Dinner: 5:00 PM–10:00 PM
Sunday Brunch: 10:00 AM–2:00 PM
Sunday Dinner: 5:00 PM–9:00 PM
Floor 3: The Third Floor
Inaccessible from the second floor (unless one has special needs), so one must access The Craftsman Third Flood from a separate doorway that leads directly up to the top of the building. Think of it as a modern-day speakeasy. Skilled mixologists dressed in slick black and white tend the bar that's stocked to the ceiling with artfully lit whiskeys and spirits, as well as plenty of beer and wine on draft — yes, that's wine on draft. A few elevated appetizers are available, too. Cozy chairs, a long bar, and a walk-out patio speak to Naperville's cosmopolitan identity — not your normal suburb — and reminds one of a hip bar on Chicago's near north side.
Hours
Sunday-Thursday: 5:00 PM–1:00 AM
Friday-Saturday: 5:00 PM–2:00 AM
Two Brothers Brewing is staunchly independent and, as a result, can run its business any way it chooses.. But Jason reminds everyone, "We can't take ourselves too seriously. We make beer, after all. It's okay to have a little fun." Yet, alongside that fun is a dedication to operating a business the right way… the Two Brothers' way:
"We are compelled to think about our carbon footprint, our impact on the environment, our food miles. We make sure our wearables are all from the U.S., we buy locally sourced ingredients — we even make our own ketchup. It's not always known to the public, nor do we put it on the menu, but every pastry every and every dessert [at the Craftsman] is made in this building. We feel obligated to do that. We run a business where when we go to sleep at night, we feel good about what we did. We could buy less expensive goods and put them in a deep fryer, but that's not in our DNA. We have a butcher on this floor that makes our own sausages, dry ages our beef. He knows everything about the farmers, the meat. It's better quality. It's better for the economy, but mostly it's just better to do it that way."
I'm not sure a place like this would have worked thirty years ago. The craft beer revolution is emblematic of an entire societal shift away from mass production to hand-crafted, farm-fresh, made-from scratch products served at a local place. In today's world, it not only works, it's celebrated. To visit The Craftsman is to see a former 1910 bakery return to its local business, community focused, handmade-goods glory.
---