No Comments
Deschutes Brewery | Armory XPA and Sagefight Imperial IPA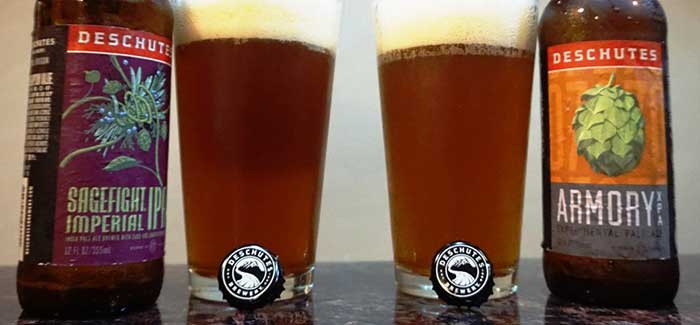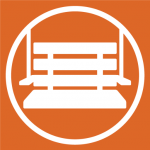 Armory XPA ABV: 5.9% | IBU: 55
Sagefight Imperial IPA ABV: 8.0% | IBU: 75
I spent the first few of my formative beer drinking years living in Portland, Oregon, where IPAs are king. Like a child who doesn't like broccoli, I was naive about hoppy, aromatic beers and stuck to sweeter beers as much as I could. But alas, a beer drinker can repent of their beer drinking sins, and however naive I once was, I have seen the light.
While I'm still a beginner when it comes to hops and the diversity of each variety's flavor profile, I am starting to appreciate the complexity they can bring. That is exactly what intrigued me about the Deschutes Brewery's Bond Street Series, which according to the Deschutes' strives to "explore the many nuances and endless possibilities of the almighty hop."
The Bond Street Series started in 2005 and gets its name from the the street where the original brew pub is located in Bend, Oregon. The series began with the addition of the Bachelor Bitter and Bond Street Brown and over the past 12 years, Deschutes has come out with roughly 20 beers in the series including the two I enjoyed, the Armory XPA and the Sagefight Imperial IPA.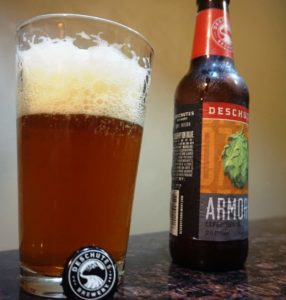 I started with the year-round Armory XPA, a 5.9% ABV IPA that is mild in its bitterness at 55 IBUs. Armory XPA provides everything you would expect out of a very solid IPA with a very balanced approach, but the most interesting aspect is the hops that are used. Armory XPA utilized Nugget, Northern Brewer, Cascade, Centennial hops as well as Experimental #07270.
Sounding like some sort of sci-fi brewing fan fiction, "Armory XPA will feature a new experimental hop every 6 months or so" says Deschutes Brewery Digital Marketing Manager, Jason Randles. This means that while the Armory XPA is available year round, it could differ slightly every few months.
I followed up the Armory XPA with the Sagefight Imperial IPA, an extremely flavorful IPA that is available September through February. Coming in at 8.0% ABV and 75 IBU's, this is a truly memorable IPA experience. "Sagefight IPA has a lot going on with the juniper and sage amplifying the hop characteristics," says Randles. He adds "at 8% ABV, it's a sipper!"
Both versions of the IPA have an added dimension that Randles concludes comes from the use of the whole flower hops, "We really like the mouth feel and flavor this imparts to the beer."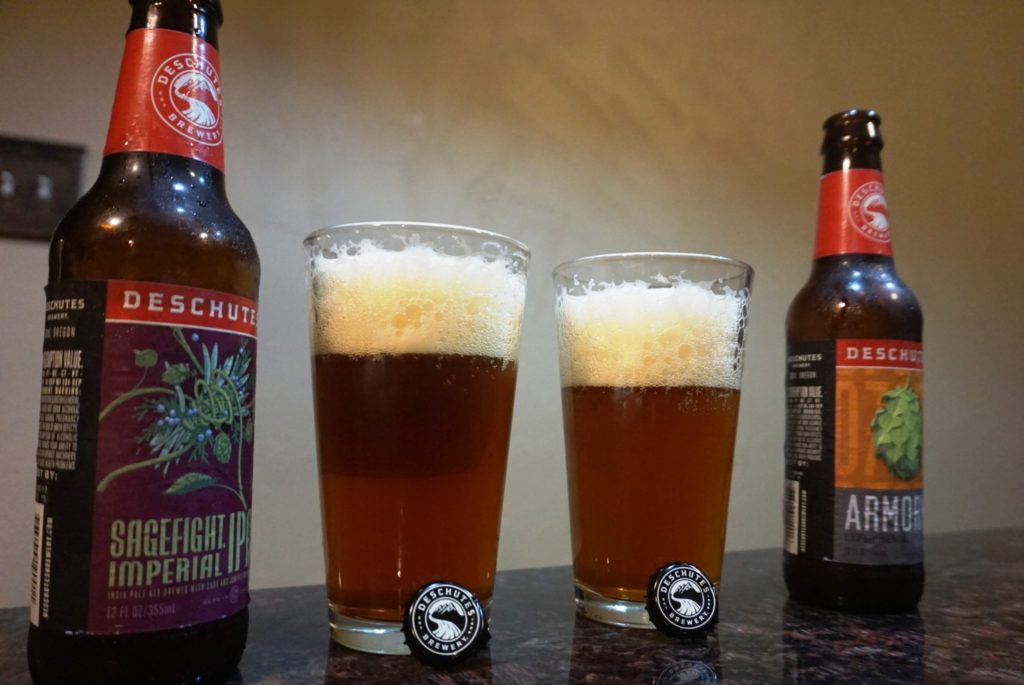 The Armory XPA, the Sagefight Imperial IPA, and the rest of the Bond Street Series give the Deschutes' brewers a chance to highlight a vital and local ingredient. "These beers highlight a 28 year love affair with hops and we are fortunate to live in such close proximity to the hop farms in the Northwest," says Randles. That passion for the hop comes through with each and every sip from these exceptional beers.
---