No Comments
Great Notion Brewing | Juice Jr.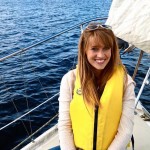 Photo Courtesy of Great Notion Brewing
One of the best perks about living in Seattle is being a hop, skip and a jump from Portland, Oregon – a city overflowing with places to fill your pint glasses. And during my last trip south, there was one spot in particular at the tippy top of my list: Great Notion Brewing.
Being just two and a half hours north of Great Notion, I had heard whispers on how, well, great this place was – how great the beer was. Within five minutes of walking into the joint, I had ordered myself three tasters – and not thirty minutes after that I had tried another two. Or maybe another three? But who was counting, really?
https://www.instagram.com/p/BIytY28ArJ5/?tagged=juicejr
So, in short, the whispers were right – everything was great. The Vanilla Limousine? Superb. The Peanut Butter Stout? Divine. But what stood out among the rest was the Juice Jr. – an American IPA sitting at 6% ABV.
This beer pours a beautiful, slightly hazy golden color – making you fall in love at first site. It's got a small head but a big aroma – with Juice Jr.'s citrusy scent being a perfect preview of what's about to hit your palate.
The IPA is unbelievably balanced between its Mosaic hops and its sweet, fruity notes. The combination of flavors – beginning with mango and peach, and ending with bitter hops, makes for, hands down, the most drinkable IPA that I've had in Portland. Sure, it's undeniably fragrant, but the hops have a strong enough backbone that it's impossible to forget what you're drinking: A classic, Pacific Northwest IPA. It's a bit drinking Juicy Juice as a kid, and a bit drinking your first strong IPA at age… 21. The best of both worlds.
Next time you're in the city of bridges, snatch a Juice Jr. for yourself – and don't forget a crowler of it to go.
---