No Comments
Style Profile | Trappist Dubbel and Belgian Style Dubbel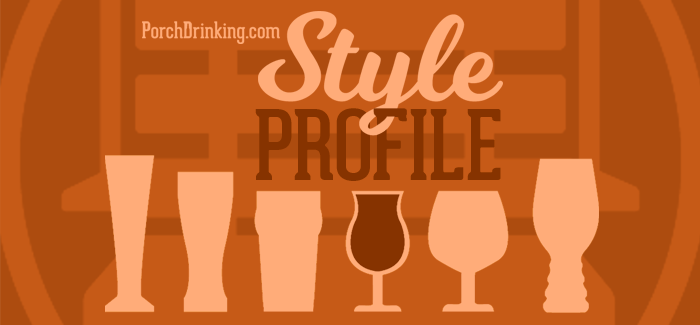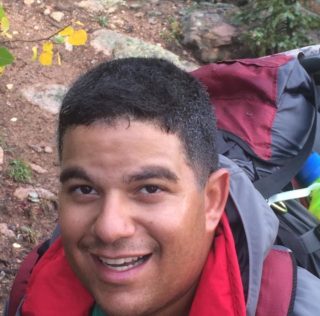 Every other month PorchDrinking will be tackling a style profile. We will be covering Dubbel this month. The idea being to get the word out and identify beers you can use to calibrate your senses to better enjoy the beer you consume. Beer can be a complex topic but worry not because PorchDrinking is here to show you the ropes – like an older brother or sister, only less abuse and more information.
Trappist and Belgian style Dubbel, in my opinion, is a great style to enjoy throughout the winter when you want to take pleasure in something you can sip on and will really open up as it warms. No need to rush through enjoying these beers. But they are also great for the late winter into early spring shift because they finish dry. They won't be as taxing as darker more complex beers you've been drinking through the winter and yet have enough to them when compared to beers typically enjoyed when spring is in full swing. So grab a glass and let's enjoy some devout brews! Cheers!
History
Belgian Dubbel is a Trappist beer originally made by monks of Order of Cistercians of the Strict Observance. Monastic brewing practices existed throughout most of Europe as far back as the Middle Ages but the modern Trappist beers we know today are likely much different from those of long ago. After the French revolution Trappist monasteries were able to reestablish themselves and once again turn to their rich brewing tradition. According to Keith Florian Klemp's article on Dubbels, "the general style is usually referred to simply as Belgian Dubbel. Many that fall into this category, however, have no such designation. Chimay calls them Première, Achel, Bruin and Rochefort, 6. Some also use Brune, or simply Abbey. Dubbel has, collectively, come to be the term that encompasses the medium-to-strong, sweetish, dark, top-fermented brew." (Kemp, 2014) So a Dubbel is considered Trappist only if the monks either brew it themselves or supervise the production of the beer in question. A brewery not under the supervision of the monks and thus granted permission by the monks to use the Trappist designation is considered a Belgian-style Dubbel but cannot have Trappist explicitly on the branding.
26B Belgian Dubbel
According to the 2015 BJCP style guides Belgian Dubbel is "a deep reddish-copper, moderately strong, malty, complex Trappist ale with rich malty flavors, dark or dried fruit esters, and light alcohol blended together in a malty presentation that still finishes fairly dry." The color as well as with the yeast character are the main distinguishing characteristics of Belgian Dubbel. Trappist is specifically tied to the production of the beer and cannot be used to identify beers that are not made or supervised by the monks of the Order of Cistercians of the Strict Observance. Thus non-Trappist styles will usually be identified as "Abbey style" or some other way of identifying the nod to the monastic tradition.
Belgian Dubbel Prosit!
Classic examples of Belgian Dubbels and in particular Trappist Dubbels can be found relatively easy at quality bottle shops. At my local bottle shop, Beverage Outlet in Augusta, Georgia; I was able to source two Trappist and classic examples of Dubbel. Chimay Première and Rochefort 6 are imported brands and feature the Trappist designation. St. Bernardus Pater 6, while also a classic example according to the BJCP, is not a true Trappist beer. Lastly, we will take a look at Georgia's own Reformation Brewery and their interpretation of a Dubbel.
Chimay Première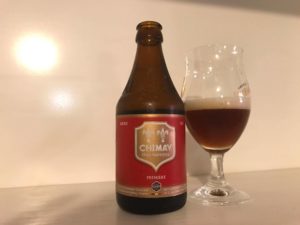 According to Klemp, Chimay restored their monastery after the French revolution in 1850 and began brewing just twelve years later in 1862. (2014) Shortly after restarting brewery operations they began to sell their beer to the public, in the monastic tradition, to fund social services and projects of the monastery. After World War 2 Chimay Première was reformulated in order to better match what the monastery likely brewed back in 1862.
Upon pouring into the glass a large frothy head builds above a reddish brown but brilliantly clear Dubbel. The aroma opens up with sweet notes of brown sugar almost reminiscent of toffee or treacle. There is a bit of dustiness and a bit of spice in the aroma as well, but it is underneath the sweetness. The first sip is almost bread pudding in a glass. You get the spice, sweetness, and dried fruit of a bread pudding all at once. On further sips, the flavors spread and you can appreciate each distinctly. Another PorchDrinker I shared this with commented that it was reminiscent of peanut brittle. The beer is certainly smooth and the sweetness is fleeting as the finish is dry and complete. Chimay Première is a great example of a Dubbel that should not be difficult to find in the States.
Rochefort 6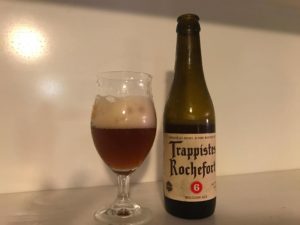 With the uncertain times of the French Revolution no longer clouding Europe, (Rochefort) Notre-Dame de Saint-Remy was able to restore their monastery in 1887. The brewery restarted operations in 1899 but it wasn't until after World War 2 that the brewery emerged as it is today. With the assistance of monks from Chimay, Rochefort redefined the process and production methods and began producing high-quality beers. The beers as we know it today were last reformulated and solidified in the 1960s. (Brasserie De Rochefort, n.d.)
Rochefort 6 pours as expected for a Dubbel, a coppery and brilliantly clear red with a large fluffy head. The aroma is distinctly brown sugar or like a spiced coffee cake. There is a familiar musty or dusty presence but not offensive in any way. The initial taste is an intense sweetness that quickly clears with the high carbonation and dryness of the beer. The finish is very quick to clear the tongue. Subsequent sips yield some complex and interesting experiences. A flavor reminiscent of chocolate chip cookies without the chocolate or blondies play opposite raisin and fig notes but neither overpower each other. Rochefort 6 as a Dubbel is an excellent depiction of the style's complexity and yet light enough to avoid being overtaxing.
St. Bernardus Pater 6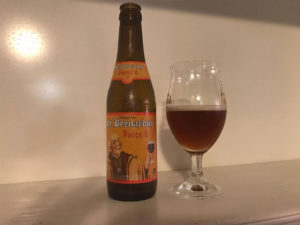 St. Bernardus is a commercial brewery in Belgium that has historical ties to the Trappist tradition but is no longer affiliated directly with the Trappist monks. After World War 2, St. Sixtus in Westvleteren turned to St. Bernardus to help the monks commercialize their traditional beers. At the time St. Bernardus was primarily a cheese factory but, by partnering with the St. Sixtus monks, they started to sell official Trappist beers. St. Bernadus continued to represent the St. Sixtus monks for 46 years until 1992 when the license came to an end. The beers still follow the original recipes of the St. Sixtus monks but now are sold under the brewery's own brand, St. Bernardus. (History, n.d.)
Pater 6 pours a light copper with a thick but low tan head. The aroma is distinctly malty and has just a hint of spice. The first sip starts with a maple syrup like note that gives way to plums, raisins, and figs. The sweetness is tame and does not stand out. The yeast announces itself towards the end of the profile with a dash of spice with no clear identity. Another fellow PorchDrinker commented that it is the least sweet of the three Belgian examples. The finish is crisp much like the rest leaving no trace of the fruit characteristics present at the start of the taste.
Reformation Cadence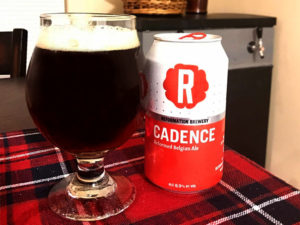 Reformation Brewery, and in turn their outstanding beer offerings, are directly inspired by the brewing traditions of Europe. The seed of inspiration was planted by a frequent European flight schedule for a pilot that chose to share the unique and interesting beers he found with his friends back home. When the pilot's flight career grew to a larger plane and a different route the friends turned to homebrewing to attempt to recreate the beers they used to enjoy. Years late it would blossom and grow to a brewery that is distinctly community focused and produces fantastic homages to European beers. In particular, Cadence pays homage to the same classic example Belgian/Trappist Dubbels we've already enjoyed earlier in this article.
Cadence rushes from the can as a deep copper and brilliant Dubbel with a frothy off-white head that pillows on top of itself. The aroma is distinctly fruity and, being a fresher example, lacks the dustiness of the classic examples that are imported from across the ocean. The fresher aroma profile lets distinct fruits carry through in the bouquet. Dried figs, a hint of prunes and a touch of turbinado sugar sweetness dominate the aroma while a small almost nutmeg like spice character from the yeast plays underneath. The flavor is much like the aroma. Malt and bread flavors carry the flavor while figs and date fruit flavors meld with the light yeast spice in the finish of the sip. While clearly not in accordance with the BJCP classic example nor a true Trappist beer, Reformation Cadence is a great example of a Dubbel by a Georgia brewery that can trace its inspiration back to Europe and some of the same classic beers many of us are hunting for.
Pairing
Belgian Dubbel can be paired with food by either contrasting the sweet dried fruit flavors or trying to complement them. Aged goudas with their nutty profiles and distinct headiness are fantastic alongside a Dubbel. Chocolate, especially dark chocolates would play nicely as well. As a complementary pairing chocolate covered dates play incredibly well by matching the dried fruit characteristics already present in the Dubbel. Some contrasting pairings that are surprisingly good include skirt steak grilled with a chimichurri-style sauce, a quality cheeseburger with bacon jam, or Korean-style tacos would all bring either fresh sharp herbs, intense garlic or a complex mix of spices to the table to balance the sweetness and the dryness of Dubbels.
Sources
"Brasserie De Rochefort." Belgian Breweries | Belgium | Beer Tourism. Belgian Beer Company, n.d. Web. 18 Jan. 2017.
"HISTORY." Sint Bernardus – Watou – Brouwerij ST.Bernard – Sint Bernardus,Watou, Brouwerij ST.Bernard, Bier,Abdijbier,Witbier,Grottenbier,ABT 12,ABT12,Prior 8,Prior8,Pater6,Pater 6,St.Bernardus Tripel,St.BernardusTripel,Watou Tripel,WatouTripel,St.BernardusWitbier,St.Bernardus Witbier,Grottenbier. Brouwerij St Bernardus, n.d. Web. 18 Jan. 2017.
Klemp, Keith Florian. "The Near-Perfect Belgian Dubbel." All About Beer. All About Beer Magazine, 20 Aug. 2014. Web. 18 Jan. 2017.
---